Having won the WEF Equitation Championship and R.W. "Ronnie" Mutch Equitation Championship titles aboard North Run's Jamaica already this year, it's safe to say Luke Jensen is one to watch in the equitation. The 18-year-old from Denton, Texas, grew up in a horse family: His grandmother is a trainer; his mother competed as a junior; and his uncle is hunter professional Hunt Tosh.
Over the past seven years, he's taken working student positions with trainers like Bill Schaub and Martien van der Hoeven. Since the beginning of 2021, Jensen has worked for John Brennan and Missy Clark at North Run in Warren, Vermont.
We asked Jensen to take us through a normal day at the home base in Vermont as the barn geared up for their next show.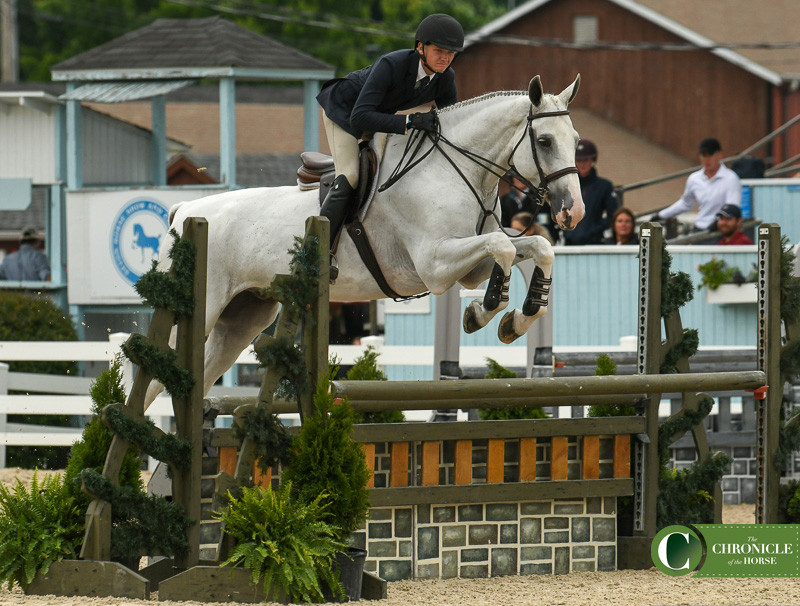 6:30 a.m. When we're home, I get up around 6:30. I'm not much of a breakfast guy, but [I grab] a little granola bar or something and then head to the barn.
Warren, Vermont, which is where we're based, is a ski town. So, there's a lot of lodges and Airbnb opportunities that you can use. Sometimes I end rooming with some of the other riders. Cody Rego, who is the other working student here, is definitely a permanent roommate more than anyone else. We travel together year-round.
Also, I feed my dog Ernie right when I get up, so he finishes eating before I have to leave. He has made being at the barn into quite the job and makes sure that I'm doing all my tasks correctly. He's my best bud. I take him everywhere I go, to every show and place I get to travel to.
7 a.m. And then the day starts. I take care of two or more horses when we're home myself. Jamaica always is the standard that I take care of, plus one other. I'm showing a jumper right now named Montiego Bay, so I'm also in charge of him.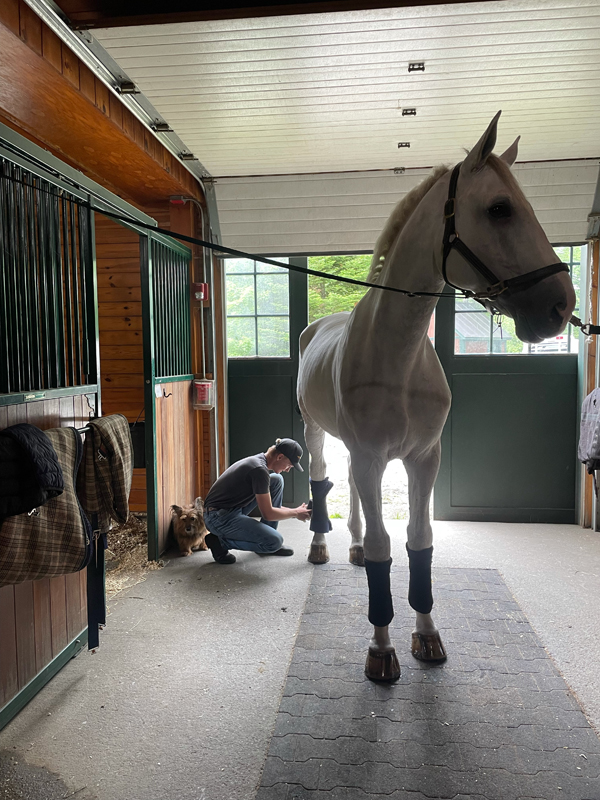 The first thing I do is grab a wheelbarrow, and then I go to my first horse's stall with a pitchfork. We give them hay first in the morning. Then I clean my stalls and take the buckets, wash them and give them fresh water. After I clean the stall, I sweep and make sure the aisle is tidy.
And by that point, once they've had their hay, we feed. I take off wraps and roll them up at some point in there. Once I've done that and they've eaten, I get brushes and groom them to get them all cleaned to face the day. That's kind of the full morning ritual.
8 a.m. We get ready to start riding the horses. I'm usually on my first one around 8:45. I got on my first one at 8:30 today and flatted two horses for North Run.
We have our outdoor rings at the top of the hill, looking over the farm, and it's beautiful. You can see Sugarbush Mountain in the distance, which is a big ski mountain. The horses really love it, and it's just a relaxed flatwork to make sure all their gears are working.
Today, as we're getting ready for the horse show at Lake Placid (New York), I rode each one for 45-ish minutes. It depends on what's going on; if it's a super light day, sometimes less.
10:30 a.m. I have a lesson at 11 on Jamaica, so, I start getting ready around 10:30. It takes a good half hour to get him nice and clean. I clipped him yesterday, and he's white, so I need a little extra time.
11 a.m. Earlier in the week, we'll usually have a flat lesson with one of the horses. It really depends on the time of the year. Since we're gearing up to go to a horse show, there are a lot of lessons today to get ready.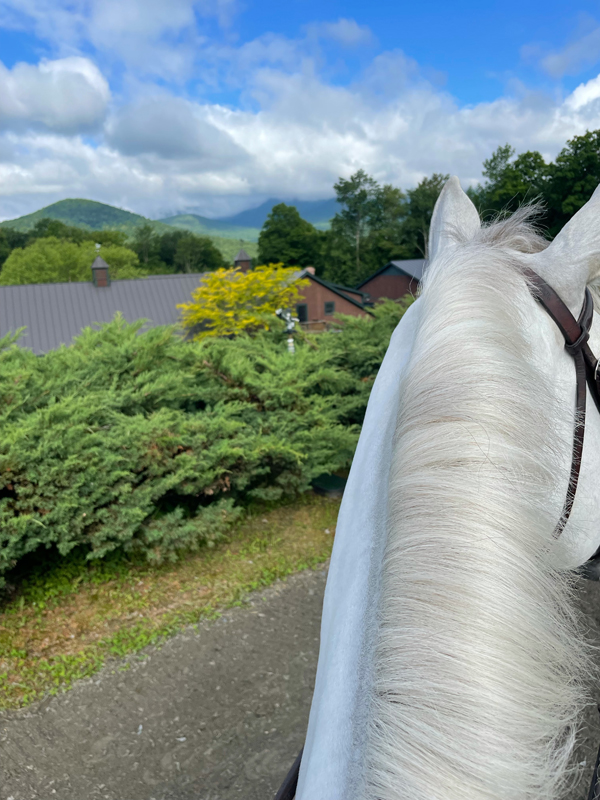 It was a lesson with Missy today. Any day, it can be with Missy, John or Maggie Gampfer. We did things that you would expect in a test for the Medal—counter-canter work and stuff like that. Anything you'd expect to see at the horse show, Missy, John and Maggie always have that incorporated into lessons.
My lesson on Jamaica was with Alex Alston and Zayna Rizvi—and then later on in my other one as well. Usually there are three to four people in a lesson for the most part, which is fun. It adds a little competition to it.
Jamaica's feeling good. He's feeling ready. He had a good week and a half off since Upperville (Virginia), so he seemed refreshed and ready to go.
Noon. Directly after we finish the lesson, I trot my horse out. But once that's done, and the horse is cooled down, I take him in and undress him. Today, I took Jamaica and put some ice boots on him. Then I got Montiego Bay ready for his lesson.
We always have some sort of exercises. In the course today, there was a triple combination. We didn't do too much, just a little bit to make sure all the forward and backwards and left and right was working. We usually have a triple combination and short lines to long lines.
Gearing up for two weeks at Lake Placid Horse Show (New York), riders have been practicing all the possible tests asked at North Run. Luke Jensen is the one in the full chaps:
2 p.m. By 2 p.m. or so we're done riding and everyone's getting ready to help put the barn away. I'll take my chaps off and put my normal work paddock boots on and get ready to start getting everything done.
For both horses, I ice their legs as soon as I get off from jumping. I take those off after half an hour. Once those are done, I start brushing the horses and getting them all clean. At the horse show I'll do whatever they need: poultice them or liniment. Once I'm done brushing, I start wrapping their legs, and I throw on the magnetic blanket while I finish up all the things I've got to do.
I do eat lunch, but I'm sort of running and gunning as I eat. Today I had a sandwich after I got done riding, but I was still walking around doing stuff one-handed.
After I put my two away in terms of their wraps and their blankets, I'll do my quick afternoon stall pick, and I refill their waters and hay if they need it. I sweep their stalls. I'll clean their tack after that.
2:30 p.m.  The grooms and the working students—myself, Cody Rego and Callista Smith—do whatever we can to help everybody finish their work. That may be to water the horses, sweep the aisle, give hay and help Nikki Arnold, who is our manager. I did a lot of sweeping today.
We probably finished around 4, and then it's time to feed the horses. At home Nikki will have the grain ready and all organized into different stacks for each aisle and sections of the barn. Usually, everyone grabs a stack and goes. If the grooms are busy, obviously I'll do more. But I like to feed my own horses, so sometimes I'll go for the stack of the aisle that they're living in.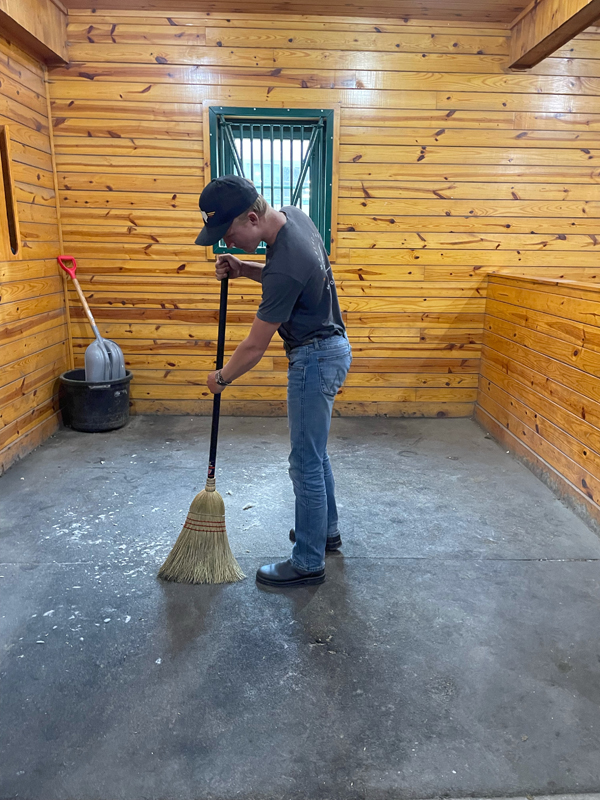 4 p.m. Once everyone is fed, I'm pretty much free to disperse.
I'm a senior in high school, and I'm wrapping up my classes, so that's how I spend a lot of my afternoons. Up here in Warren, it's very pretty, and when I can, I try to get some hiking in—enjoying the outside and enjoying the area. So, either that or school for the most part. Today though, I chose school.
I go to school online at Indiana University High School. I'm taking three classes right now, and then I have one more after this. I'm nearly done with these, and as soon as I'm finished, I'll be glad to be graduated and done with high school. 
Dinner Up here in Warren there are a lot of cool places to eat. We've got all kinds of tasty options, but in terms of my normal dinner choices, I try to keep it fairly healthy for the most part when I'm in one place for a while, because once you get on the road it's a little bit harder to do that. So, when I can keep it clean and nutritious, I try to do that. Tonight I had salmon, rice and some squash.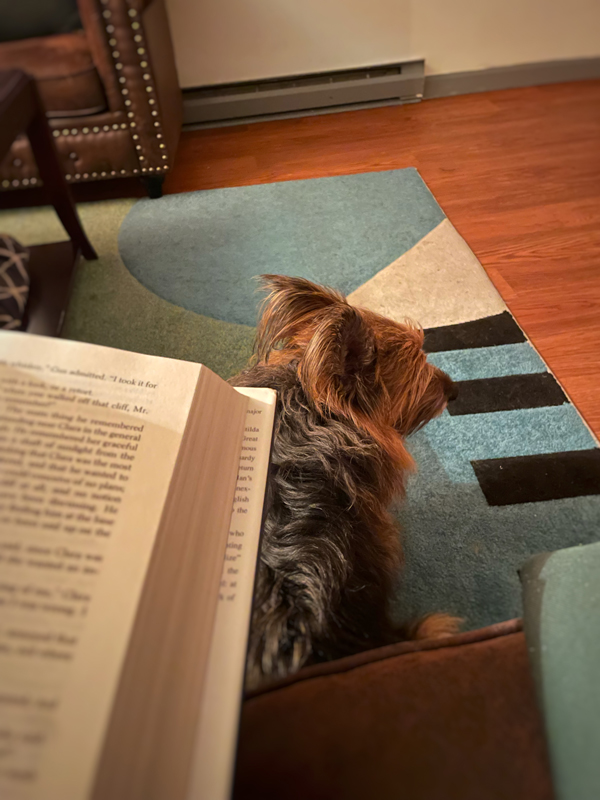 8:45 p.m. I worked on school until about 8:45 and then did some reading to unwind. Some nights I work later; some nights I fall asleep before I get much done. I am currently reading "Discourses On Livy," by Niccolò Machiavelli, but I often regress back towards a lighter read, so right now I am also reading "Lonesome Dove," by Larry McMurtry.
10 p.m. Time to go to sleep.