It's been 18 years since David O'Connor won his Olympic gold medal and 14 years since he's seriously competed, but this winter he's been collecting the ribbons again.
O'Connor topped the open preliminary, division 1, with Cooley Dream at the Ocala Winter I Horse Trials in Ocala, Florida, on Feb. 9, and he earned another blue that weekend with My Man Cooley in the novice horse, division 1.
Then he headed to the Rocking Horse Winter II Horse Trials in Altoona, Florida, the following weekend and finished second with Cooley Dream in the open intermediate, division 2.
"The response from the public [and friends] has been unbelievably supportive," he said. "I've had so many people say it's good to see me back out there. That's cool."
In the years following his retirement from international competition, O'Connor's served as U.S. Equestrian Federation president (2004-2012), technical advisor for the Canadian eventing team (2006-2012), and then as technical advisor to the U.S. eventing team before resigning in May of 2017.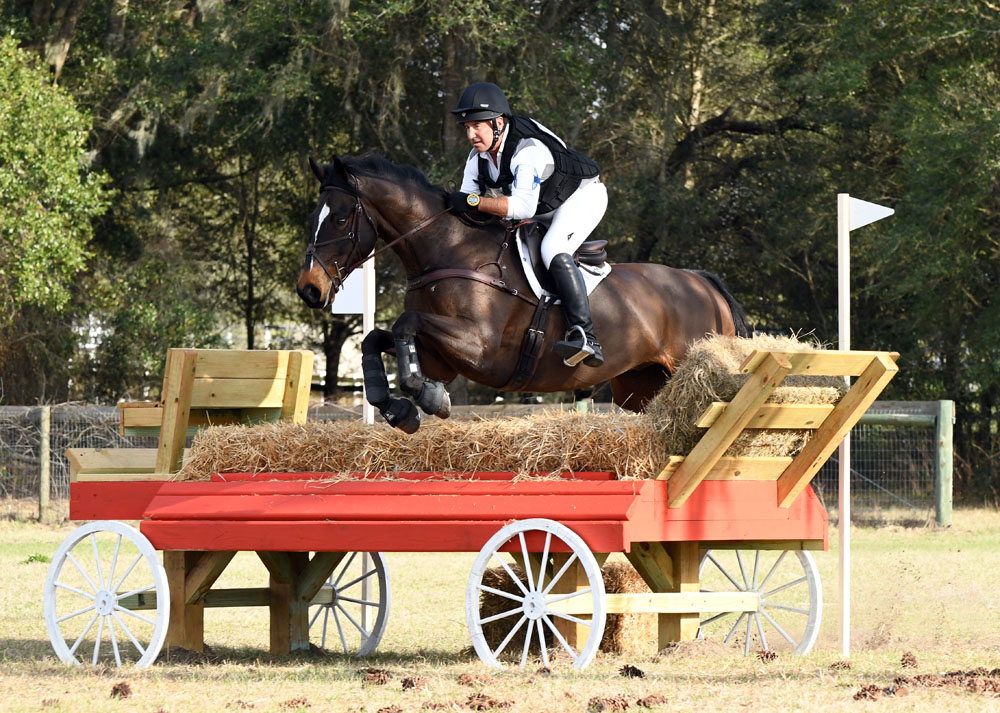 He started to compete a few lower-level horses for his longtime owner Jacqueline Mars last year, and this year he has a small string of horses.
Cooley Dream, a 10-year-old Irish Sport Horse gelding (Cruising—The Dreamseeker, Ramiro B) owned by Cooley Dream LLC, has competed to the three-star level with Hannah Sue Burnett, but he suffered some confidence issues last year.
While Burnett awaits the outcome of her positive drug test at the Ocala Jockey Club International (Florida), O'Connor will campaign the gelding.
"Hannah and I had talked about me possibly riding him," said O'Connor. "We talked about it at the end of the year because they were struggling a bit here and there, and she didn't feel that confident on him. He's a good horse. He's a good mover and a good jumper. We've just been getting to know each other. I think he's starting to get some confidence in who I am, and I'm more confident now about who he is. I'm having fun with it."
Watch O'Connor and Cooley Dream at Rocking Horse courtesy of The Horse Pesterer.
My Man Cooley is a 5-year-old Irish Sport Horse gelding (Sirillio—Our Escapade) owned by Mars.
"He's quite a good jumper, but he's still trying to find out who he is," said O'Connor. "He's come a long way in understanding where his body is, but he's very brave and very careful. The enjoyment with young horses is that every day and every week they find something new that they can do, and that's just a blast for somebody like me riding them. When they discover that, it kind of opens up a whole new world to them. I really enjoy that process."
O'Connor is also campaigning Gomarus, a 7-year-old Dutch Warmblood gelding (Ultimo—Zomara) owned by Mars and ridden to novice by Lauren Kieffer.
"It's a privilege to ride these nice horses," said O'Connor. "It's fun to ride within the camp with the group."
O'Connor, The Plains, Virginia, says he's just as hard on himself as he was when he was competing regularly.
"All that stuff is the same as before, but it's been an enjoyable experience," he said. "I enjoy that challenge, and I feel like the skill sets are coming back faster than I thought they would—not that I stopped riding, but the instincts still feel there, and I feel technically pretty good about that. As long as I can give horses good rides and have horses enjoy themselves and get better, then I'll keep playing around with it. That's the main job—to make horses better and keep up the education with the younger ones and with [Cooley Dream]. I've had a complete blast riding for Mrs. Mars again. We're having a good time together."
O'Connor, 56, is also the new chair of the FEI Eventing Committee and serves as technical advisor again for the Canadian team.
"It's busy as ever," he said. "I did a lot of traveling in January for the FEI stuff. I'm back there at the end of March in Europe. A lot of it is just managing your time. A lot of my time in the morning is devoted to that, then I go out and ride and teach in the afternoon.
"The FEI stuff I enjoy because it makes you think on a very large picture about the sport around the world and at the different levels, from people just coming into the sport to the very top level," he added. "You try to do your best because you do it as a volunteer. All you can do is try your best to get other people's ideas and formulate them and get them into a direction."
O'Connor is planning to compete Cooley Dream in the intermediate at Red Hills International (Florida) in March, where he also designs the CIC*, CIC** and intermediate and preliminary cross-country courses, then head to The Fork (North Carolina) to try the CIC**. He hopes he can do a CCI** in the spring.
"[A two-star] would be kind of fun," he said. "I'm not qualified to do anything. I'm now qualified to do a one-star! I'm getting qualified to do a two-star. Those are the goals. I have no long-term ambitions with it; it's just that I really enjoy the riding and the competing and the training. The competitive juices come back, no question."