Lexington, Va.—May 27
The Virginia Horse Trials staff and officials made many schedule accommodations in anticipation of severe thunderstorms over the weekend, but thankfully the weather held off and the event continued unhindered. The CIC** division wrapped up their competition on Saturday with Daryl Kinney and Denny Emerson's Rosie's Girl progressing up the leader board after each phase of competition to ultimately win on a final score of 34.7. Kinney could hardly contain her delight over her first international win.
"I'm so excited. She was amazing," Kinney said of the 12-year-old Thoroughbred mare. An initial score of 31.9 rewarded their recent hard work in dressage and placed them third after the first phase. A double clear show jumping round moved the pair up to second. 
"In show jumping I tend to ride a little too conservatively and often get time faults. Since I was in third I thought I'd go for it and make the distances happen and be forward and positive. [Rosie] warmed up perfectly and she was right on in the ring," Kinney said.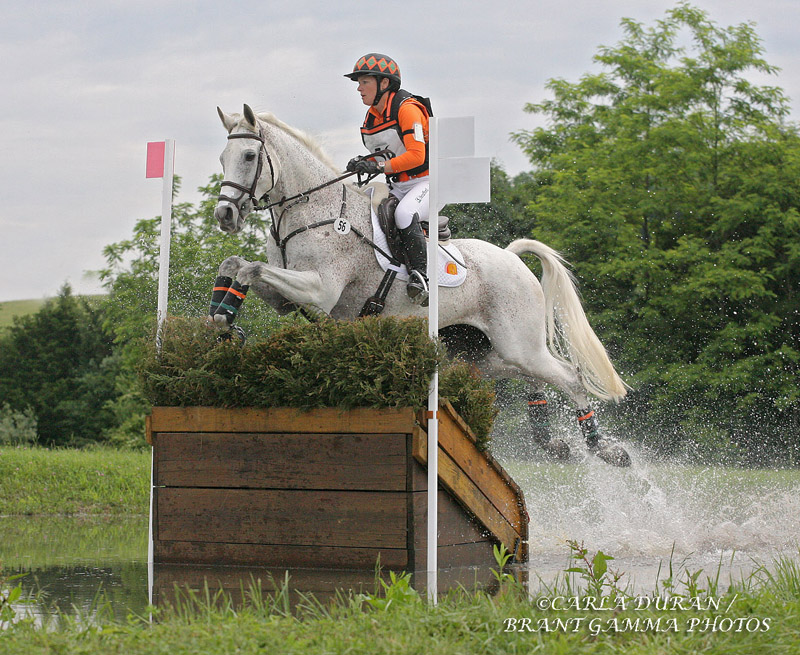 Cross-country has always been Rosie's Girl's forte, said Kinney, who has been partnered with the talented gray mare for the last eight years. With only 2.8 time penalties to add on the undulating Oak Hill cross country course at the Virginia Horse Center, they moved up once again to take the CIC** win.
"She's always looking for the next fence," Kinney said. "She was perfect and everything I asked her to do she did. Any distance I asked, she was there."
This was Kinney's first trip to Virginia Horse Trials and she plans to return with Rosie for the October CCI**. "I'm blown away by how beautiful it is [here]. The facility is amazing, the courses are beautiful. Everything is so nice."
Alexandra Green and her 10-year-old Irish Sport Horse, The Fernhill Fox, led the CIC** through the first two phases on a combined score of 30.6. Eight time penalties across the country dropped them to second in their international debut as a pair. Rachel Walks and her 9-year-old Irish gelding, Great Expectations, moved well up the leader board from tenth after dressage to finish third and just 0.1 penalties behind Green.
Edward Ewbank and Sushi Succeed
Edward Ewbank and Sushi won the CCI*-A division on Sunday, while intercollegiate rider Aubrey Wagner and Clooney MS topped the CCI-B division. Finishing cross-country just one second over optimum time, Ewbank and Sushi lowered two rails in show jumping to win by less than a point. 
"She's still learning to show jump under pressure," Ewbank said of the 7-year-old Oldenburg mare. "At home she can clear the standards. Last year she came as a 6-year-old and had a few down. I'm so proud of her to come back and do this."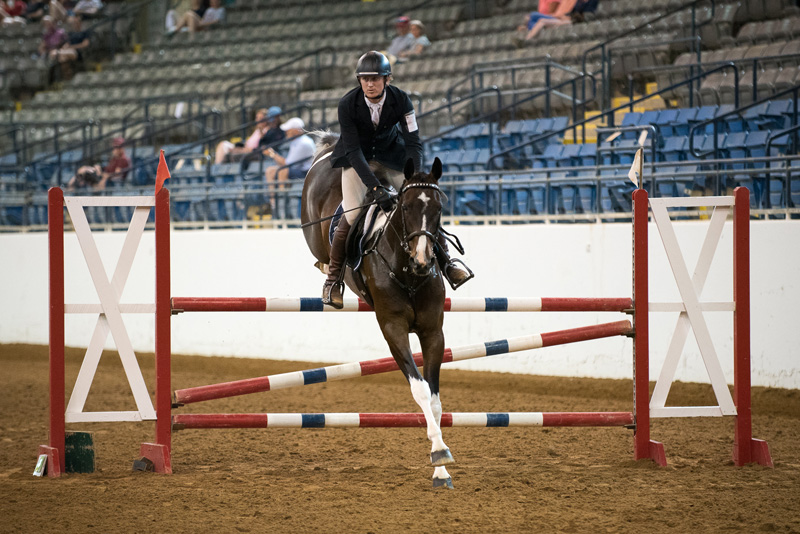 Ewbank admits he turned the mare down as a youngster because he "didn't think she'd be good enough." After having her in his stable for a week he agreed to buy Sushi from her breeder, Denise Williams. "Her owner Leslie Wellington stood by me and trusted me because she's a little bit unruly and opinionated, but she's never said no."
It was another great competition at the picturesque Virginia Horse Trials in the Blue Ridge Mountains. With over 400 horses to run and severe thunderstorms threatening the area, the staff and officials were forced to make several time and arena changes to ensure competitors' safety. In the end, the rain held off and the event finished ahead of schedule.
"The weather gods certainly looked down upon us and were gracious," VHT organizer Andy Bowles said. "We want to thank everyone for attending the competition and look forward to having everyone back November 1st for the fall CCI, CIC and horse trials."
For full results, click here.