"With tears of joy and non-stop hugs and kisses, I got to live my fairytale and say hello again to the horse that changed my life forever," Evan Coluccio wrote in an emotional Facebook post on June 2.
The horse, Batman, had been Coluccio's junior jumper, and after years living apart, the pair were finally reunited when Batman returned to his "forever home" with Coluccio at his Middleburg, Va. farm.
"Batman was the first horse I bought with my own money," said Evan, who grew up riding with his hunter/jumper trainer parents, Robert and Allyson Coluccio. "I grew up in a family of horse people, so I always knew I wanted to be a professional, but Batman was the one to really jump-start that. That horse really did make it all happen for me."
After a successful junior jumper career with Evan, Batman went on to campaign with others in the adult amateur hunters, junior hunters and equitation before finding his way back to Evan this summer.
The reunion was made possible by Devan Cotrell, a Georgia professional out of Landmark Farm who works with Batman's most recent owners. Cotrell messaged Evan via Facebook, letting him know that the 16-year-old gelding was up for sale.
"It's one of those things as a young professional—we've all had that horse that really made an impact on our riding and our business, and if the opportunity arose to have one of [those horses] back after losing track of them, that's something I would absolutely want to do," said Cotrell. "I knew that Evan had lost track of the horse, because that's the business and sometimes you have to sell the ones you love to make it work. It really struck home for me."
A Teenager And His Hero
As a 16-year-old in 2004, Evan purchased Batman out of a riding school in England with money he earned selling a pony. Originally, the then-5-year-old, 15.3-hand Dutch Warmblood gelding of unrecorded breeding was meant to be his junior hunter mount, but when Evan began jumping Batman at home, it was clear he had the heart of a jumper.
Batman and Evan began in the low juniors together and quickly moved into the high juniors in 2005. They went on to be named champions of their division that year at Washington International (D.C.), and continued to earn top placings wherever they went over the next two years.
As a young man training and competing his young horse, Evan learned a lot about his future profession. But even more importantly, he and Batman formed an unbreakable bond.
"When I was showing him as a jumper I was a teenager, my parents were going through a divorce, and I was starting to go off and build my own name to start my own business, and [Batman] really just stepped up for me," said Evan. "That horse was my pet in so many ways. He was my partner."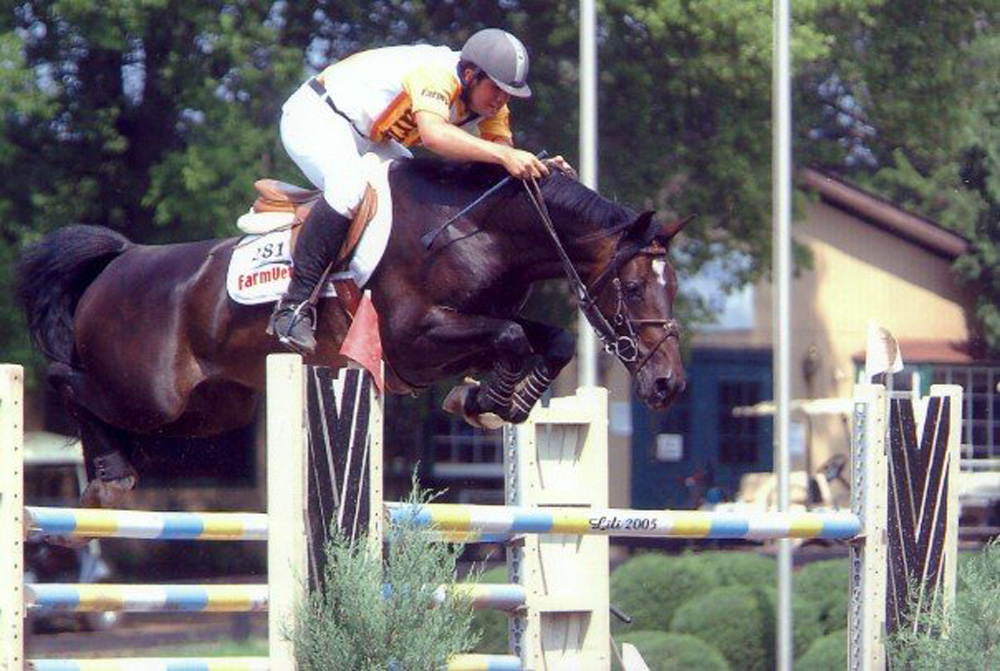 Evan Coluccio on Batman in 2005. Photo by Lili Weik
And Batman inspired Evan's career in more ways than one. Evan came up with the gelding's superhero moniker thinking that the star on his forehead looked a bit like the Batman emblem, but soon the superhero premise became a theme in Evan's sales business, EMC International Stables.
"He had an energy about him that was very superhero-like, and he was my superhero from the very beginning," said Evan. "His name was Sylvester when I bought him, and it didn't really suit him.
"Because of him I'm the biggest Batman junkie ever," he continued with a laugh. "I have every Batman accessory out there, my nickname is Batman, I even have a Batman tattoo dedicated to [the horse] on my shoulder. And calling him Batman also set the tone for going on to name 75 or more horses after superheroes. I've had Spiderman, Wonder Woman, The Flash, Mr. Incredible and so many more. It really became the stamp of my business, and it was all because of him."
Moving Forward
Batman caught the eye of Evan's client, Brooke Gilece, in 2007, and she bought the gelding and to campaign in the adult amateur hunters out of Evan's farm. Soon after, another of Evan's clients began leasing Batman to ride in the equitation ring and participate in the USEF Show Jumping Talent Search classes.
"It's unbelievable how versatile that horse was," said Evan. "I knew him like the back of my hand, so I knew I could send someone in the ring—it didn't matter which ring—and he would deliver blue ribbons. There aren't many horses out there like him who can do it all like that and be a real winner."
Gilece moved to another barn about a year later, and Evan had to say goodbye to Batman. "It was really difficult to see him go," he said.
But the separation was short-lived, and about two years later Evan got the ride back on Batman after Gilece sold him to Evan's father Robert in 2010.
"My father called me and told me Batman was at his barn and that I should come ride him and get him going again," said Evan. "I think I sprinted all the way to Florida!"
Then, when Robert suffered a stroke in July, Evan found himself taking a string of his father's horses to campaign in the Kentucky Summer Classic. "I took them all to Kentucky for my dad because he had already arranged the trip and he was too sick to make it," said Evan. "I walked in the ring with Batman and we won all four of our [over-fences] classes. It was a clean sweep in the performance hunters, and he was champion. That horse was untouchable.
"It was a very emotional time for me with my father being ill and riding this horse again. He delivered for me there, and I really believe he knew to be good for me that week."
But when Robert's condition worsened, Evan was forced to say goodbye to Batman once more in the process of selling all of his father's horses and ponies.
"My dad's horses had to get sold because we weren't really sure what was going to happen with his health, so Batman left again," said Evan. "I was really devastated the second time around because I kind of thought I'd just be able to keep him after everything, but everything happens for a reason."
A Tearful Reunion
Robert is in good health now, and he's even begun to ride again. But after selling Batman the second time, Evan lost track of his whereabouts. He hadn't heard or seen anything of the gelding in four years when Cotrell contacted him last fall.
Cotrell found Batman for his young client in 2013 at Atlanta Summer Classic II, after the gelding had won his children's hunter class. After a few seasons in the children's hunters with Cotrell's client, the 16-year-old horse began to feel a bit achy and stiff, prompting Cotrell to make a change.
"We realized that it would take a lot of maintenance to keep him going on the circuit, and it got to the point where either we string him along for a couple more years while he's maybe not the most comfortable, or we find him another home in retirement," said Cotrell. "Ultimately, [the owners] wanted to let him go live out the rest of his life with the person who made him, and the person that he sort of made, too."
"It was really kind of out of the blue that Devan contacted me," said Evan. "I'm so grateful to him for thinking of me for that because people don't always reach out to former owners in the selling process—they'll think about it and they'll talk about it, but they don't always act on it. It means a lot."
It was all Evan could do to keep from speeding all the way down Route 50 from where he was competing in the Upperville Colt and Horse Show (Va.), to his farm in Middleburg as Cotrell dropped off Batman. "It was like I was a kid again!" he said.
Evan doesn't have any grand plans with Batman in the future save some trail rides and plenty of treats, and that's perfectly fine by him.
"I just wanted to have him back to retire," said Evan. "If he's energized and sound and wants to do something else I'll absolutely let him, but he has no pressure for the rest of his life. He can be a happy pet, and I'm going to let him enjoy his life. He deserves that and more.
"Just knowing that he's in my barn with all the love he needs is really the only satisfaction I wanted out of this," said Evan. "I'll be thrilled and probably cry when I ride him for the first time again, but honestly I think if I never got on him again I would still be so happy. I spent about an hour currying him today and he had his eyes closed, leaning in with his lip up. That was all I needed to know that this is the way it was supposed to work out."