If you're a rider getting ready to tackle a major equitation final, you have a few surefire things on your to-do list. Walk your course, make your plan with your trainer, and if you're lucky and go late in the order, watch a few horses go before swinging a leg over your horse in the warm-up arena.
If you're Darby Pease, your list is a lot longer.
"I get here, then I feed, hand walk, do stalls, and usually braid after that," Pease, 18, said. She's rattling off this morning to-do list as she stands with her horse, a nearly 18-hand leggy bay named Prix.
"I've gotten pretty fast at braiding him though, because as you can see he has like 12 hairs on his head," Pease said with a laugh, running a hand through Prix's admittedly very thin mane.
Pease adjusts Prix's cooler as she hand-grazes him on the edges of the cross-country course at the Kentucky Horse Park; it's noon, less than a day away from the start of the ASPCA Maclay Final, but she's already been at the show for about seven hours. That wake-up call would render most teens bleary-eyed and not so chatty, but not Pease—she's chipper as she talks about her riding history.
"I was on horses before I could walk. My grandma is a super horseperson—she rode some when she was younger but never had the funding to do it much, so she is a steward now," Pease said. "And my mom rode a bit, and her sister rode a bit, but I've definitely gotten into it the most."
Pease grew up outside Charleston, S.C. Her dad Jay Pease runs his own business, the J. N. Pease Environmental Group, and her mother Catherine stayed home to raise Pease and her sister Carson. Pease grew up riding any and every pony she could get her hands on—often the ones that needed a little schooling.
"I had a lot of bad ponies that would throw me off all the time when I was little. I rode ponies until I was too tall, and I was this tall when I was 12," said the 6-feet tall Pease.
"She got thrown on them a lot when they were being naughty, and just with our budget we ended up with some that had some issues, so she can ride a good buck," said Catherine. "And she'll get right back on. She can hit some dirt and get right back on with a smile on her face."
After the pony divisions, Darby moved on to horses and started competing in the 3′ equitation classes.
"There were different leases, and beg, borrow and steals, and thank yous," Catherine said of the assortment of equines Darby showed. "But she won a bunch of the [South Carolina Hunter Jumper Association] 3′ medals in South Carolina and was able to get some good scholarship money from that. She was able to pay for some George Morris clinics and build up and borrow a bigger horse and work on some bigger stuff, and she got to do [the USHJA Emerging Athletes Program] a couple times using more of the scholarship money."
Darby was making it work, pulling together rides on horses for different classes, but she was going to need a steadier partner to accomplish her goal of competing at the equitation finals—she needed a big eq horse on a small-scale budget.
"A friend of my grandmother's called and said, 'Your kid is not being out-ridden; she's being out-horsed,' " Darby said. "She said, 'Come try this horse, I have one that could be in your price range.' I went and rode him and knew he was the one."
That horse is of course Prix. Showing under the name Caprioso 2, Prix was competing in the jumper ring when Darby first met him.
"He was at Ian Millar's barn. He belonged to a client of Ian's, and he was doing big jumper stuff, and he decided he didn't want to do that," Darby said, smiling at Prix in his stall behind her and shaking her head. "He wouldn't leave the jumps up; he wouldn't jump water."
Because of his reluctance to play the role of a jumper, Prix's price tag fit the Pease family's budget. Darby started working on getting him to look the part of equitation horse, which he took to like a fish to water.
"It took a little bit to get him jumping more slow and not so jumper, but he's really lazy, and his legs are like four-feet long, so he can just step over the jumps," Darby said.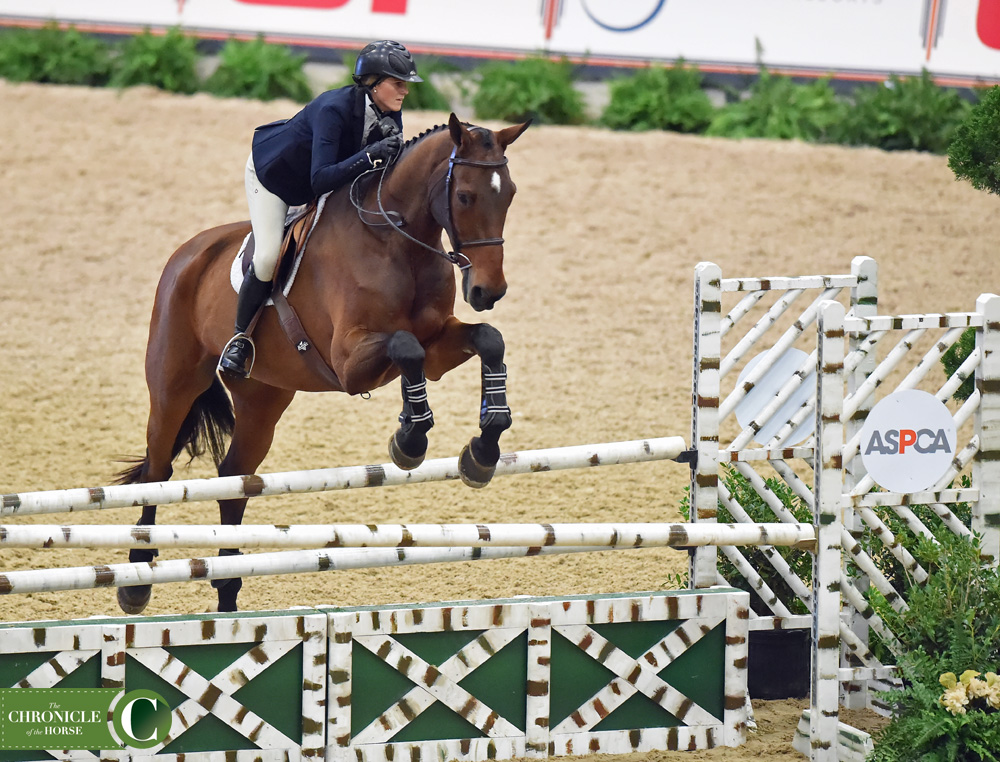 Darby Pease and Caprioso 2 showing in the ASPCA Maclay Final. Photo by Ann Glavan
Darby has been a working student for her trainer Teri Knowlton since May of this year—along with helping to ride and exercise the horses, Darby does all the barn work herself, both at home and at the horse shows.
"At the Santa Fe [Summer Series], for three weeks we had seven horses down the aisle, and it was all me," she said with a laugh. "It was a lot. And then I pick up braiding jobs sometimes when I have time, so I was braiding a few horses in Santa Fe, too."
Darby has no shortage of creative ways to fund herself and her horse in the equitation ring. Her show trunk is a hand-me-down from Knowlton's son, her trunk cover is inscribed with a client of Knowlton's initials, and her boots?
"I sold my truck to gets boots," Darby said. She didn't need her old Ford F-150 once she started working for Knowlton and driving the farm's truck, and the Parlantis she now sports are the first pair of tall boots she bought brand new.
"I don't do [working students] a lot anymore, but this kid is worth it," Knowlton said. "She's one of the good ones, and the hardest worker."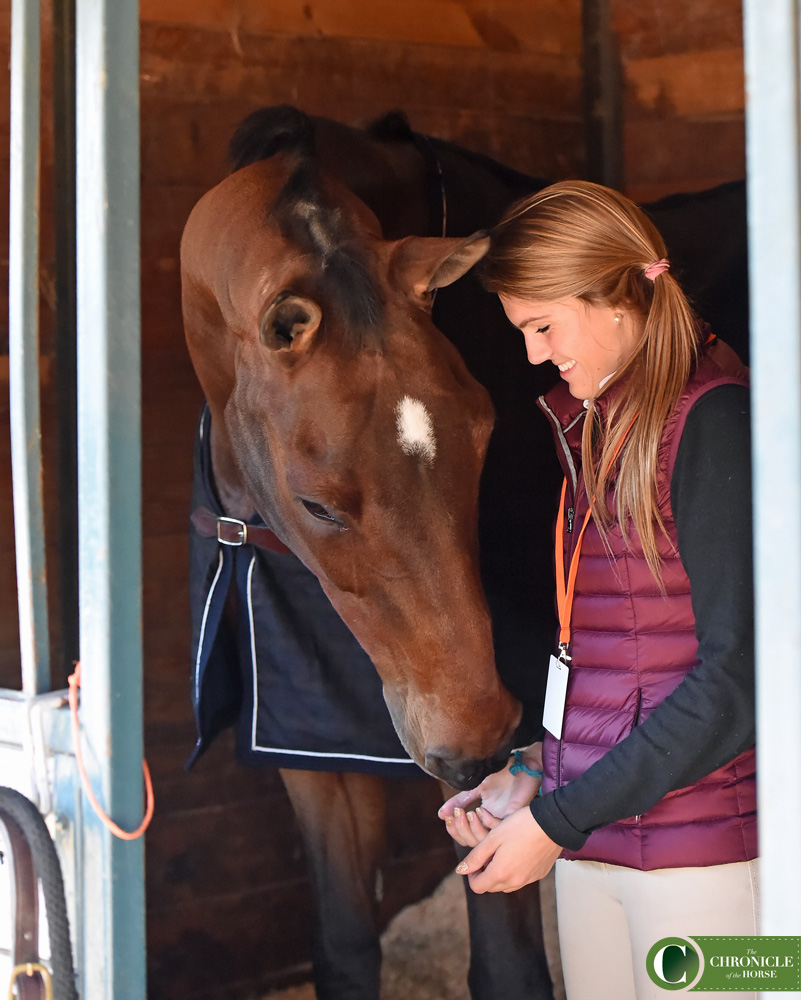 Darby Pease and Caprioso 2. Photo by Ann Glavan
Darby's work throughout the year paid off when she qualified for and competed at the Pessoa/U.S. Hunter Seat Equitation Final (Pa.) and the ASPCA Maclay Final.
"[Harrisburg] went incredible; it was so much fun. We had such a good course, and I was on the standby list until like the 200th horse," Darby said.
The ASPCA Maclay Final didn't go quite as well as Harrisburg for Pease—she was able to get the strides done in the tricky one-stride lines on course (which threw many a rider for a loop), but a swap off a lead kept her from making the second round.
But Darby has always been realistic about her goals in the equitation ring.
"[The equitation] can sometimes be discouraging—even if you have a great course, you're not going to be the winner against someone who rides with André [Dignelli] or Missy [Clark] or Don [Stewart]," Darby said. "You just have to accept it. It is what it is. Yeah, it's discouraging a little bit, but you just do your best and hope it's your lucky day!"
Darby will age out of the junior and equitation divisions this year, so she hopes to lease Prix out to another up-and-coming equitation rider while she looks for a young jumper she could bring up the ranks.
"I would like to become a professional rider. That's been my dream since I was a little kid," Darby said.