She's planning on peaking for her last year as a young rider.
Sarah Cunningham learned to like showing because of Ivan. For the past three years he's helped her gain confidence so she can head down centerline with a smile.

"He's an amazing horse," she said. "He's taught me so much. He allows me to learn. I can get nervous at horse shows, and he doesn't care."
Ivan and Cunningham trotted off with two wins at the Zada Cup, Feb. 15-17, in Apopka, Fla. She took home the Young Rider Team Test victory (65.55%) and the Young Rider Prix St. Georges (65.25%).
Cunningham, 20, acquired the 18-year-old Dutch Warmblood (Columbus—Fastrona) with the hope of competing in the North American Junior and Young Rider Championships. She fulfilled that dream last summer when she rode on the Region 1 team.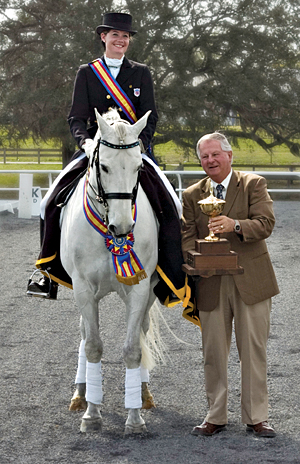 "We were in the middle of the pack, and it was a great experience," recalled Cunningham. "It's my last year, and I'd love to be able to go again."
She trains with James Koford, who also had numerous wins at the Zada Cup, and she lives in Raleigh, N.C., where she is a sophomore at Meredith College.
"All the teachers are great with working around the horse shows," said Cunningham. "They're excited to hear about how I do."
Although showing seriously and going to college isn't easy, Cunningham is able to do it because of her amazing support team, which includes her parents, Koford, Caroline McNair, her boyfriend, her friends and God.
Horses have been a part of Cunningham's life for as long as she can remember. "My cousins barrel race, and they had a Shetland pony I used to ride when I was 2 years old. They would have to take the saddle off with me still on the horse. I never wanted to get off," she said.
She started showing dressage at age 8. "I did hunters before I started dressage. I enjoyed that, but I broke my arm really badly and decided to try dressage," she said. "I think my mother was pleased when I decided not to jump anymore."

More Experience
But even though Cunningham had plenty of riding experience, the show ring wasn't a comfortable place for her.
"One of the horses I had before Ivan was very strong, and I got nervous in the show ring," she said. "Ivan has developed my confidence so much. He's the best horse I've ever owned."
Cunningham still has those show nerves, but Ivan doesn't mind.
"The first day we had a great warm-up, and I went in and felt really confident. Ivan was ready to go. Our lateral work always needs improvement, but overall I thought [the team test] went really well," said Cunningham. "I prefer the Prix St. Georges because I get the team test out of the way first, and my nerves are gone. But I don't think I gave myself enough time this time, and our warm-up was a little shaky. Ivan went in the ring, and we pulled it together. I can count on Ivan to do that."
Cunningham said that lateral work is an area that needs improvement, while the flying changes and extensions are his highlights. "He's a changing machine," she said. "If he could just do changes and extensions he would be perfectly fine with that. He can be a little lazy."
Now Cunningham looks forward to showing instead of getting quite so nervous. "Every time you come away from a show you have more experience under your belt," she said.
She also has a plan to help her get back to the NAJYRC. "We've been studying the tests and practicing some other movements, kind of in the Intermediaire II so that some of this will seem easier," she said.

A Last-Minute Entry
Allison Faso has plenty of show experience, but she'd only ridden Donna Karen once before she stepped into the show ring at the Zada Cup. The 9-year-old, Hanoverian mare (Don Primero—Goldfee), who is owned by Dee Loveless, was in training with Roel Theunissen, and he asked Faso to show her.
"I rode her Thursday and showed her Friday and Saturday," said Faso. "It was the first time I've done something like that."
And while it was the first time, Faso may have some more catch riding in her future, since she ended up winning fourth level, test 1 (65.58%), and fourth level, test 2 (64.09%), with Donna Karen.
"She's a really well-trained horse, super steady," said Faso. "I had another horse in the past who was also by Don Primero, and it's amazing how similar they were in their temperaments. It made my job easy."
Faso rode Donna Karen to give her a bit more exposure in the show ring. The 32-year-old professional from Alpharetta, Ga., also rides with Theunissen, and he was able to give her a bit of coaching for the weekend.
"The adjustment wasn't very complicated," said Faso. "The flying changes were the weakest thing. Everyone does that a little bit differently. She was just so steady and uncomplicated. Her trot work was really good; her lateral work was good in the trot. She had a little tension in her canter, but it wasn't so bad."
Loveless rode her mare on Sunday at fourth level and placed second (60.93%). Donna Karen was the fourth level champion with Faso.
"We won some money," said Faso. "Maybe at the next show we'll do something again, but I don't know."
Not only did Faso have the excitement of an unexpected ride for the weekend, but she also ended up at the veterinary hospital with her own horse Navarro.
"He had a colic on Saturday night," she explained. "I had to take him to Peterson and Smith [Equine Hospital]. He didn't need surgery, though. They took such good care of him. I felt like he was in good hands."
Faso said that although she'd like to go to Wellington, Fla., in the winter, it's too much of a time commitment for her, and there are plenty of quality shows in northern Florida.
"It was really well managed, nice prizes, very hospitable people," she said. "They really look out for the competitors. Everyone was so friendly and nice."
Since Faso just moved to a new barn in the beginning of February, she had another reason to trailer out instead of packing up and heading south.
"I have 13 horses in training," she said. "I don't have enough of the clientele who will send those horses with me for the season. I just can't do it."
Sara Lieser