This adult amateur has struck a successful balance between criminal trials and horse trials.
If the horse world ever needed a superhero, Kevin Baumgardner could definitely answer the call. He may not come with tights and a cape, but after the working day is done, the 48-year-old lawyer-by-day does change into the next best thing: breeches.
At first glance, Baumgardner is simply the picture of real-world success.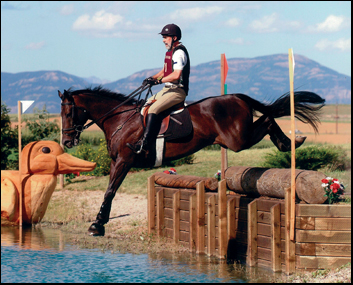 A founding partner at Corr Cronin Michelson Baumgardner & Preece LLP, he has been named among the top products liability litigators in the city by Seattle magazine, and he's been labeled a "Super Lawyer" by Washington Law & Politics five times. He commutes to work via ferry from his home on Vashon Island, though he and his wife Gretchen sometimes opt for the convenience of their city apartment as well.
But for the past 15 years, Baumgardner has been leading a double life. Aside from his law career, the amateur rider trains with Melissa Beardsley in Redmond, Wash., has competed through the advanced level, and serves on the U.S. Eventing Association's Board of Governors, as well as the U.S. Equestrian Federation's Eventing Committee.
"We ended up, just kind of through chutzpah and blind luck, running into people who knew what they were doing," Baumgardner explained of his introduction to eventing. "It's a neat sport where you can come to it as late as I did and have clinics with Bruce Davidson and get Denny Emerson to teach you."
After beginning with basic riding lessons, Baumgardner and his wife competed at the lower levels for several years under the tutelage of Beardsley. Just before the trainer left to compete at Burghley (England) in 1999, Baumgardner decided he was ready for an upper-level horse.
"I mentioned to her before she left that if she happened to find a horse that would suit me in like the next three months or so, to let me know. I didn't mean on her trip!" he said, laughing. "She found an Irish
Sport Horse at Ian Stark's place, and I just couldn't bring myself to buy him sight unseen, so she actually bought him herself and brought him back and sold him on to me at cost."
Beardsley knew that Vische Mountain, a talented, well-built gelding would be a perfect fit for Baumgardner.
"He jumped five foot effortlessly," she said. "And he wasn't easy on the flat, but he could do it. I remember we went hacking and I think the kid [riding him] touched a hot wire, and sheep and cattle hot wires are not exactly gentle. I think he skittered a little to the side, but then he just stood there. Any other horse probably would have bolted halfway across the field."
"He is the horse everyone should be so lucky to ride sometime in their eventing career," said Baumgardner, who competed through advanced with the gray gelding. "[He was] virtually unstoppable across country and had a heart of gold."
Now 19, "Denzil" is happily retired. He underwent emergency colic surgery in early October but is recovering nicely, and Baumgardner hopes his younger mounts Dallas and Dexter will be competing at
intermediate come spring time.
Dallas, (Audacity), an 11-year-old New Zealand Thoroughbred who Baumgardner competed through the two-star level, and Dexter, (Dextrarius), an 11-year-old Australian Thoroughbred who's gone through intermediate, both incurred injuries last year. They are back in working form and will show at preliminary this winter. "I'm not anti-American," he joked of his imported mounts.
Baumgardner tries to get to the office each morning around 6 a.m., and 12-hour days are not unusual. In the evenings he goes to the barn, rides two horses, and gets home at about 10 p.m. for dinner.
"I try to ride five days a week, maybe six if I'm competing," Baumgardner said. "I tend to have incredible rushes of 24/7 kind of work around a trial, which gives me some down time. The real challenge is to schedule those peaks and valleys. I try to schedule my trials and hearings around the events I want to go to."
Baumgardner generally competes in 10 to 15 events per year.
"The California folks and us inter-mountain riders all know each other in some sense," Baumgardner said. "If you go at the upper levels here, you inevitably travel. Rebecca Farm [Mont.] is 9 hours, Ram Tap [Calif.] is 17 hours, Galway [Calif.] is 22. So we get used to driving overnight. Sometimes I've flown down and cheated a bit, but I've put my time in behind the wheel. Basically one thing you do, which I think all eventers can relate to, is that you just sleep less!"
"I think he does quite well, though I know it's getting harder and harder because his law firm is quite well respected, and he does quite well at it," Beardsley said of Baumgardner. "He doesn't seem to try to make his life any simpler, so we try to help him balance."
The Tryon Tribunal
Though his passion for law has opened many doors for Baumgardner, he never expected to find himself venturing to the Fédération Equestre Internationale headquarters in Lausanne, Switzerland, in a legal capacity. But when Washington rider Amy Tryon was asked to appear before an FEI tribunal at the headquarters in late June following allegations of abuse at the Rolex Kentucky CCI**** in April, Baumgardner was by her side.
A personal friend of Tryon's, Baumgardner discussed the situation with her at length and ultimately volunteered to represent her pro bono, along with his fellow West Coast eventer and lawyer Andrew Temkin.
"I was, and am, Amy's friend and a great admirer of her horsemanship, and my co-counsel Andrew Temkin and I were both absolutely driven by our commitment to help obtain a just outcome for her," Baumgardner said.
During their time as Tryon's counsel, Baumgardner and Temkin, who also serves on the USEA Board of Governors, recused themselves from discussions regarding the situation at all USEA board and committee meetings.
"I believed very strongly that anyone in Amy's position deserved the right to have her side of the story told and listened to," said Baumgardner. "And from the standpoint of the integrity of the disciplinary process and equestrian sports as a whole, it was crucial that the matter be decided rationally, dispassionately and fairly. If we couldn't achieve that, then horse sports would have a very bleak future in the information age."
Though the circumstances facilitating his trip to Switzerland were far from desirable, Baumgardner was duly impressed by the character displayed there by each individual who testified on Tryon's behalf, including her coach Capt. Mark Phillips and horse owner Rebecca Broussard.
"I think a great example of that type of character was also shown by Karen O'Connor, who was in the midst of final U.S. Equestrian Team training and dropped everything to take four days out of her schedule to travel to Switzerland and testify live at the FEI hearing," Baumgardner continued. "She didn't have to make that extraordinary sacrifice and jeopardize her preparation for the [Pan American] Games, and no one at the USEF or the team told her to go to Lausanne. She did it of her own accord because she thought it was the right thing to do, and I can't tell you how much I admire her for doing that and then going out and getting the job done anyway in Rio. That's class."
Baumgardner said he was proud to count himself among Tryon's supporters.
"Obviously Amy made a mistake, and she has acknowledged and taken responsibility for that mistake. But it was an honest mistake—one that was neither intentional nor premeditated," he said. "I'm very proud of Amy, who is a wonderful person, a compassionate friend of animals, and one of the greatest horsemen in the world today. I am honored to have represented her."

A Perfect Sport
Baumgardner said it's the displays of character such as he witnessed in Lausanne that keep him devoted to the sport, despite his demanding day job. From his colleagues on the Board of Governors to the staff at the USEA, the abundance of talented, hard-working individuals within eventing keep him energized.
"I think what induces eventers like me to volunteer a lot of their time and travel around the country in the administration and governance of this sport is the opportunity to work with creative, high-energy people to try to do good for a sport we all love," he said.
Fellow Northwesterner Malcolm Hook is no stranger to the travel-weary lifestyle as the USEF Eventing Committee chairman, a member of the USEA Board of Governors, a licensed technical delegate and a leader on various other committees. But even Hook is impressed by Baumgardner's endless contributions to eventing.
"His commitment is absolutely staggering," Hook said. "Given the amount of time that his professional life must take and the amount of time his horses take, the fact that he puts in the amount of time with the USEA committee and Board of Governors—I don't know if the man sleeps, honestly."
Hook also said the combination of Baumgardner's professional drive and good humor makes him an enjoyable colleague.
"He so rarely becomes angry that when he uses strong language I'm always surprised," Hook said. "He's just really even and centered. And he's just tremendously good company whether you're having a meeting and out to dinner.
"I wouldn't lead you to believe that Kevin and I stay up late enjoying adult beverages," he added, laughing.
Baumgardner also believes he's struck a good balance between his personal life and the sport.
"Once I took up riding in earnest, I found that horses are a great antidote for the stresses of my day job," he said. "Horses are in many ways polar opposites from the lawyers I deal with every day. There is nothing quite like going out to the barn and having a good ride on a generous horse as a way of recovering your Zen after haggling over a lawsuit all day. I think that the opposition between the two worlds I inhabit gives me the ability to give a lot of attention and energy to each."
Baumgardner came to eventing relatively late in life, never sitting on a horse until age 30. But after taking a few casual riding lessons with his wife and then witnessing the entire three-day competition at the 1992 Barcelona Olympics via NBC's ill-fated pay-per-view Triplecast, he was hooked.
"When I first saw this sport and got involved with it, I thought, 'My goodness they've made a perfect sport!'" Baumgardner said. "I grew up in the Midwest, played football and basketball, then got in to mountain
climbing and hiking and outdoor stuff when I came to Seattle, but I think, like a lot of people, I've come to the conclusion that there's nothing more fun than eventing."
That zeal for the sport has continued to fuel Baumgardner's volunteerism. Though he considers himself a pioneer for growth, he tries to focus on maintaining the discipline's egalitarian feel.
"I think that there's a lot of achievement that's pretty fraudulent in the world today, but in eventing you really have to work yourself to the bone for four days, let alone everything you do in the run-up to the event," Baumgardner explained. "And you may walk away with a ribbon and you may not. It's a sport that's very leveling, and people tend to pull together. The special demands that it puts on all of us really show the character of people.
"I really do want to make sure that that feeling is not lost as the sport becomes more technical and inevitably bigger, and perhaps not only an amateur endeavor, but a business," he continued. "People like Lucinda Green and Jimmy Wofford and Denny Emerson and Karen Stives—there's definitely a little bit of poetry in those people, and we wouldn't want to lose that. By all means, let's grow the sport and make it as vital and relevant as we can in our 21st century—let's just not lose the poetry."
Kat Netzler