Her homebred Fjord has begun a winning driving career.
Two decades of breeding Fjords paid off when Vivian Creigh drove a homebred to the top of the preliminary pony class at the Gladstone CDE, Sept. 19-21 in Gladstone, N.J. She and Winona finished with a score of 103.11, more than 16 points ahead of the competition.
"I picked Fjords because they are like me—short, fat and blonde!" Creigh joked. "I come from a Swedish background, and they are Nordic in origin.
When Creigh started in combined driving with her Fjords, she was told she could never get one to the advanced level. "But in 2007 I retired my mare, Olympia, as the advanced reserve national champion at the Fair Hill CDE [Md.]," said Creigh.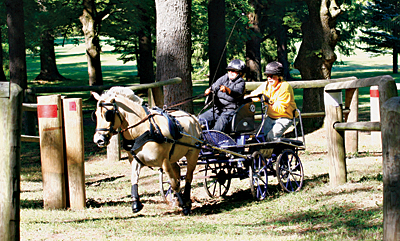 "I always take my ponies to the best clinicians regardless of the fact that most people don't think the Fjords are capable [in combined driving]," added Creigh, who raised, trained and raced Siberian Huskies prior to her involvement with Fjords.
Creigh, Springfield, Vt., imported Winona's dam from Holland and bred her to the Dutch stallion, Conggard.
Before Winona, 7, began driving last January, she was shown at first level in ridden dressage and evented to the novice level. The experience paid off as Creigh drove her to a dressage score of 59.44, putting them in second. They then won the marathon and turned in a clean cones phase to take the lead.
This year, Winona and Creigh won their preliminary classes at Sunshine State (Fla.), Bromont (Canada), Green Mountain Horse Association (Vt.) and were fourth at The Laurels at Landhope (Pa.).
"We want to take it slow and easy. Next year I plan to move her up to intermediate for the season and then bide my time before we move her to advanced," Creigh said.
A New Team Member
Despite adding a new pony to her combinations, Wendy O'Brien won the preliminary pony pair class (102.51), leading from start to finish. O'Brien just started driving Josephine, a Dartmoor-Arab mare, 6, this spring. She got the pony from Muffy Seaton. "Josie" won the training single pony division with O'Brien at the Green Mountain Horse Association CDE in August.
Josie debuted in O'Brien's pair at Gladstone. O'Brien drove her with the gelding Maximus in the dressage and cones phases, while she used Maximus and Beauregard in the marathon.
O'Brien had used "Beau," a 6-year-old, 14-hand, Dartmoor-Quarter Horse cross, with "Max," a 13.1-hand, 10-year-old German Riding Pony, to take second at The Laurels at Landhope in the intermediate pony pairs.
All-Purpose Equines
Pat Hastings claimed second in the preliminary pony pairs with a pair of Dales ponies. Owned by Debbie Hamilton, the steel gray Dales appeared to be miniature look-alikes of Clydesdales. The geldings—are half-brothers by the British Dale stallion, Dartdale Peter Boy. They are part of a project that Hamilton undertook more than a decade ago in an effort to preserve and promote the breed.
"[Dales ponies] are from the north of Britain and are very stout, as are many of the mountain and moorland ponies," pointed out Hamilton. "They're all-purpose animals. They can pack, they can plow, and they can be ridden or driven.
"I have had Dales for 12 years, and they are very rare. Their global population is about 1,400," she said. "The best way to promote the breed is to show them in harness. This is their sixth show, and this is about the best they have done."
Despite their heavy appearance, "these ponies were quite fit for the marathon," said Hastings, who also manages Hamilton's farm in Hartland, Vt. "Being from Vermont, they are used to a lot of hills."
"He's the greatest—I wish I could clone him," she said of Max. Beau, on the other hand, needs inspiration. "He is a little lazy and lets the other guys do the work," said O'Brien. "We had a few difficulties because we were held up at two hazards due to a slow team ahead of them. When you have a hold, you lose your momentum, but my ponies rose to the occasion."
O'Brien, a grandmother of five, and her ponies won all but one hazard to earn the best marathon award in the preliminary divisions.
Born in New York City and raised near Philadelphia, Pa., O'Brien found her niche in driving when she took her children in a carriage around their New York state farm. "That was the only way they could accompany me when we went out into the fields," said O'Brien, who now watches over her five dogs, French donkeys and ponies at her Trout Walk Farm.
Smooth Moves
"I don't know what possessed me when I asked [four-in-hand driver] Gary Stover if he had a horse I could buy," said Ellen Epstein, who repeated her 2007 performance by winning the intermediate single horse (129.65) class. She also took top honors with the best dressage score in the intermediate division with
her Noudje.
"I bought my best horse, Federal, from Gary years ago, and when I talked to him about another, he said he had one that didn't quite fit in with his team. He wanted to sell him, but the only person he would consider selling him to would be me."
Noudje, 12, is a dapple bay, 16-hand Dutch Warmblood, with white socks who had been a leader in Stover's team. Epstein took over his reins 1 1⁄2 years ago. "His movement is very expressive," said Epstein.
He was accustomed to working alongside another horse, "so it has taken him a long time to learn to be independent," said Epstein, Newtown, Pa. "We recently purchased a horse to go with him, but I think I am going to stay single for now. I do whatever makes the horse happy."
Noudje won the preliminary single horse class at The Laurels at Landhope two weeks earlier. They moved up to intermediate at Gladstone, debuting with the win.
Epstein's good weekend continued as she placed second in the preliminary single horse class with Kramer. The minute Epstein saw her newest horse, now 5, on a video with a tuft of hair that popped out of his forelock, she knew he "had to be a Kramer." She named the 15.3-hand, chestnut Dutch Harness horse with four white socks and a flaxen mane and tail after one of the characters on her favorite television show, Seinfeld.
Sinatra Dances To Win
After representing Canada twice in the World Single Horse Championships, Carole Precious is back at Gladstone, readying a horse she hopes to use for her third trip to the World Championships. She won the advanced single horse class (199.56) with her 9-year-old Sinatra 18, a 16.1-hand, bay Oldenburg.
Precious was looking for a horse capable of advanced competition and found that in the son of Rubinstein through her friend and mentor, international four-in-hand driver Chester Weber, in Germany.
"I named him and had him registered in Germany and then submitted his name to the [breed] registry. Unbelievably, they had 17 previous horses with 'Sinatra' in their name so he became No. 18, but at home I call him 'Frank,' " Precious said.
A rider for 14 years and producer of the endangered Cheval Canadian breed of horses, Precious became interested in driving through her farrier, who taught her the basics. She trained all winter the first year with her own horse hitched to a Mennonite carriage. When spring came, her farrier suggested she go to a small local show, and then she became hooked on the sport.
Precious drove one of her Cheval Canadian horses in the 2004 World Single Horse Championships and then drove Sinatra at the 2006 World Championships. "They were very, very difficult and challenging so I was on a steep learning curve," said Precious, a falconer and wild animal trainer who specialized in raising and handling cheetahs.
In 2005, she took a hiatus from her animal training to build a farm in Puslinch, Ont., so she shelved goals for international competition. "But I am very motivated to [compete at the 2010 World Championships] with this horse and my longtime navigator, Saskia Leijten," she said.
Nancy Degutis