Aiken, South Carolina, is such a magical place in the winter. No matter the day, there are plenty of activities to better you and your horse with so many knowledgeable professionals in close proximity. One of my favorites to ride with and watch teach is Jan Byyny. If you haven't ridden with Jan or watched her clinics, put it on your to-do list. I'm serious. She will not disappoint, and you will leave motivated with your head filled with "Jan-isms."
What's a Jan-ism? Well, these are little key phrases she says during the ride that you can't help but find yourself saying to yourself while you are riding or repeating to your students. Trust me, when I hear the word or think the word "ANKLES" I lock those suckers right around my horse and ride a bit better, thanks to those perfect Jan-isms!
The lesson I watched featured two young riders competing at novice with goals of moving up. Sara Canter was aboard her Connemara-Thoroughbred I DunNo or "Dudley," and Tove Goldstone rode the Oldenburg-Thoroughbred she leases, Aber Oak, AKA "Oakley."
Warm-Up Doesn't Mean Easy
Jan got right down to business to start by asking, "How are your horses with liverpools?" (Oh boy, it was a bit chilly out, and both horses were up. The girls also live in Massachusetts and were visiting for the weekend, so they were a bit rusty!) They rose to the occasion and answered "good" in less-than-confident voices, but were ready to give it the old college try.
Jan had them trot into a cavaletti with a liverpool underneath, set one stride to a plain cavaletti. Both horses had a bit of a spook and funky jump the first time through, leading to unseated riders and wiggly and disorganized one strides.
After a good spook it's easy to come back and ride a bit defensively, but that sends the horses in too big of a step after the liverpool, making the one stride short, and then the stride becomes too big on the back side. Jan's advice was to "make it methodical and keep it simple. Just trot, just canter, stay over the middle of them." They quickly settled into the exercise of stepping up at the trot, a clear canter transition, and fitting in the one stride.
Never Stop Riding
As the approach and one stride improved, Jan had the riders focus on the landing side of each fence. It's easy to jump an exercise or a course and mentally go, "Phew, did it," and stop riding, but if we think about it, that's poor training for ourselves and horses. They, and we, deserve better execution. The landing side is just as important, if not more! The horses don't know when your course is over or what's coming next, so you should ride every step away from the jump. This will keep the horses accepting your aids as well as balanced and rideable.
How can you accomplish this? Well add in this simple exercise that works miracles. Now they cantered into the same liverpool exercise, which made the distance short, and Jan encouraged the riders to control the canter. On the landing side, Jan instructed them to land, leg yield out, and perform a 10-meter circle to compress the stride, then return to a light seat before allowing the horse to travel away. Both riders fell into the trap of pulling onto a circle, and Jan immediately stopped them and broke it down to be more thoughtful and get the most out of what the exercise had to offer.
She told them to first straighten their horse on landing, and if turning left, step right and put the left leg on, connect the horse through the reins and compress the canter. Once that's done they can produce a balanced circle, riding inside leg to outside rein. (If this isn't the running theme of riding I don't know what is, but we all need to hear it or be beaten over the head with it.)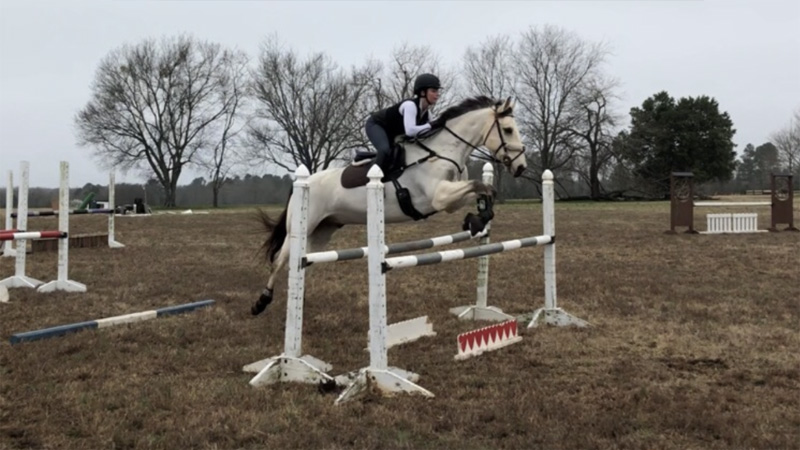 With that in mind, both horses became more accepting of the aids each time they landed, alternating which direction they'd turn, and you could see the horses becoming more honed into the riders' instructions. Jan kept reminding them that the horses should be looking to their riders for, "What's the pace, and where are we going?" and by throwing in these circles both horses settled into the rhythm, waiting on the riders to direct them. Mission accomplished, for now.
Next up was a grid consisting of a placing rail to a vertical, one stride with a placing rail to an oxer, one stride with a placing rail to an oxer, one stride with a placing rail to a vertical with a landing pole. The goal was to jump through the grid a few times using the 10-meter circle exercise on the backside to maintain rideability.
On the first go, the riders came in a bit defensively. Riding in the backseat caused their horses to run, making the distances short. Jan told them to think of how show jumpers ride up to spooky fences: They stay in the middle and support their horses rather than chasing them. While chasing may get the job done, Jan said, "It doesn't promote good jumps as it changes the horse's arc." She encouraged the riders to stay over the middle of their horses, wrap their ankles around their horses, and scoop their horses' bellies up to stay with the horse and promote better jumps.
Grids are such a valuable tool to use for horses' form and rider feel and position. The one strides and placing rails helped set the horses up for nice bascule over the fences. The rider's job was to get them in straight and at a good pace and then maintain a supportive position down the line, finishing in a rideable canter. Horses must be accepting of the aids, so they maintain a good quality canter to jump around a course.
The Horse Should Be Rideable At All Times
Jan set a course that started with the liverpool exercise, followed by a circle before proceeding through the grid, another circle to an outside line set three strides to four strides, then a circle before an oxer with placing rails on each side. After circling again, they jumped a vertical to a long outside line on an unrelated distance, finishing up over the liverpool exercise, and you guessed it, CIRCLE.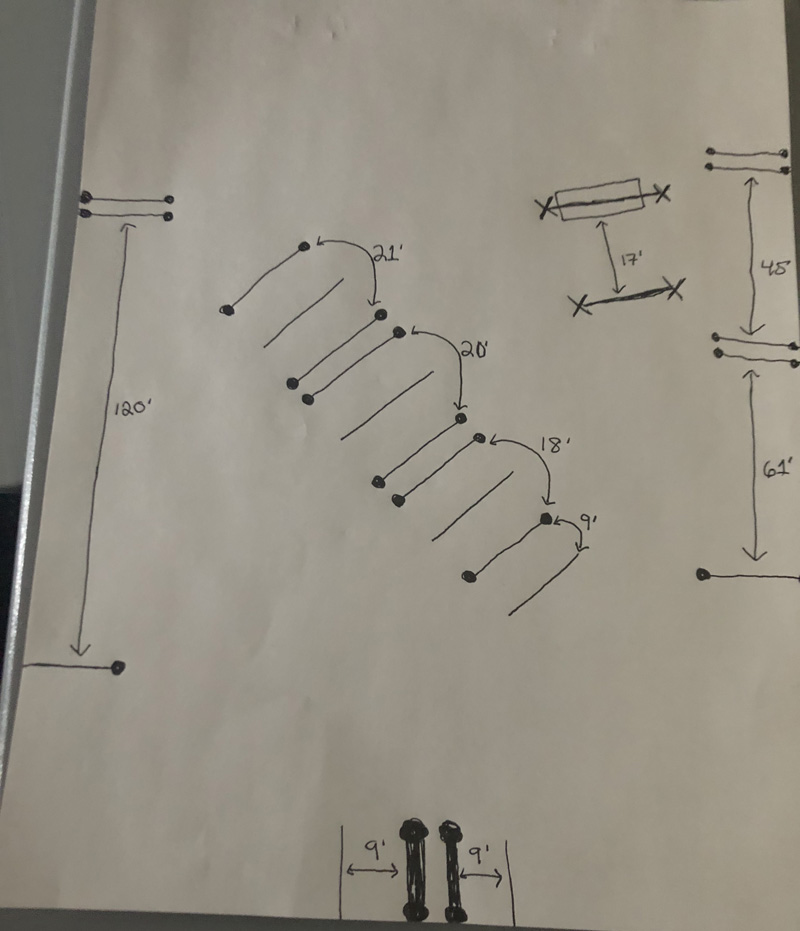 This was a great mix of familiar exercises for the riders,  combined with a good test of lines and singles to see if they could maintain the rhythm and rideability. Jan was adamant about landing, leg yielding and riding a balanced 10-meter circle. If riders landed and whipped around in a circle or rode too big of a circle, they were sent back to repeat it correctly.
"The horse has to land and think about what you want," Jan said. "The more you practice this, the more rideable and the more second nature riding away from the jump becomes."
Sara took on the course first and wanted to manage the canter with the rein, which made Dudley's neck short and the canter unbalanced. That led to pace changes throughout the course, which changed the distance at the fence. Jan instructed Sara to "keep your hands in front of you" and constantly reminded her "his nose needs to be out and up to see the fence." With these tweaks the course became smooth, and Dudley began to land and wait for Sara's instructions.
Tove's horse Oakley has a naturally big step, so Jan told her to "keep her leg on and squeeze him together." Tove had the tendency to get a bit defensive in her body by sitting into him and driving, which dropped Oakley's back and flattened his step, leaving him strung out. To help with this Jan had Tove do additional circles and even added in some halts. When Tove got frazzled about a deep distance Jan said to "ride the canter to find it." I love this reminder because it helps the rider focus on the canter rather than obsess about the distance to the jump. The halts were incorporated into the course to ensure that a half-halt would work to compress Oakley's step. At one point Jan said, "FEEL THE RHYTHM," and I couldn't help but think of "Cool Runnings," the movie about the Jamaican bobsled team that has a famous quote of, "Feel the rhythm, feel the rhyme, get on up, it's bobsled time!" You can bet I'll be chanting this in my head the next time I'm jumping around!
Recapping Their Rides (Positively!)
To close out the ride Jan asked both riders, "What are two things you can take away from today?" Tove began with, "Don't sit and drive, or it doesn't go well." Jan instantly stepped in and rephrased the question, "What are two positive things, two things you CAN do?" Tove changed her answer to "have a light seat, so I can keep his back up" and "implant the rhythm in my mind, so I can maintain it throughout the course."
Sara answered, "To keep my hands out [in front of me], so his nose can stay out," and the moral of the day, "Keep riding after the fence, so he stays with me during the courses."
I loved the reminder of positive thinking. If you tell yourself "don't pull," "don't XYZ" you're more than likely going to pull, or whatever you're trying not to do, as it's in your head. If you replace it with a positive, something you CAN do, your brain will tell your body to accomplish this!