When you think of Clydesdales, what comes to mind? Probably the famous Budweiser team of big-bodied bays pulling a red wagon through crowds of adoring fans.
But amateur rider Jessica Crannell-Menard is hoping to change the perception that the breed can only pull a cart. Six years ago she purchased her first Clydesdale stallion to stand at stud, and now she has a promising new young stallion who is excelling at dressage and jumping and showing the world how versatile the breed can be.
"I find that they're very honest horses in training," said Crannell-Menard. "You don't get a lot of the thrills and the static that a lot of Thoroughbreds or warmbloods may have. They're very solid, steady and super trustworthy. Especially with dressage, it's about executing the movements as the test asks you to, and if my horse can still execute all the movements with accuracy, that's amazing. We shouldn't always confuse brilliance with correctness. Just because he might not have the loftiest trot or an explosive canter, doesn't mean he isn't a great riding horse."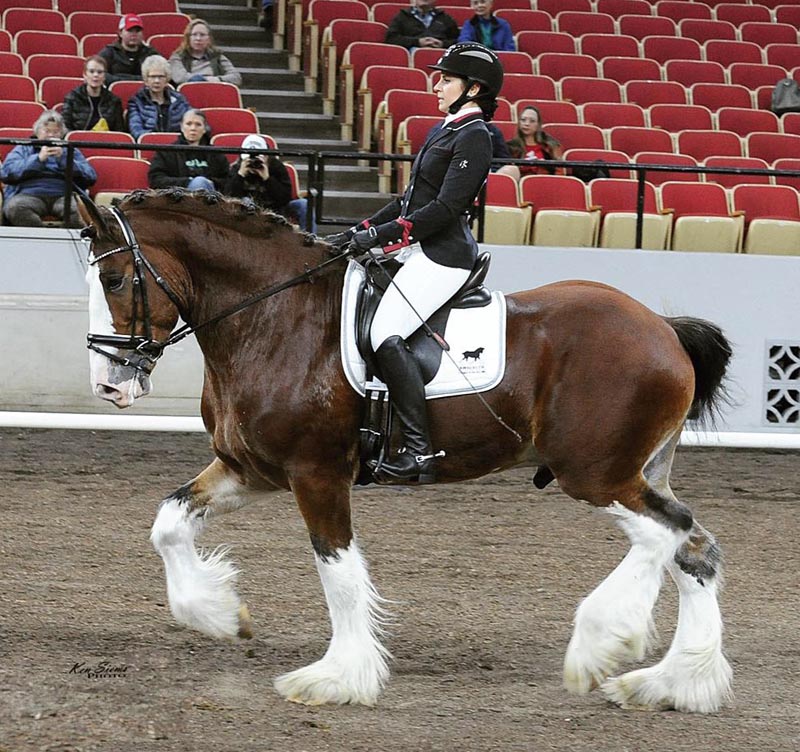 Draft horses weren't always a passion for Crannell-Menard. She grew up near Portland, Oregon, eventing and show jumping with a Thoroughbred. She attended Washington State University and earned a degree in animal science and pre-veterinary medicine, hoping to become an equine vet.
Crannell-Menard soon traveled to Lexington, Kentucky, to intern at Monticule Farm, famous for breeding 2008 Kentucky Derby winner Big Brown. She worked mostly with broodmares, helping to breed them and foal them, but soon developed an interest in stallions. She then interned for Fred Sarver, a Saddlebred breeder in Carlisle, Kentucky, where she learned more about managing stallions.
"That was really a great practical application for my real-world education, so to speak," she said. "You go to school, and you understand the mechanics of cellular biology and all these mechanical pathways that go into reproduction, but then you put it in the big picture, and it was like, 'OK, wow, this is how it all applies.' "
Family reasons brought her back to Oregon, and she decided not to pursue the years of school required to become a vet. While she was planning her next move, she reconnected with a neighbor who worked in the Thoroughbred racing industry and introduced her to Bravo, a Paint-Percheron who was used as a track pony.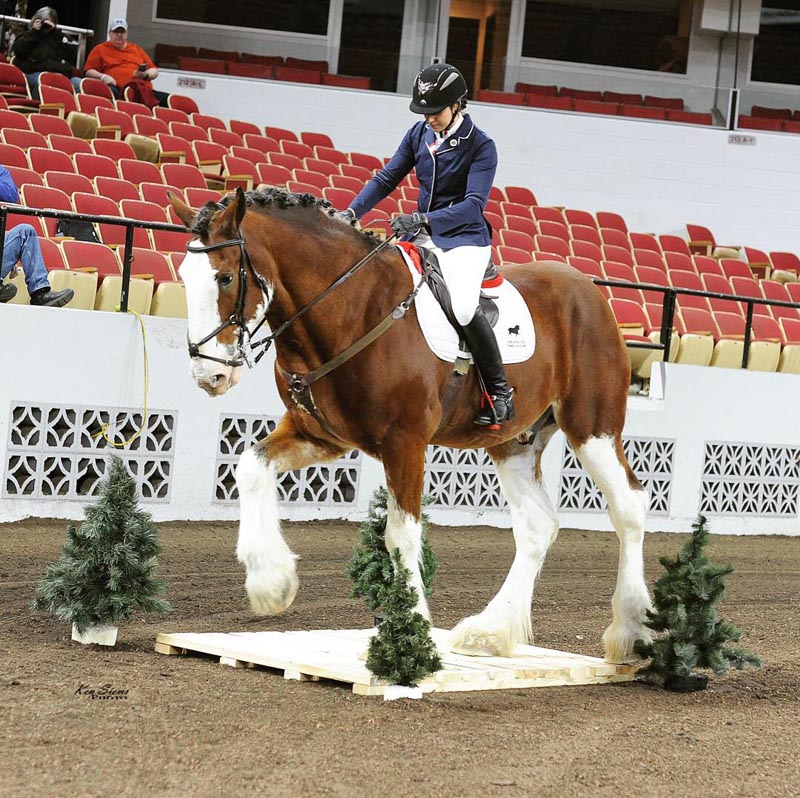 Crannell-Menard trained him in dressage and competed at some local shows, falling in love with his type along the way.
"I was thinking to myself, 'Wow, these draft crosses are amazing.' He had this incredible temperament; he's easygoing; he's also very smart and thoughtful, and for what little training he had, he was actually pretty talented," she said.
That planted the seed to start her own breeding operation with the hopes of standing a draft stallion to breed to lighter mares to produce nice low-level sport horses. She did some research and decided on Clydesdales because they're well-known as the mascot of Budweiser, and they're a bit lighter than other draft breeds like Belgians.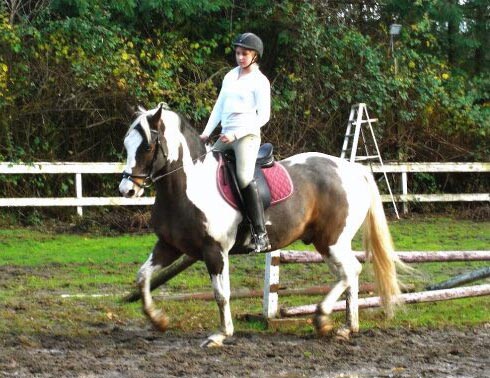 In 2011 she found an online ad for Oakwood Thistle's Guinness (Thistle Ridge Argyll Enhancer—Oakwood Silver King Sade, Glencameron Alex), an unbroken 11-year-old Clydesdale stallion located in Missouri.
"I saw a couple of videos of him, and he was within my price range," she said. "He kind of had a sad story. He was this farm's primary stallion, then he was demoted to a teaser, then demoted to a pasture ornament. I wanted to give him a new life."
"Guinness" had some purebred babies on the ground, and Crannell-Menard was excited to get him started under saddle and breeding. She schooled him first and second level and had some interest from mare owners, but she discovered he likely had some testicular damage that didn't allow for him to be a successful or marketable stallion.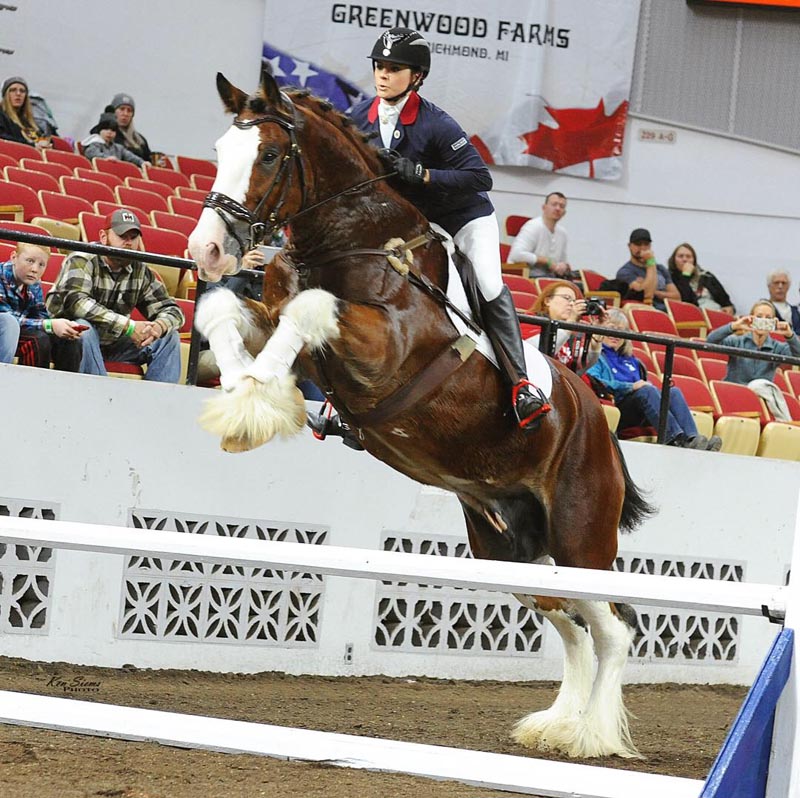 "I had to make the sad decision to geld him when he was 13," she said. "I think in his previous life, his owners did a lot of pasture breeding, and I think he might have gotten kicked. I tried many times to collect and freeze and ship, but the viability just wasn't there."
He was retired from riding last year at age 16, but Crannell-Menard found a worthy replacement in Towerview Theo (Willow Way Houston—Wilkiegil's 2 Of Hearts, Handsome Heights Fusilier Hank), or "Nitro." He came sight unseen, except for a short video clip, from a farm in Alberta, Canada.
Now 5, Nitro competes in dressage and jumping. "He's short-coupled and sassy and a little hotter than normal draft horses, which I love," said Crannell-Menard, 30. "It's a hotness that's manageable, not like Thoroughbred hot. He's crazy athletic. Several trainers have mentioned he's very handy. I feel that too. I think he's got some really great potential."
Watch Crannell-Menard and Nitro jumping at the 2018 World Clydesdale Show.
Last year, Crannell-Menard competed in the World Clydesdale Show in Madison, Wisconsin, with both horses. Guinness won the trail world title, and Nitro topped the English riding class, was reserve in dressage and fifth in the jumping class.
Crannell-Menard said that for the first time the 2018 show had a big emphasis on riding events, as opposed to hitch events—a possible sign that more riders are looking for sport potential in their breeding stock.
"I'm pretty realistic about their abilities," she said. "We're never going to go to [the Kentucky Three-Day], but if you find a good sport horse type, like a little sports car, what I think makes them good athletes for any sport is primarily their temperaments. People tend to think because they're slow that they're lazy and they're dumb when that's not the case at all. Draft horses tend to think through things. They're very methodical and don't get very emotional. My horses don't spook at anything because they don't get wound up. They think through something, even when you're asking them to try a new skill or perform new movements. They might give you a lot of pushback and resistance at first, just because they need time to think about it. I can appreciate that so much."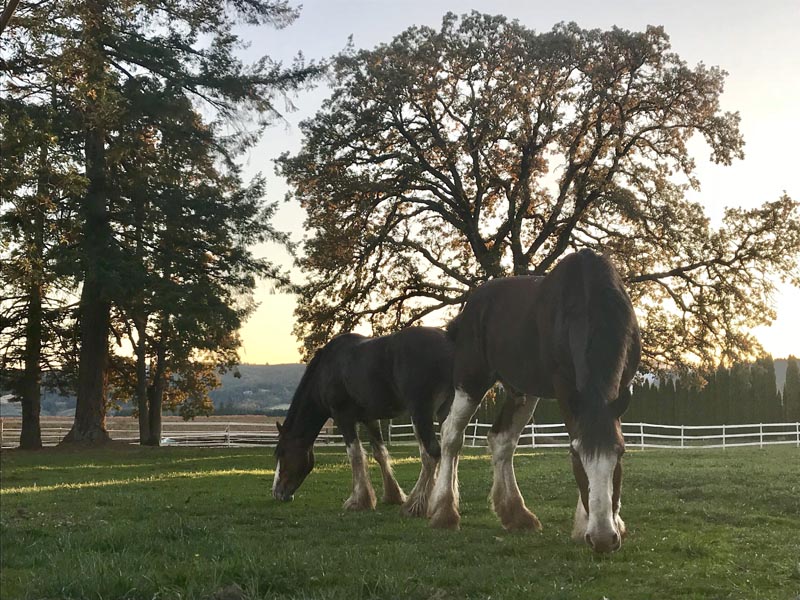 Crannell-Menard's dream came true in 2016 when she bought a farm in Cornelius, Oregon, that she dubbed Warwicke Hill. She works full time for an accounting firm in business development and enjoys having her small breeding operation on the side as she works to bring Clydesdale sport horses into the spotlight and break stereotypes. She's saving money to be able to take Nitro to the world championships in Manitoba, Canada, in 2021, and possibly the 2022 world championships in the breed's home country of Scotland.
"It's an expensive hobby," she said. "I do it because I love it. Whatever money Nitro brings in in breeding fees just goes right back into training."
Do you ride and compete an unusual breed? Let us know for a chance to be featured on coth.com! Email Lindsay at lberreth@coth.com with your story.