Wellington, Fla.—Jan. 15
It was a bit of the student becoming the teacher scenario in the $75,000 Rosenbaum Mollengarden PLLC Grand Prix at the Palm Beach International Equestrian Center.
A little more than a year ago, Daniel Coyle arrived at Ariel and Susan Grange's Lothorien Farm in Wellington from Ireland as a working student for then-rider of the farm's horses, fellow Irishman Conor Swail. Fast forward 13 months, and now Coyle rides the top horses of Lothlorien's string, Swail has started his own business, and Coyle just barely edge Swail out for the win in the grand prix of Week 1 of the Winter Equestrian Festival.

Daniel Coyle on Cita. Photo by Sportfot
Even though Coyle, 22, took over most of the rides on Lothlorien's horses in the fall when Swail decided to go out on his own after five years with the farm, he didn't swing a leg over Cita until the week before their WEF debut.
"Conor did very well with her, so we knew she was a good horse," Coyle said. "It takes me a while to get used to them, and when I do, I feel very comfortable. I kind of knew her already from working alongside Conor, so I'm very happy. It is only my second week on her, and I really like her."
Speaking about the change at Lothlorien and his abundance of new mounts for the winter, Coyle stated, "Fortunately for me, Conor left. I have all of these new horses, good horses. I had very good horses before; a lot of younger ones there, but to get his horses as well as the ones that I had, I was very fortunate. It is just going to take me a little while to figure them out for myself, but today went well."
Swail went fifth in the 15-horse jump-off and held the lead until Coyle came along four rounds later to best his time. Commenting on his trip, Coyle explained, "I was in the warm-up, and I watched [Conor's] round because I knew it was going to be fast. Even when we worked together, we were very competitive against each other anyway, so I knew to watch him. Catherine [Tyree] had me very scared as well at the end. It was a great jump-off for somebody to watch, and it was a great jump-off for me to win."
For Swail, Nina Fagerstrom's of Finland's former mount Flower is a brand new ride this winter as well, and the rider is just getting to know the 12-year-old Belgian Warmblood mare (Bon Ami x Randel Z).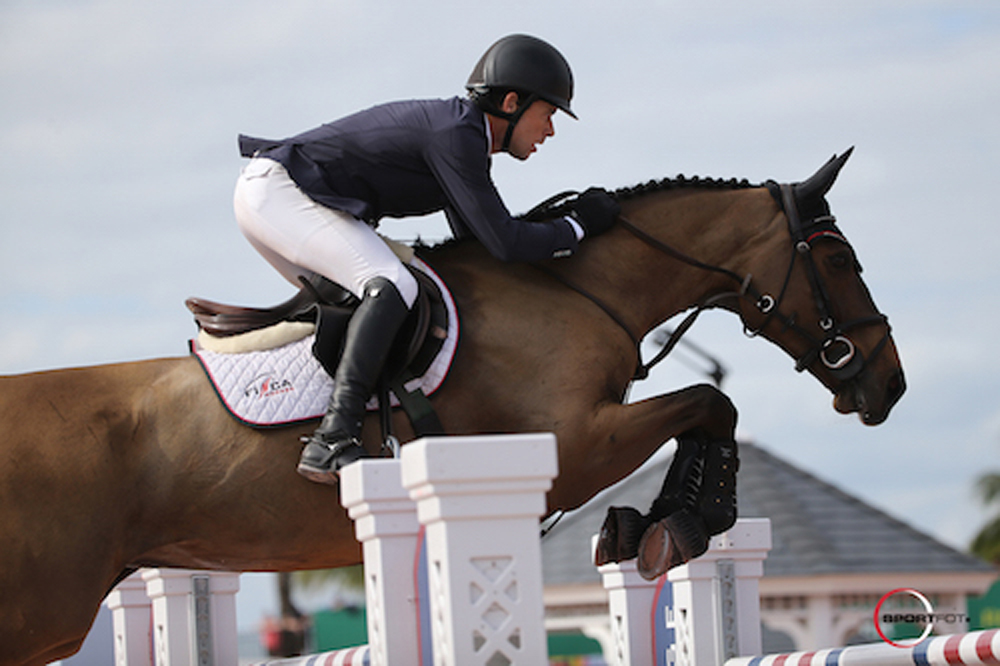 Conor Swail on Flower. Photo by Sportfot
"Nine asked me just a few weeks ago if I would be interested in doing something with Flower and I said, 'Absolutely!'" Swail said. "I knew the horse well with her, and so far so good. We have been gelling quite well together. I thought today was her best round with the two of us together, so I am looking forward to the rest of the season."
Swail continued, "Nina's still riding; she just felt that the mare is quite careful, and maybe my strength would help her a little bit. It seems to be the case. The horse is fantastic. She is seriously careful and quite straightforward to ride. It's fun having a horse to ride around when you know they don't want to knock the jumps down. It makes the job easier for sure."
Despite getting edged out by his former protégé, Swail was happy with his start to the winter circuit and happy to see one of his favorite horses excel under her new rider.
"Last year when I was with Lothlorien, I needed another rider to do the young horses, and I thought Daniel was very well qualified to do that," Swail detailed. "He started here last year and he had done an unbelievable job with all of the horses that he had.
"Now the situation is a little different, and he has some nicer horses, and he is doing equally as good a job on them. It's great to see him going well, and that was one of my favorite mares there, so it is great to see her going well. I would prefer he was behind me to be honest with you, but it's still good. My new mare jumped very well today, and I was very pleased with my own situation going forward. Obviously leaving a top barn like Sue's and Lothlorien, there is a void. I'm trying to fill that void, and it's nice that I already have some good horses that I can be competitive with at the higher levels."
Sunday also saw a top result in third place—just fractions of a second behind Coyle and Swail—for young rider Tyree, who is returning to WEF competition this year after severely fracturing her foot almost to the day one year ago.
After taking the time to heal and rehab, Tyree has made an impressive rise back to the grand prix level and has an exciting new partnership with her mount, Bokai. The 11-year-old Dutch Warmblood gelding (Up To Date x Ferro) previously showed under Norway's Victoria Gulliksen and then the Netherland's Harrie Smolders before pairing up with his current rider this summer.
"I just got him at the beginning of July, so it is a relatively new partnership, but he is such a competitive horse," Tyree noted. "I feel very fortunate to have him. This is his first show back since he showed at the National Horse Show [Ky.] at the end of October and it is like he never missed a beat. He is very sharp, he is very smart, and he is very quick. I knew if I took a shot today, he would be right there with me. Unfortunately, Daniel and Conor are a little bit quicker than I am, but I could not be more pleased with him."
Remarking on her success since returning to the show ring, Tyree stated, "It is definitely a very good feeling. It was one year ago yesterday that I got hurt. To look back at the year, it is unbelievable the things that my horses have done for me. I owe it all to North Run and John [Brennan] and Missy [Clark]. They are incredible trainers and incredible people. When I came back, my horses were ready to go, and I felt very confident throughout all of it. This is definitely a very good way to start the circuit, and hopefully it keeps continuing this way."
See full results from the $75,000 Rosenbaum Mollengarden PLLC Grand Prix.