As Kasey Perry-Glass watched a colt-starting and horsemanship clinic with Buster and Sheryl McLaury on May 7, she felt a pull to join in herself.
The Olympic medalist's husband, Dana Glass, specializes in colt starting and groundwork. He had been encouraging her to try working cows with one of her upper-level dressage prospects, Hutopia Van Bergsham, because the mare has struggled with confidence. Perry-Glass has ridden the 9-year-old Dutch Warmblood (Chagall D&R—Tutopia, Lord Sinclar) for four years and competed her through third level.
"[My husband] thought it would be really beneficial to put her on cows, just because it kind of teaches them to trust you to guide them to start pushing the cows, and then they start to learn that when they go towards something that they're nervous about or scared about, that [fear] goes away," Perry-Glass said. "Obviously I was like, 'Ehh she's an expensive horse, and I don't really want to push her over the edge with this kind of stuff and fry her in that way,' because I thought it was going to be too much for her mentally."
But by the time the clinic rolled around, Perry-Glass wanted to at least check it out.
"I just got the feeling I would miss an opportunity to do something fun and beneficial," she said. "So I ended up going out to watch the process of how he worked with these horses and the cows. To my surprise, it was so slow and so methodical, the whole process of how he introduced them, and really built the horses' confidence towards moving the cows. That reassured me that it would be just fine if I brought her, and if something went wrong, he would help me through it."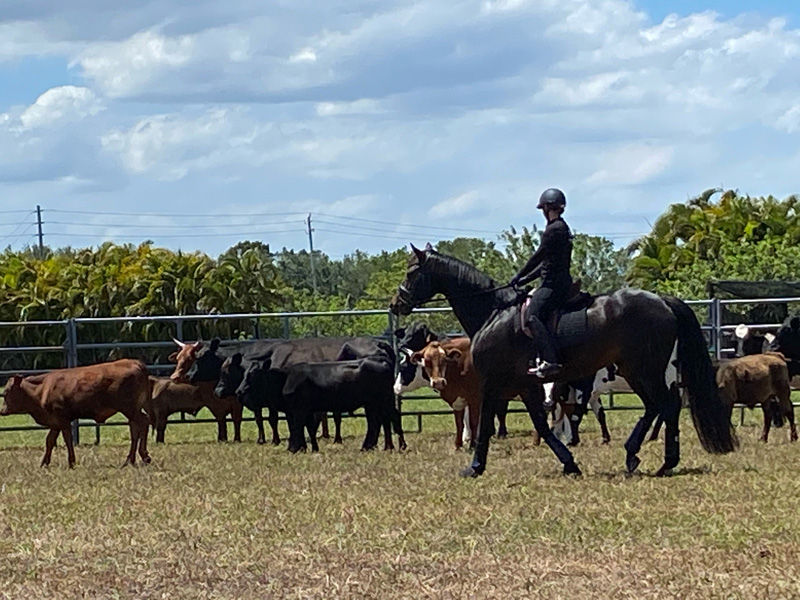 So on Saturday, Perry-Glass showed up at the Delray Equestrian Center in Delray Beach, Florida, in her dressage tack. Her naturally curious mare was pushing cows around within the first hour. The second day proved slightly more difficult as "Hutopia" was a bit more amped up.
"By the end of it, she was pinning her ears and kind of going after the cows, which is such a positive thing," Perry-Glass said. "I know people are like, 'Oh don't let them pin their ears,' but that means she's confident, and she's telling the cow to get away."
At the end of the clinic, Buster had each horse and rider work just one cow instead of the whole herd.
"One cow just running around can cause quite a commotion, so that was really good for her to learn to handle the commotion that was going on around her and actually focus on the job that she was doing," Perry-Glass said.
"Buster and Sheryl, they're such good mentors to my husband, and just to get out of the box and do something different with my horse that was in a safe environment for her, it was so eye-opening and so exhilarating, but such a joy to do," she added.

Perry-Glass said each session lasted roughly three hours, but lots of that was spent waiting and taking turns to work the cows, which she felt was a valuable learning experience as well.
"The horses end up having to learn to kind of get amped up working these cows and focused, and they also have to learn to stand and be a bystander and actually have patience, which I think was so beneficial," she said. "She, at times, would be standing completely fine, and then at times she would get really amped up because she didn't want to stand anymore, and Buster would tell me exactly how to work with her to put her to work, give her a job. There's so many things that you can do to keep her busy that she'll want to start to stand still. Like doing little baby leg yields or a little turn on the forehand, turn on the haunches, and kind of just keep them a little bit busy. Eventually they'll be like, 'Well it's just easier for me just to stand here.' "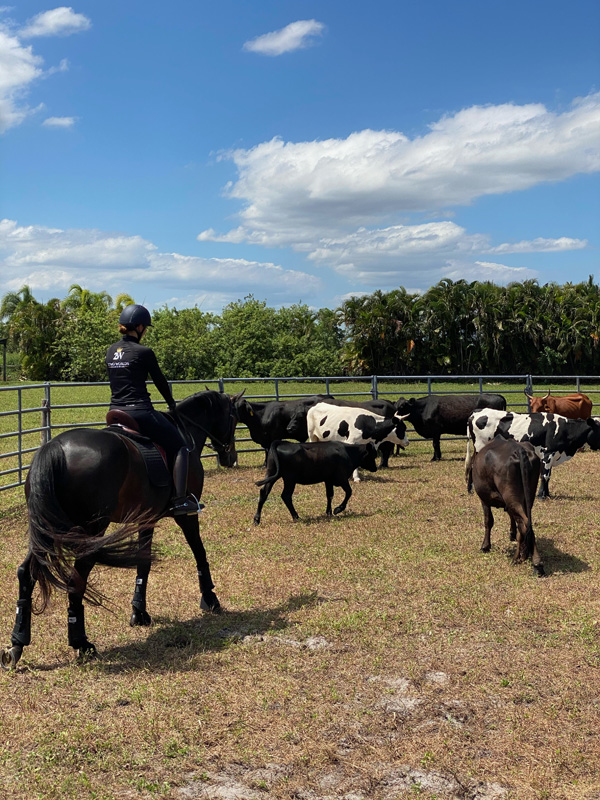 While Perry-Glass doesn't intend to trade her dressage tack for a western saddle, she does plan to participate again when the McLaurys return in the fall.
"I think a lot of horses need this," Perry-Glass said. "We put these horses through hard jobs. We expect them to be focused all the time. So for them to use their minds in different ways and kind of refresh them a little bit, and challenge them in a different way, it keeps their spirits going and keeps them more in tune with us. I'm definitely not a rider who, especially with a spooky, nervous horse, is just going to crank them down and push them through a situation. I really want to gain my horse's trust even it takes longer than the time frame of where they're 'supposed' to be in the training scale."
Hutopia is working up to Prix St. Georges at home, but Perry-Glass isn't worried about being behind the typical timeline. She believes taking her time has helped build a stronger relationship with the mare, and this clinic was just another step in that process.
"I learned that she's more bold than I gave her credit for, and I learned that a lot of my tension and a lot of my nervousness really translates onto her," she said. "It's hard to take that onto yourself, but sometimes we have to look at our own riding and our own ways of teaching these horses and say, 'How can I do this differently to make it more clear?' I've been really working on being clear with my intentions with her and giving her the confidence."
The clinic helped Perry-Glass recognize when her own nerves were affecting her horse.
"She was just excited about something, and I took it as a naughty thing, but really it's just my nervous emotions that were coming off, so I just had to calm myself down and go through the process of getting her quiet," she said.