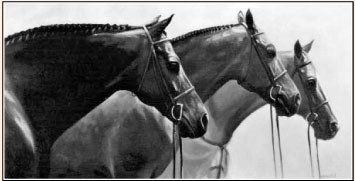 Down Time
The artwork of Janet Crawford depicts the equestrian lifestyle. Working from her studio in the Berkshires, Crawford focuses on classic portraiture of horses, dogs and people.
Crawford, Pittsfield, Mass., has a bachelor's degree in fine arts (concentration painting) from Rhode Island College. She's earned many awards and accolades for her paintings, which capture the candid moments of the horses world.
Crawford's work has appeared on many horse show programs and posters, including The Hampton Classic (N.Y.), the UPHA Spring Premiere (Mass.) and the New England Morgan Horse Show (Mass).
This week's cover, Down Time, captures a familiar, quiet moment at the ring while the horse await the jog.
Crawford's artwork is represented by VanderMoore of Memphis, Tenn., and her original pieces are showcased at such shows as Devon (Pa.), the Pennsylvania National, Capital Challenge (Md.) and on the Winter Equestrian Festival (Fla.) circuit.