Triumphador
by Terri Miller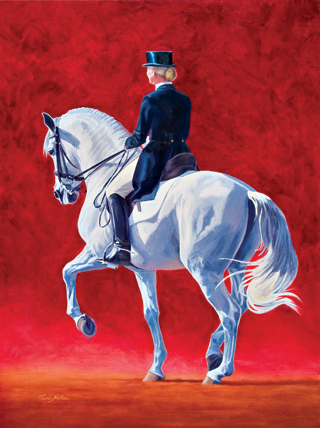 Terri Miller is one of the most sought-after equine photographers in the country, as well as a nationally recognized painter who works in oils, watercolor and pencil.
Miller has an exceptional ability to capture a horse's character, whether that horse is formally posed, turned out in a field, or under saddle. A graduate of New York's acclaimed School of Visual Arts, she sees through the lens with the eyes of a painter.
This week's cover, Triumphador, is a 30″ x 40″ oil on canvas of Janne Rumbough and her Grand Prix mount (see p. 16).
In Miller's paintings she combines her love of motion, color and composition with attention to the details that make up the personality of the horse. A life-long rider, and a keen and continual observer of horses, she has an in-depth knowledge of equine anatomy and how it translates to canvas and paper.