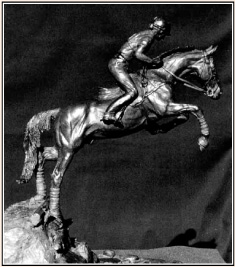 Beale Wright Morris Memorial Trophy
The Beale Wright Morris Memorial Trophy, donated by MidAtlantic Horse Rescue, was presented to Jake Shriner in 2005.
Morris was an internationally recognized event rider and former Pony Clubber whose top horses were all Thoroughbreds off the racetrack. She passed away in March of 2005.
Shriner, a D-2 Pony Clubber, was selected as the member of the St. Augustine Pony Club (Del.) who best embodies Morris' commitment to Pony Club, love of horses and compassion toward others.
Award-winning artist Nancy Weimer Belden, Newton, N.J., created the perperpetual trophy.