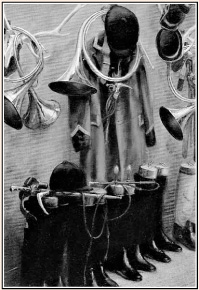 Hunter's Hallway
A sporting artist who lives in Southampton, N.Y., Henry Koehler was born in Louisville, Ky. He graduated from Yale University (Conn.), and shortly after that had illustrations published by The New Yorker, Town And Country, and Sports Illustrated.
His first exhibition was in 1961, and since then he's exhibited in United States. His works are in the collections of the National Racing Museum in Saratoga (N.Y.) and the National Horse Racing Museum in Newmarket, England.
He's painted several commission portraits of well-known Thoroughbreds but prefers genre pieces depicting horse racing, polo games, and hunting in the field with horses. He also does studies of jockey figures before and after their races. Hunter's Hallway is a study of the home of a dedicated foxhunter.