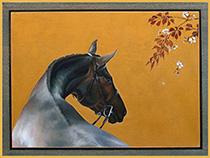 Zen Horse I
Linda Luster was a frequent contributor to the Chronicle in the early 1980s while living in North Carolina. After taking 16 years off from art to train dressage horses professionally in Maryland, Luster returned to her artwork full time. She works out of her studio on her farm in Rocky Ridge, Md., where she still keeps her hands in training a few horses.

In 1995, the Chronicle published an article called "50 Years Of Chronicle Cover Art" featuring 13 covers that had received the most reader response (there were 2,600 covers over the 50-year period) and Luster's artwork was one of the favorites.
"My 1982 drawing of the Fat Pony Little Child was among those chosen," Luster noted. "Pretty heady company I was in too…George Stubbs, Da Vinci, T'ang Dynasty, Jean Bowman, among others. I've been a frequent contributor since then."
In addition to commissions, Luster is concentrating on painting for juried shows and a few select art galleries. This week's cover, the Japanese-inspired painting Zen Horse I, is a gallery piece.
Zen Horse I, a 30″ x 40″ oil on canvas with a gold leaf background, was juried into the American Academy of Equine Art 2007 Fall Open Juried Exhibition and Sale and is on exhibit at the International Museum of the Horse, Lexington, Ky., through Nov. 4.