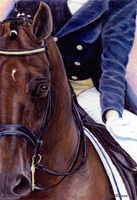 89.3
Raised in Florida, Cynthia M. Sheets now resides in Concord, N.C., where she has her two horses, many cats and a parrot.
Although she's drawn most of her life, Sheets received an advertising design/commerical art associate degree and then her bachelor's of fine arts degree from the University of North Carolina at Charlotte.
Equine art has always been her specialty, but she also features other animals, and her "people and their pets" portraits have become popular with clients.
Sheets' favorite medium is prismacolor pencils, although she often uses graphite, oil and watercolor (sometimes in conjunction with the prismacolor pencils). This week's cover, 89.3, is done in prismacolor pencil.
When not in her studio, sheets is usually found "attempting to learn dressage" on her Belgian named Barney.