The Smiths Winning The Family Class At Upperville by Jan Lukens
Artist Jan Lukens captured the Smith family in action during the 2008 Upperville Colt & Horse Show (Va.) when they won the family class.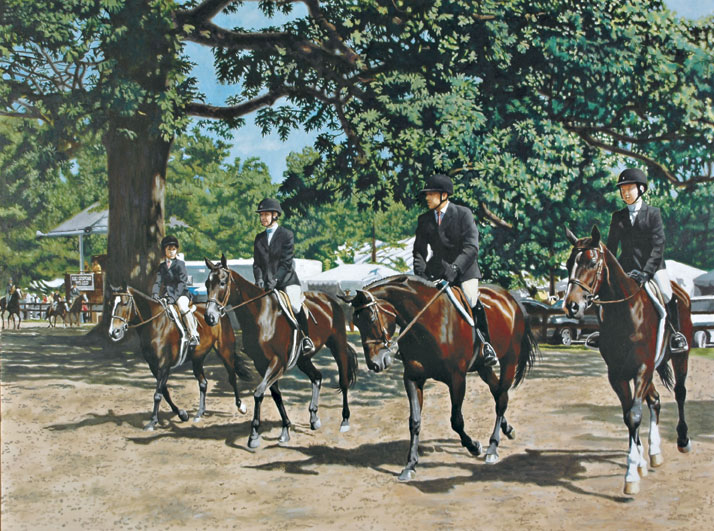 The 30″x 40″ oil on canvas shows (from left) son Mitchell on Pony Talk, mother Debbie on After Dark, father Michael on Paris North and daughter Tori on Placido.
The Smiths live in Winchester, Va., and train with Denice DeRisio Perry of Skyland Farm in Upperville, Va.
"The magnificent oak tree in the center of the main hunter ring took more time to paint than the riders and their horses, but I felt it was worth the effort," said Lukens. "Trees in the rings are such a visual part of the Upperville tradition, and they instantly reveal the location of the riders to most equestrian viewers."

After 15 years in advertising illustration, Lukens started his equestrian portraiture career in 1992. He studied full time at the Lyme Academy of Fine Arts (Conn.) for two years and later at the National Academy of Design (N.Y.).
After his start in the early 1990s, he quickly developed a following, and he now has clients in 37 states and eight foreign countries. Lukens is known for his ability to capture an accurate and pleasing likeness of his clients and their horses, and he's noted for the elaborate landscapes he paints for his portrait backgrounds.
In addition to his equine art, Lukens paints New York City street scenes and has exhibited his paintings at the Diane Birdsall Gallery in Old Lyme, Conn., and Gallery 115 in Greensboro, N.C.
Lukens has now relocated to his hometown of Greensboro, N.C., after nine years on the Connecticut coast and in New York City. This year he began teaching drawing and painting at his studio in the Revolution Mill.