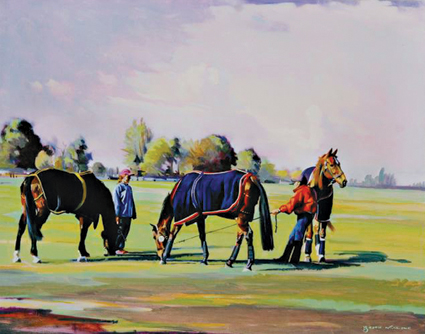 Eventers Grazing— Badminton by Booth Malone
Artist Booth Malone, Columbus, Ga., is widely known throughout the south for his portraiture of adults, children and animals. He has a remarkable talent for capturing the animation— the fleeting moment or expression unique to his subject—that defines the individual.
This week's cover, Eventers Grazing— Badminton, a 153⁄4″ x 20″ oil painting, is part of the American Academy of Equine Art's Art at Rolex Show And Sale (see p. 81).
Originally from south Florida, Malone graduated from Auburn University (Ala.) with a degree in
visual design and spent the next decade with The Coca-Cola Company in Atlanta. His corporate duties afforded him the opportunity to travel worldwide and to develop contacts, skills and insights that he continues to apply to his art today.
Malone began painting professionally in 1985, slowly building a following. He's done numerous covers for the Chronicle and provided the official poster for the Columbus Steeplechase at Callaway Gardens (Ga.). His work is included in numerous private and corporate collections throughout the United States. He's
the official artist of the United States Equestrian team, and he's represented by Frost & Reed Gallery (London and New York).