Unbridled Splendor By Mary Sand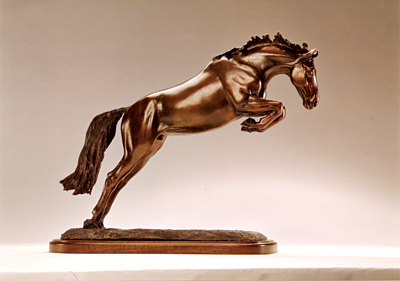 As with many artists, Mary Sand's love of horses began with childhood dreams of ownership and grew as she progressed through years of training and competition.
Sand, of Pipersville, Pa., created Unbridled Splendor to reflect the beautiful lines of a horse as it takes off over an imaginary fence. Her inspiration came from auctions held in Germany where riding horses are presented to prospective clients and free jumped.
Sand's craft is born of disciplined self-development and anatomical study, and rigorous training at the side of nationally recognized equine sculptors. Her work has been included in exhibitions at the American Academy of Equine Art (Ky.), the Equestrian Life Art Gallery (Pa.), the National Sculpture Society (N.Y.) and in a wide variety of private collections throughout the United States, Canada and Europe.