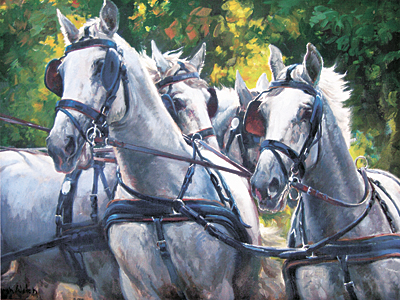 Combined Driving By Rosemary Sarah Welch
Artist Rosemary Sarah Welch was born in Ramsbury, Wiltshire, U.K. to an artist mother, Dorothy Welch, who illustrated books. At age 9, Welch traveled to the United States and attended school in Mt. Kisco, N.Y. She returned to the U.K. at age 15 and attended the St. Ives School of Painting in Cornwall, where she studied portraiture.
Welch eventually moved to the New Forest; her love of horses began. She painted the native New Forest ponies and soon started to specialize in heavy horses. This week's cover, Combined Driving, an oil, captures the action of a four-in-hand navigating a hazard.
Welch has exhibited with the St. Ives Society of Artists since age 19 and is a regular exhibitor with the Society of Women Artists at their annual spring show in London. She also exhibits with the Omell Galleries in London, Ascot and Australia, at the Sporting Gallery in Middleburg, Va., and at the Beresford Gallery in Unionville, Pa.