One Moment In Time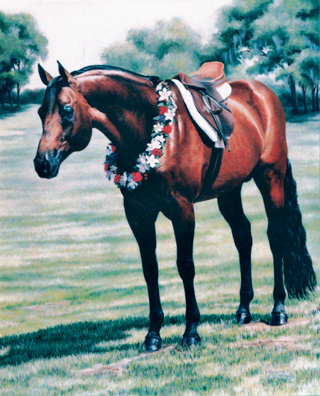 By D.J. Fitzgerald
Artist D.J. Fitzgerald painted One Moment In Time, an oil on canvas, showing the two-time American Quarter Horse Association Superhorse Rugged Lark in the attire that he wore in his many freestyle bridleless exhibitions throughout the United States (see article p. 24).
"Rugged Lark's most popular freestyle music was Whitney Houston's 'One Moment In Time,' which left the audience in tears," recalled owner Carol Harris.
Fitzgerald painted the portrait of the late Rugged Lark in person at Bo-Bett Farm, Reddick, Fla., in 1993.