This year when Laura Pitts headed to the Jingle All The Way 5K in Washington, D.C., on Dec. 10, she brought along a partner, the retired foxhound Potomac Jacket, who trotted ahead of her in holiday attire.
Pitts, the daughter of retired Potomac Hunt (Md.) huntsman Larry Pitts, serves as an honorary whipper-in for Potomac, and always had a soft spot for Jacket. She showed him to his American foxhound championship and foxhound reserve grand championship at the 2009 Virginia Hound Show. He is by Potomac Jefferson '05 and out of Potomac Jacquard '02.
The 11-year-old spent his career hunting with Potomac Hunt (Md.) and then with Millbrook Hunt (N.Y.), and in 2015 Millbrook Huntsman Donald Philhower called Larry to announce it was time for Jacket to retire. Laura immediately knew she wanted him to join her at home, and they reunited at the Bryn Mawr Hound Show (Pa.).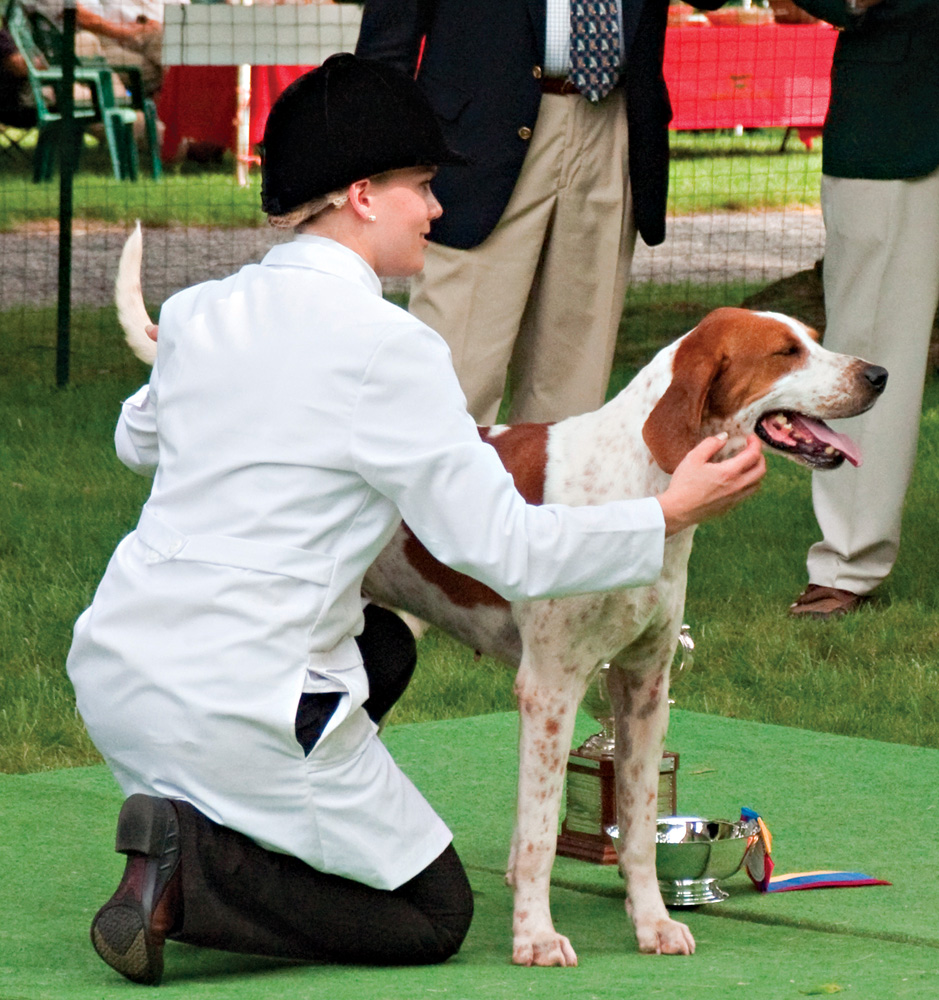 Laura Pitts and Jacket at the 2009 Virginia Hound Show. Photo courtesy of Laura Pitts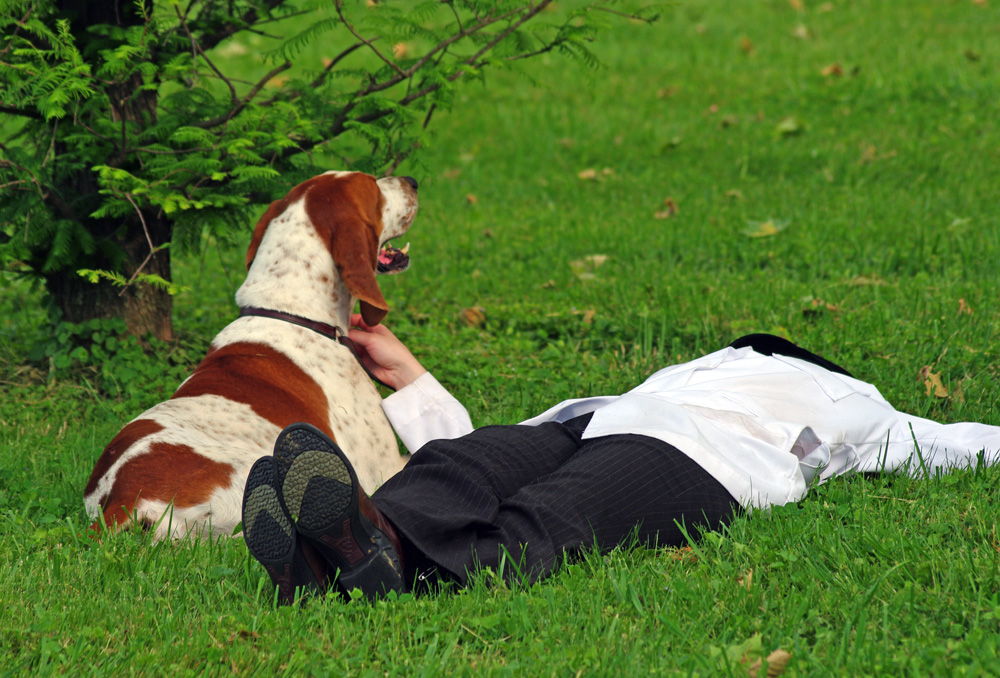 Relaxing at the 2009 Virginia Hound Show. Photo courtesy of Laura Pitts
"He transitioned very easily," said Laura, who works as a government contractor in IT and lives in Springfield, Va. "He was quick to house train, and he's learned non-hunting commands. He doesn't steal things off the counter. Everyone compliments him everywhere we go, and he's so friendly with everyone."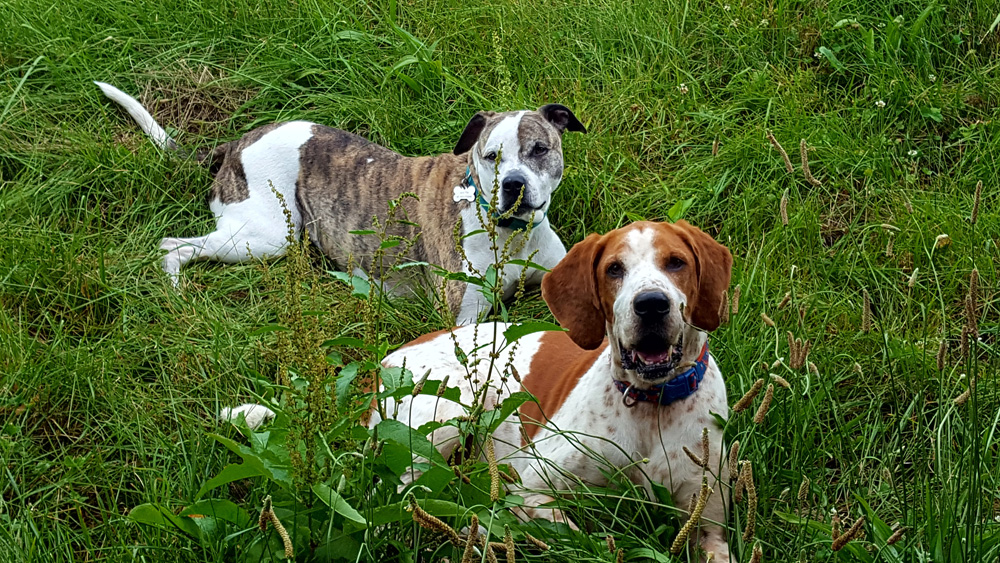 Jacket (front) hanging out with Aletta. Photo courtesy of Laura Pitts
Jacket quickly found a niche hanging out with Laura's pit bull mix Aletta. When the two go for off-leash walks in suburban Virginia and a deer pops out, it's Aletta who goes on the chase. Though it's a different story if Jacket catches the scent of a fox.
"There are foxes that live behind my house—but he's never gotten too far," she said. "One time I ended up racing through the woods after him like a crazy person after him, until I realized I could just yell 'hold over here' or 'come behind' to get him back."
He joins Laura on hacks and when Laura travels out of town he stays with a hunt member near the kennels who brings him to join the Potomac pack when they walk out. But away from the kennels he's a regular pet—with a few advantages.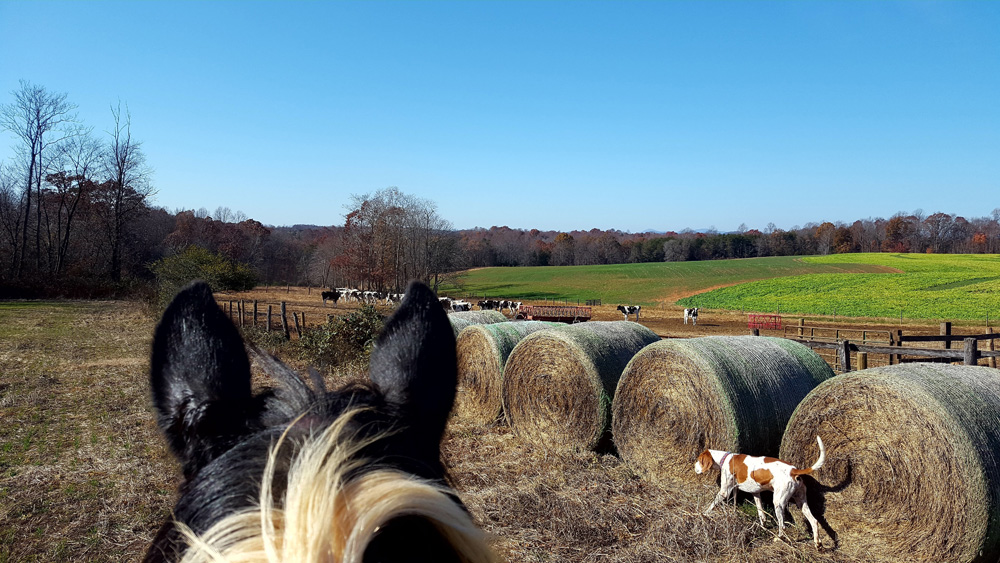 Jacket out on a hack with Laura Pitts. Photo courtesy of Laura Pitts
"I feel like he's seen everything," said Laura. "They've seen plenty of other dogs, they've been in parades—nothing fazes them. Plus he's just so appreciative of his warm bed­—and he does jump in bed with me sometime too. At the 5K some of the other dogs were barking or misbehaving but he was really mellow. The first thing he learned how to do is beg, and now he knows how to sit and shake. I joke that we have taught an old dog new tricks."

Jacket on a hack. Photo courtesy of Laura Pitts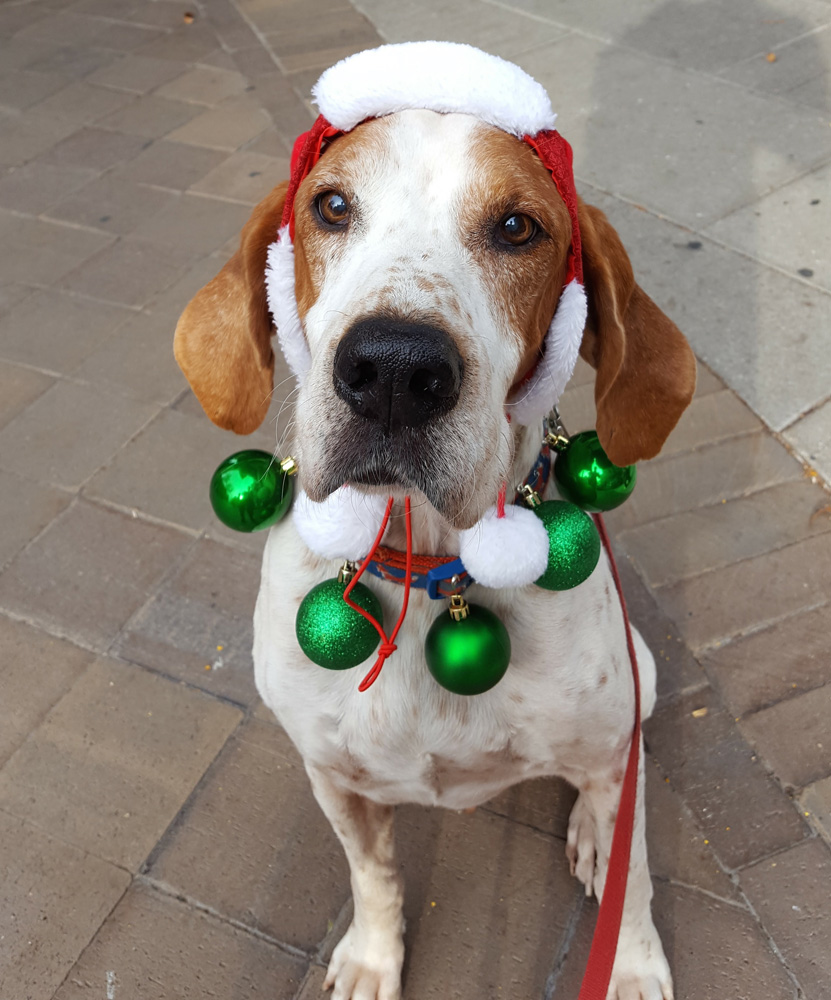 Jacket in his holiday finest. Photo courtesy of Laura Pitts