Paris—Dec. 3  
The European stage of the intercontinental Longines Masters series, held in Paris, launched Season III of the competition, with a new team event and the return of a World Cup Final winner to the top of the sport.
The show featured the premiere of the Riders Masters Cup, a team competition pitting the USA versus Europe. The two teams battled through five grueling head-to-head matchups over two rounds. The match-ups were: Team USA Devin Ryan vs. Team Europe Kevin Staut from France; Team USA Chloe Reid vs. Team Europe Maikel van der Vleuten from The Netherlands; Team USA Laura Kraut vs. Team Europe Grégory Wathelet* from Belgium; Team USA Reed Kessler vs. Team Europe Jos Verlooy from Belgium; Team USA Lauren Hough vs. Team Europe Lorenzo de Luca from Italy. Team Europe took the win with three match-up wins over Team USA's two.
"This first edition of the Riders Masters Cup showed that this wondrous sport—show jumping—can be simple, readable, and thrilling to audiences, without giving up any of the elegance or excellence characteristic of equestrian sports," said Christophe Ameeuw, CEO and Founder of EEM, creators of the Longines Masters Series.
The Longines Grand Prix brought the weekend to a magical close with an exceptionally high-level line-up performing on a track designed by Louis Konickx. The audience was gripped from start to finish, from the first clean round by French youngster Edward Lévy to the jump-off qualification of almost all the favorites. Lauren Hough, Daniel Deusser, Maikel van der Vleuten, Pénélope Leprévost, Simon Delestre, Bosty, Kent Farrington and Steve Guerdat carefully negotiated the many difficulties thrown up by the first round.
On Cornet d'Amour, his 2014 Longines FEI World Cup Final winner, Deusser soon grabbed first place and stayed there, despite the big names that were to follow. It was Cornet d'Amour's first major win since having to take six months off; the gray stallion also missed the summer of 2016 and the Rio Olympic Games due to injury.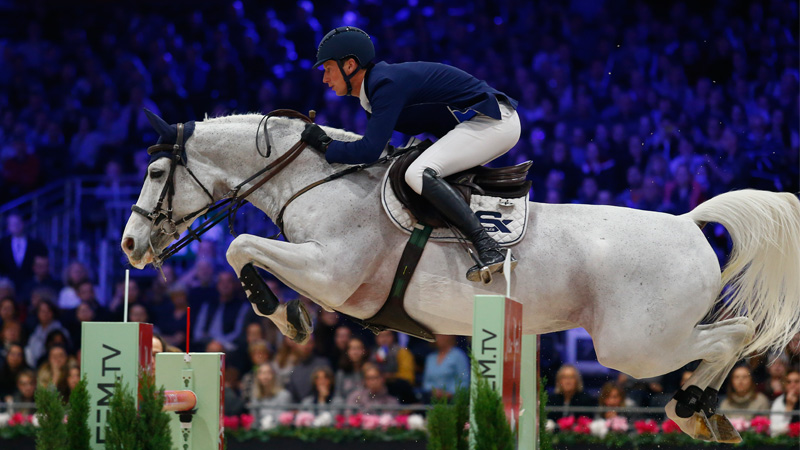 "I'm so, so happy," said Deusser. "My horse was jumping in his first grand prix after several months off and a handful of small warm-up events. Our sport is about carefully dosing speed and risk. When the fastest go last, how do you know what risks to take? I made the right choice today and now I'm looking forward to [the Longines Masters] Hong Kong."
For a moment, French rider Delestre looked as if he might outdo Deusser, but he missed out by .013 of a second. "Hermès Ryan was phenomenal," Delestre said. "We couldn't have done any better today. The fastest horses in the world were competing in the jump-off and I took all the risks I could. Once again, the Parisian crowd has been fantastic, and I'd like to thank them for their support. This amazing horse has been really consistent, finishing in the top five seven times in his last seven grand prix events."
Third place went to another iconic pairing: Hough and her fabulous Ohlala. "She has been amazing," Hough said. "Starting out in fourth position, I stuck to my plan even though I knew that the fastest in the world were here and that they were likely to move out in front of me. So I'm really pleased with third place. I'm now looking forward to New York for revenge in the Riders Masters Cup! I really hope the USA will beat Europe then!"
It is worth noting that Daniel Deusser started Season II of the prestigious series with a win at the Longines Grand Prix in Los Angeles. This triumph in Paris, kicking off Season III, gives him another chance to attempt the Super Grand Slam worth a bonus of €2.25 million for the rider who takes all three Longines Grand Prix victories in the same season. So, it is 'game on' again. No one has ever achieved the feat so far, but the German rider has every possibility of doing so: the ball is in his court.
The next stop on the Masters tour is in Hong Kong on Feb. 9-11, then New York from April 26-29.
See full results of the Longines Paris Masters Grand Prix.