Allentown, N.J.—May 11
As the starter counted down Dana Cooke in the CCI3*-S start box at Jersey Fresh, she heard announcer Brian O'Connor say that either she or Mia Farley on BGS Firecracker could best class leaders Boyd Martin and Luke 140, but she only had .7 to play with.
Cooke put that out of her head as she headed out of the box with FE Mississippi and focused on a steady, clear round.
As she got closer to the last fence, her 6-minute marker went off on her watch, and she cruised home inside the 6 minute 11 second optimum time to take the win.
"I tried to ignore [the announcement] because I didn't want to make a stupid mistake, but my mare's better if I ride her a little more forward and faster because I don't have to take a pull," she said. "She was awesome. She answered every question the way she should. My goal wasn't to beat Boyd, but it was to give her a good round."
Cooke, who's from British Columbia, Canada, but is based in North Carolina, got "Missy," a 9-year-old Wurttemberger (Cassini II—Liastra, Legaat), from Clayton Fredericks when the mare was 4.
"Her gray patches were dark, dark gray, and I was like, I don't know if I want a colored mare because if we decide to sell her sometimes the colored horses are more difficult to sell, and mares are a little more difficult to sell," she said. "But he said to come down and look at her, and I tried her in quarantine. I called Diana [Crawford,] who's the owner at Kingfisher Park, and said I really liked her, so we had her vetted and brought her home."
Cooke is eyeing the Pan American Games (Peru) team for Canada this summer.
"She's always willing to please, and she tries so hard," she said of Missy. "She's very sweet, but she's very particular who she shows affection to, but she'll never be mean or grumpy to anybody else. Our relationship's just formed together."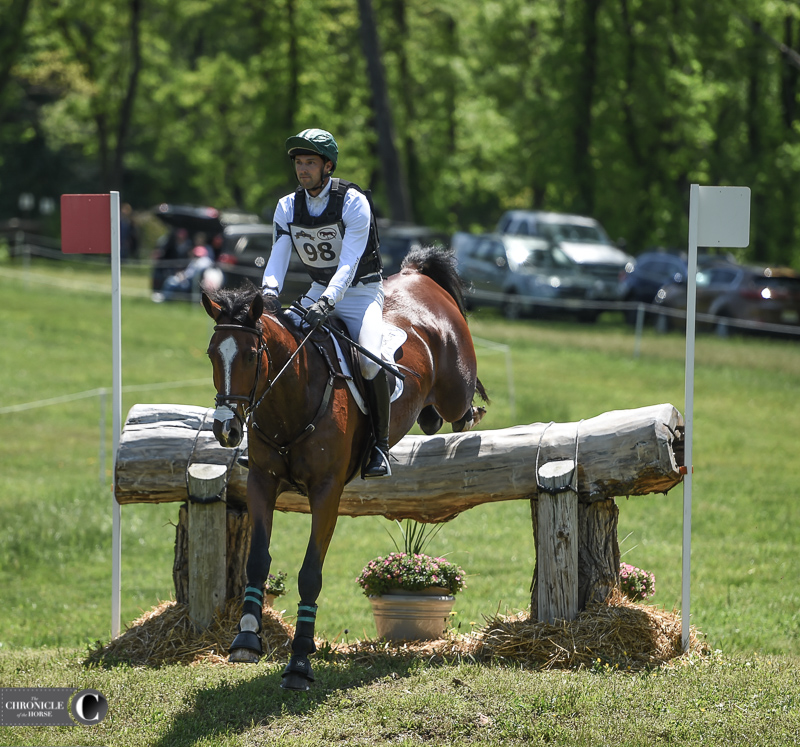 Will Coleman had a banner day in the CCI4*-S division, winning with Off The Record and finishing seventh with Don Dante and eighth with TKS Cooley.
"I thought all three horses jumped really well in the show jumping this morning," he said. "Chris [Barnard] built a great track, and I couldn't really ask them to jump any better. They were all in good form, and the cross-country they went well. Off The Record's getting pretty experienced at the level, and he made pretty light work of it."
Coleman's aiming Off The Record, or "Timmy," a 10-year-old Irish Sport Horse gelding (VDL Arkansas—Drumagoland Bay, Ard Ohio) owned by the Off The Record Syndicate, for the Tattersalls CCI4*-L in Ireland in a few weeks.
"I think he felt ready to do it, so hopefully that will go well," he said. "The other two are greener, but they're very quality, and this is only their second advanced, so I thought it was a good enough test without being too much, and they both finished like four-star horses. They felt great."
Of the 25 to start cross-country, no one made the time in the CCI4*-S. Will Faudree fell from Michel 233 at fence 5 when the gelding hung a leg, but Faudree was up and fine, and the horse cantered away. Allie Knowles fell from Morswood at fence 3, and she went on to ride another horse. Morswood cantered back to the start.
Full Scores I COTH's Coverage I Website
Want more from Jersey Fresh? We're on site all weekend to bring you news and photos! We'll have more in the June 3 print edition of the Chronicle.
Make sure to follow along on the Chronicle's social media outlets: Facebook, Twitter and Instagram.
2019 Jersey Fresh CCI-S Cross-Country
Lindsay Berreth / May 12, 2019 8:01 am