Karl Cook got the qualifying season for next spring's Longines FEI World Cup Final (Neb.) off to a good start when he guided Tembla to a thrilling win in the $135,600 Longines FEI World Cup™ Qualifier, presented by Noel Asmar, at the Langley CSI3*-W. Thunderbird Show Park hosted the first leg of the Longines FEI World Cup™ Jumping North American League West Coast sub-league.
"As Tembla gets older, she gets better and better," Cook said about his growing partnership with the 12-year-old Zangersheide mare. "She gets more consistent and always tries. When I ask big things of her in the jump-off, she goes ahead and does it."
Cook bested a six-horse jump off to take the show's highlight prize and valuable World Cup™ qualifying points, with a clean round in the fastest time of 42.95 seconds.
"When you're trying to qualify for the World Cup Final and you start with a win, it obviously builds your confidence a great deal," Cook added. "It also takes a lot of pressure off because you won't have to work as hard, or come down to the wire as much, to qualify. It's just such a confidence booster to do so well your first time out."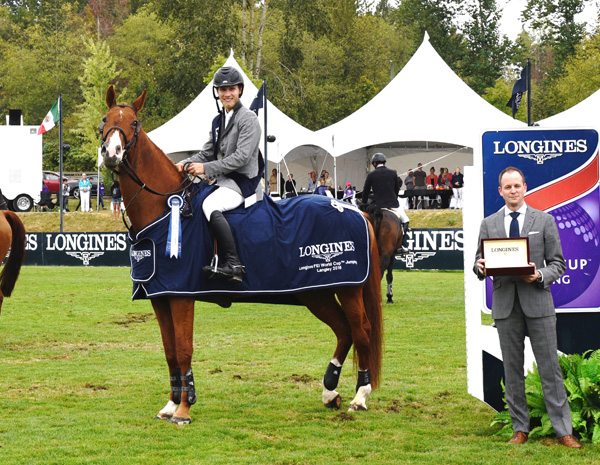 Karl Cook and Tembla during the awards ceremony. Photo by Rebecca Berry/FEI
For Cook, the win was also a bit of validation for persevering with an opinionated horse. "She was a little bit difficult and wanted to do it the way she wanted to do it," he said of the mare he's owned for three years. "Some days are better than others. Like all mares, she can be great or not wanting to play so much. It took a little bit to get it to where there's a give and a take, but we've been doing grand prix classes for over a year and a half now, and she just is getting better and better."
Unpredictable Sport
The first of the class's 26 starters to enter the ring—and the first to ride clear—was the local favorite, Brian Morton of Canada, riding the 11-year-old gelding, Atlantis. Following in the fault-free footsteps of Morton, 10 riders later, was fellow Canadian Brenda Riddell and Dutch Amouretta. The third clear of the afternoon came from the Audrey Coulter of the USA and Alex.
"I thought it was a well set course with a couple of really tall verticals," said Coulter of the first-round track. Last season, the American rider qualified for the FEI World Cup™ Final through the Western European League, but this season, she'll primarily ride in North America with the goal of earning a bid through the East Coast sub-league. "All my horses are back in States, and Harrie [Smolders] and Axel [Verlooy] will trade off training me at shows. Last year, qualifying for the Final was a big goal for me and this year, it is again."
Notable, yet heartbreaking, performances came early in the order from some of the younger riders in the field. Jennifer Gates and Jenna Thompson left the rails standing in the first round, but both finished with a single time fault.
One of the course's mandated 1.60-meter fences, the Noel Asmar vertical at fence no. 8, kept frontrunners Andrew Ramsay of the USA and Nayel Nassar of Egypt from jump-off contention. A late, balancing check from a sweeping, rollback turn to jump 11 caused another upset for veteran rider Eric Navet of France. But it was the penultimate obstacle, a double combination, that claimed the most faults from riders like Rich Fellers and Patricio Pasquel.
From the second half of the order, Nikolaj Hein Ruus of Denmark, Cook, and Jack Towell of the USA joined Morton, Riddell and Coulter for the jump-off.
Morton was first to ride for the jump-off, posting the time to beat of 45.77 seconds. "The strategy for me there was really just to focus on what was right for me and [my] horse. Make sure I didn't have a fence down and go fast enough to put a little pressure on everybody else," he said.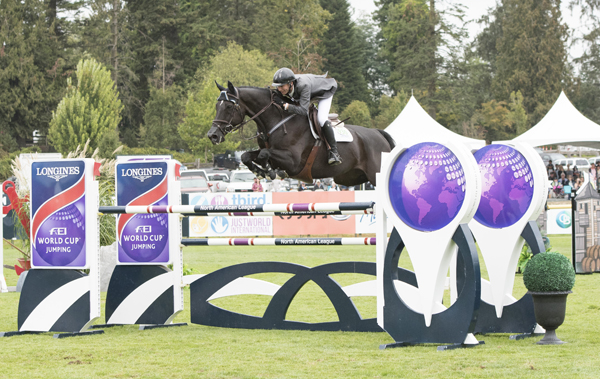 Brian Morton on Atlantis T. Photo by Rebecca Berry/FEI
Faster And Faster
The next two riders, Riddell and Coulter, both recorded faults so the thrilling conclusion came from the efforts of the remaining three riders. All three attempted much more daring angles to an oxer that came mid-course.
Hein Ruus swiftly claimed the first-place position after crossing the timers at 44.40 seconds with 0 faults, aboard Big Red, a horse that more recently partnered with Richard Spooner in a bid to qualify for the Rio Olympics.
"Spooner had [Big Red] for four months then my boss took him back to show in the high amateurs at Spruce," Hein Ruus said. "After Spruce, he said, 'Nik, I'd like you to ride the horse again.' The horse has got more experience now because last year, when I took him to his first grand prix, ever, he was [only] at the 1.35-1.40-meter level. Now he can handle his power a little better. He's amazing. I've been a professional for 24 years, and I haven't dealt with a horse like this with a mind like this. He knows how to handle himself; he's so confident so I have to be on the spot myself."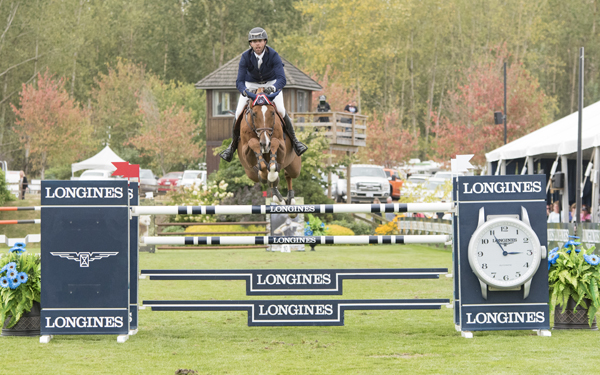 Nikolaj Hein Ruus on Big Red. Photo by Rebecca Berry/FEI
But immediately after Hein Ruus upset Morton, Cook clocked the fastest round of the day at 42.95 seconds. Then, last to ride, Towell nearly caught Cook's time but an unlucky rail meant that he would have to settle for fourth.
"Where [Eric and I] thought we could make up some time was where Nikolaj added to the oxer at the fourth fence," said Cook. "We thought if I did one less stride to the second fence then I'd set up a big canter that continued throughout the course—to lope along and keep going."
"In the jump off, I started out at a good pace from the first fence to the second," said Hein Ruus. "I planned to do 10 strides with a good turn to [the third fence], the Asmar vertical. That's where I lost [the class]. I could have been on a time of Karl if I left out a stride to the oxer then left out a stride to the wall. But I'm still happy."
Pleased with his win, Cook expressed his hopes to qualify for the Longines FEI World Cup™ Jumping Final, which will to take place in Omaha, Neb., in March 2017: "I'll be doing the FEI World Cup™ events on the West Coast. I'll do Sacramento, Del Mar, and Las Vegas. I hope to do Mexico again. We had a great time in Mexico when we went [last season]. And I'll do Thermal, as well. Hopefully, I'll qualify for Omaha.
"I think the main thing that Longines has brought to the sport in North America as a sponsor is unity," Cook added. "Shows here have always been based on the show management, but there was no unity from show to show. Now, there's strong leadership from Longines, which creates unity for the athletes and for the spectators. Without unity, the sport will never grow. The brand makes it more of an event and it makes the sport more accessible to spectators."
The West Coast sub-league season opener also saw a strong presence of Mexican riders, presumably with a shared focus of qualifying for the Final.
"Mexican sport is on the way up and the riders are very good," said Hein Ruus, who has worked for the Pasquel family in Mexico for the past four years. "They're a lot more competitive and ready for big sport because they're trying to bring big sport to Mexico."
Hein Ruus has yet to make concrete plans for the FEI World Cup™ season, although he has confirmed that he and his students, Patricio and Francisco Pasquel, will compete in the FEI World Cup™ Qualifier in Mexico in January.
See full results from the class.