Devon, Pa.—May 28
The last time Kat Fuqua was in the Dixon Oval, in the summer of 2021, she walked away with the grand championship from the Adequan/USEF Junior Hunter National Championships—East with Grand Remo. With that win came a little more confidence, and it served the 14-year-old from Atlanta well on her way to winning her first Devon Horse Show grand championship.
"I think my rounds today, after the first round, which I got an 89 in, it just set the bar for me," she said. "I think Remo remembered Junior Hunter Finals, so he was super confident and I was super confident. All of our rounds were super consistent with each other. They were all good, so I was super happy with his performance."
Fuqua won the first over-fences round, the under saddle and the stake class and was second in the handy to earn the championship honors in the large junior hunter, 15 and under, division over Raina Swani and Small Occasion. With 36 points, it boosted Fuqua to the grand championship. The judges also named her Best Child Rider on a Horse.
"That was really unexpected," she said. "I've never gotten a Best Child Rider at a championship show, so I was really excited."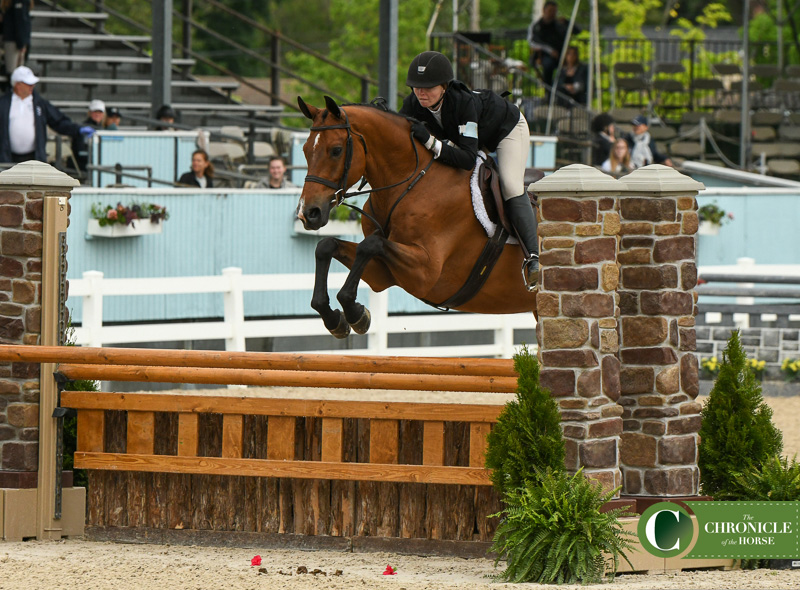 Fuqua has been paired with the 11-year-old Dutch Warmblood since mid-2019, and they've developed a good partnership over the years.
"He has a very very smooth canter, and he's very soft in the mouth, and he's sensitive, so he's very easy to maneuver," she said. "He's very comfortable."
Fuqua said one of her favorite things about competing at the Devon is enjoying the fair in her down time.
"I love going to the fair," she said. "One of the games, you shoot a rifle with a cork in it—my mom won actually."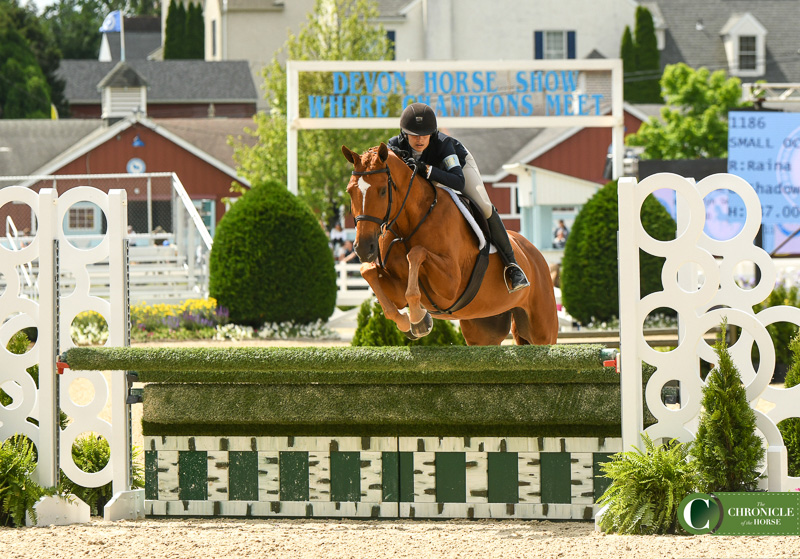 A Blue-Ribbon Devon Debut
Ariana Marnell could be forgiven if she was feeling a little apprehensive coming into her first Devon. While her horse Ocean Road is a veteran, her second mount, Babylon, is just 7, and the pair is only just starting to get to know each other. And then you add in the fact that her trainer John French couldn't make it after he broke his hip in a fall.
Despite the challenges, Marnell, 16, Las Vegas, won the small junior hunter, 15 and under, division and was the grand small junior hunter champion with Babylon over Fuqua and Consent.
"I actually won Junior Hunter Finals here on a different horse [Ocean Road], so I was feeling really good going into this week," she said. "I'm so proud of [Babylon]. He really rose to the occasion."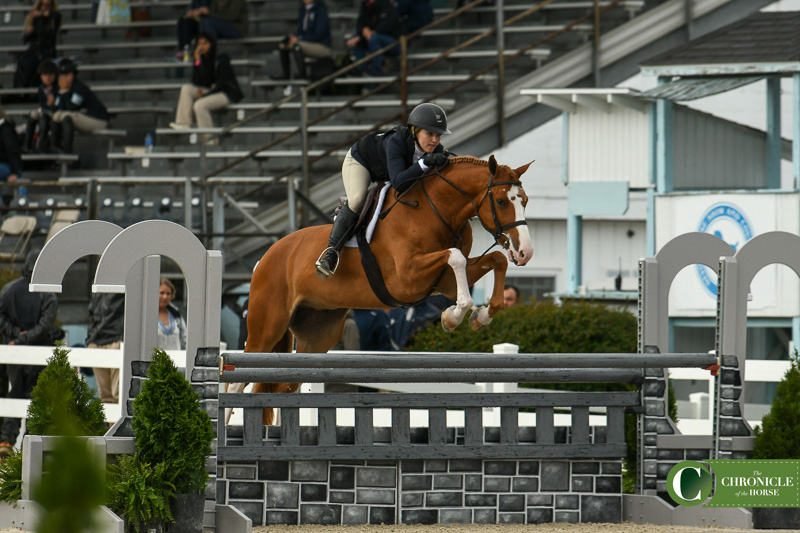 While French couldn't be in Pennsylvania, Marnell chatted with him between her rounds, and the rest of the crew at Kent Farrington LLC stepped in to help with Alex Warriner standing ringside.
"The whole team came and kind of banded together when John wasn't here, but it was great," she said. "I still talked to John in between rounds, before classes. It felt like he was still here."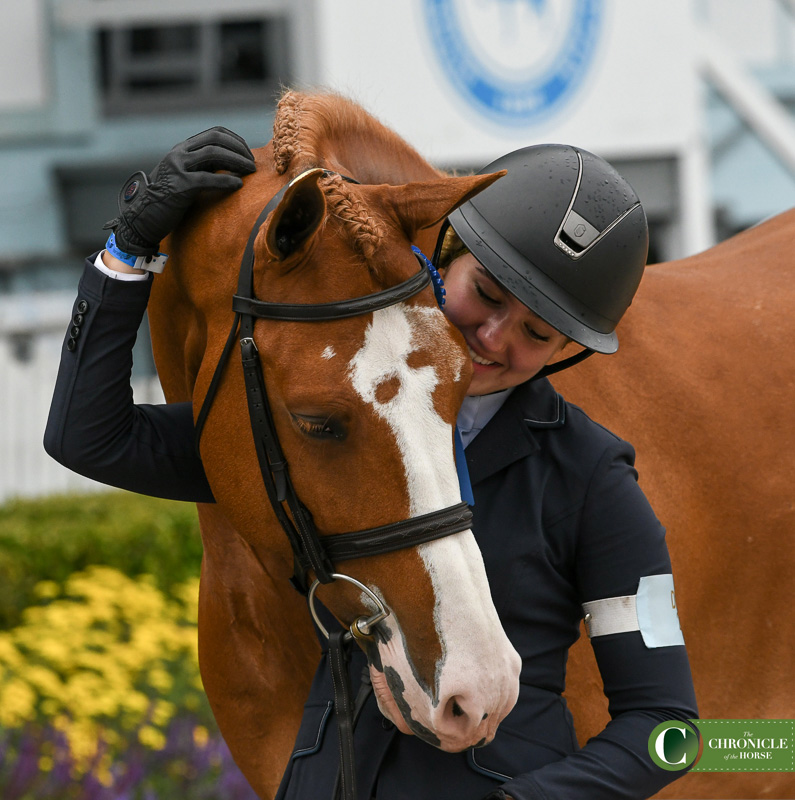 Farrington imported "Crumbles" when he was 4, and French has developed the Oldenburg since then, winning the WCHR Pro Challenge at Capital Challenge (Maryland) last fall. Marnell said she was most proud of how much Crumbles has grown up.
"When we first bought him I watched him show with John the whole year, and now being able to take over the ride on such an amazing horse is such an honor," she said. "To do well is even better. I don't like to let him down."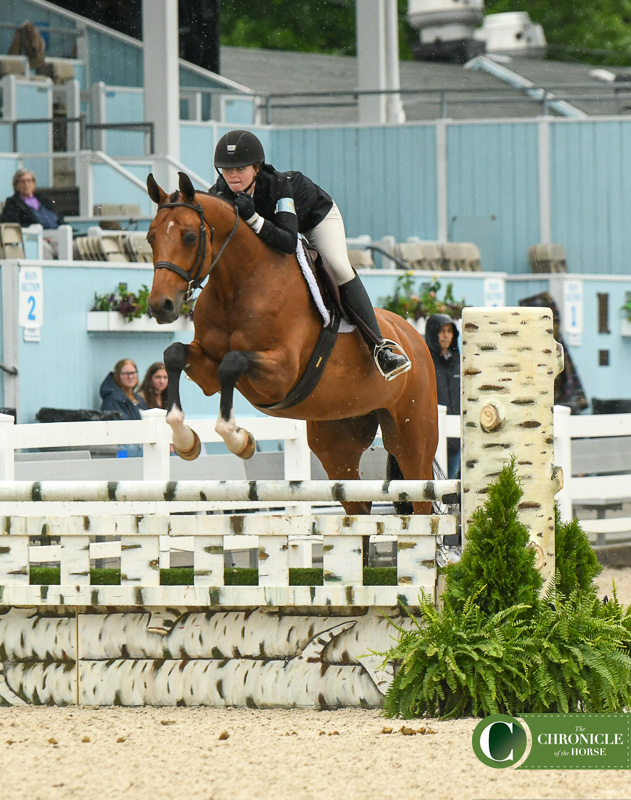 Bikoff Finds Redemption
After breaking her collarbone last August in a fall, Ella Bikoff watched Commentary go on to championship honors with her friends Augusta Iwasaki and Mimi Gochman at all four indoor competitions. But this weekend she got to add her name alongside his on a championship trophy after topping the small junior hunter, 16-17, division over Ellie Aronson and My Time.
"This is just unbelievable," she said. "I got my highest score of my junior career so far—93. Then he won the flat. He was just incredible. I've never had a horse that can go through this horse show and be so calm and collected, and he's jumping so well. I'm just so happy to be able to be here with such an amazing horse and team."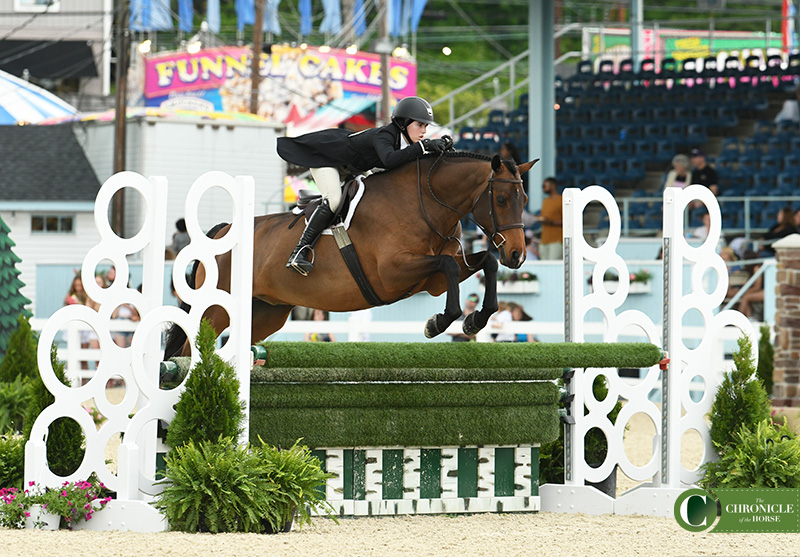 Bikoff, 17, Whitestone, New York, has been riding "Venti," an 11-year-old warmblood, for two years, and said that they barely missed a beat when she got back into the show ring at the Winter Equestrian Festival (Florida) at the beginning for this year.
"He and I, just from the get-go clicked," she said. "It was like no other experience I've had on a horse, so I just knew that he was special from Day 1."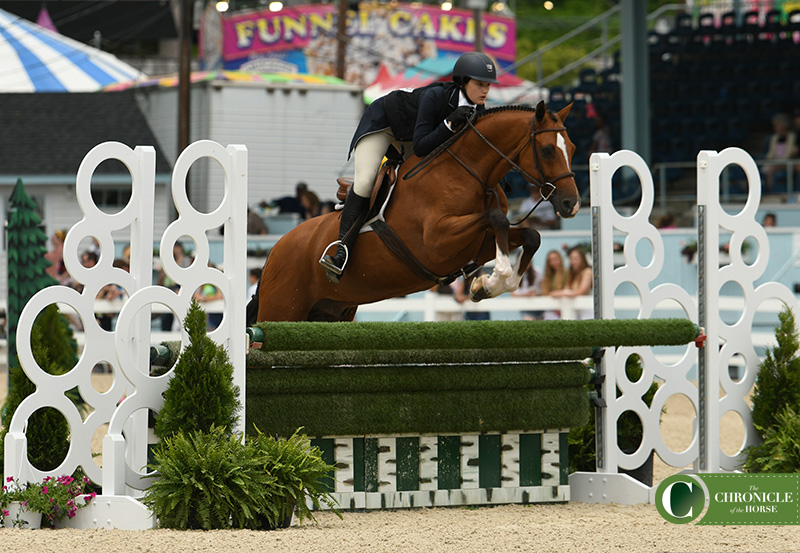 Wasserman Returns To Her Roots
The first time Stella Wasserman rode G. Eleven, she had less than 24 hours to get to know him. Don Stewart called her the first day of competition at the 2021 Pennsylvania National and asked if she could ride the 11-year-old warmblood. Despite the short notice, the two meshed immediately and took home a championship ribbon.
This time the 17-year-old from Los Angeles had a bit more notice—about a month—that she'd be showing the horse, but the result was the same: a large junior hunter, 16-17, championship ahead of Mimi Gochman and Catch Me.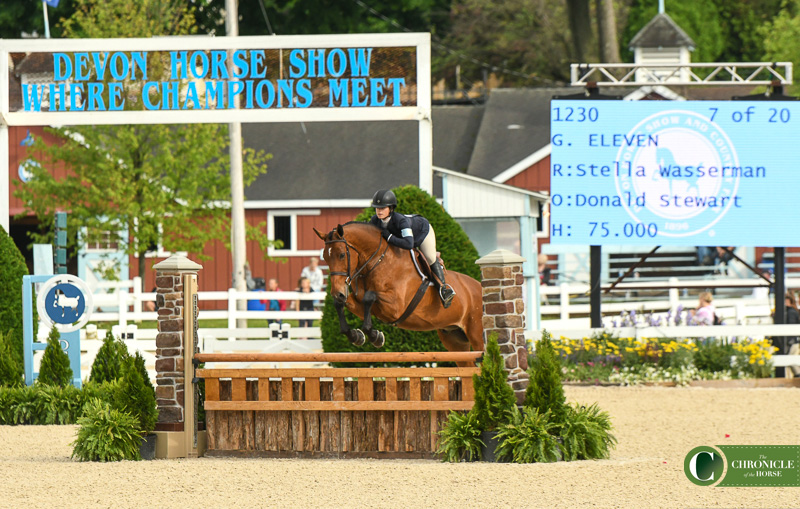 "He's amazing every time," she said. "He never fails to impress me. He went in there and won the first class, was second and second and won the last class.
"Honestly he's really incredible to ride," she added. "He's really, really soft and he has a big stride and he's so trustworthy. I always can count on him to go in there and handle all the pressure and things like that. He's a really special horse."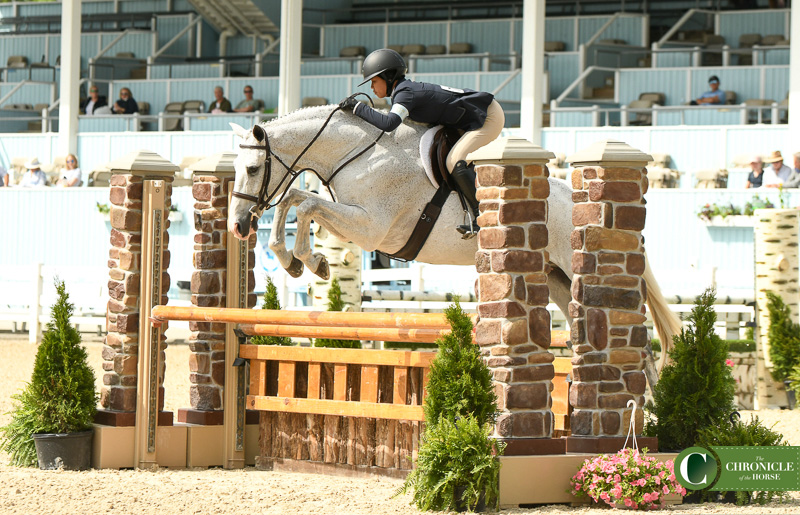 Brixton Has A Grand Trip To Devon 
Vivian Golden smiled extra wide while holding Brixton's reins for the grand pony hunter awards photo. A week earlier she didn't even think the Brixton would be there.
"He actually got in off the wait list," said Golden, 13. "He was seventh down there. We didn't think he would make it in because he was so far down. We just got the call on Thursday afternoon."
The Rivers Edge team sprang into action to get Betsee Parker's large pony on the truck to Devon, which paid off when she won the large pony honors over Olivia Sweetnam and Take 3 LLC's Goldmark. The 38 points they earned en route to the championship boosted them to grand title as well.
"Brixton is very adjustable, and he's very soft to ride," said Golden. "He has a nice motor, but he's not fast. He doesn't ever pull on me. He's very nice to ride."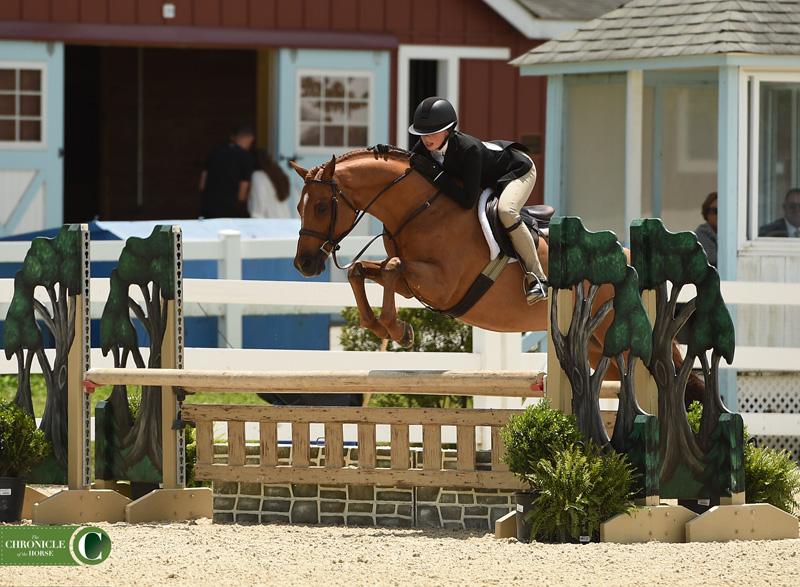 The judges were so impressed with Golden's rides on Brixton as well as two other Parker mounts, Funtastico and Baroness of Lochleil, that they selected her as the Best Child Rider on a Pony.
Golden, Wyomissing, Pennsylvania, trains with Scott Stewart aboard Parker's ponies, and her longtime trainer Amanda Lyerly helps her as well.
"She has amazing mental focus," said Lyerly. "She really can tune everything out and knows what she has to do when she walks in there. She's always a good student. She always wants to do what you ask of her. She's willing to get on a different pony and ride it a different way. They don't all have to go the same way. She's always adapting to what they like."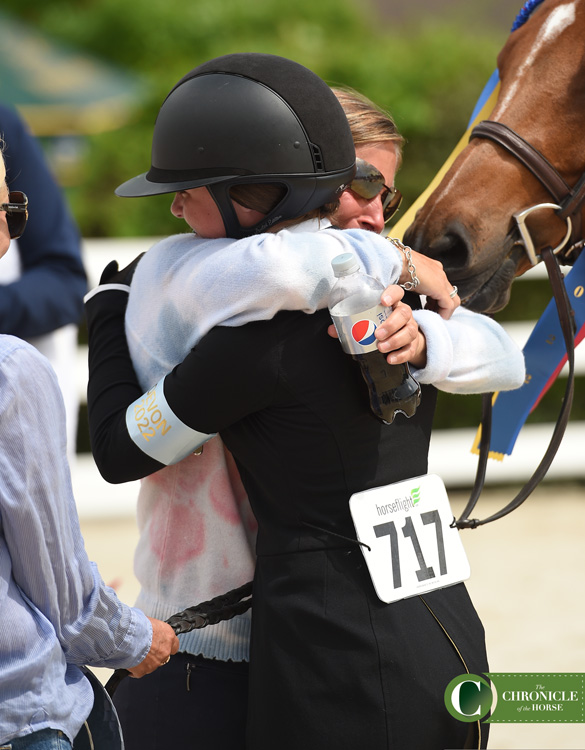 Golden and Brixton paired up at the beginning of the season.
"He's been a wonderful pony right from the get-go because he had a lot of background in junior dressage in Europe, which seems to have helped him when he came over here," said Parker.
Parker described Golden as a natural pick to ride her ponies.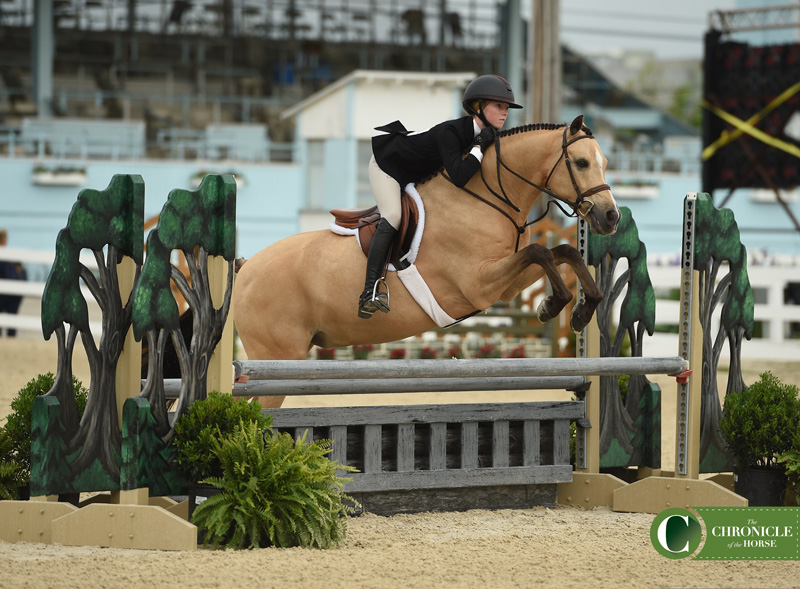 "She has a work ethic of someone who's already a fulltime professional," she said. "And she's cool as a cucumber, and she doesn't get fazed. When the going gets tough she gets going."
Sugarbrook Adorabelle Shines In The Medium Division
Devon has never been a terribly good show for Sweetnam. She's been coming to the horse show for four years, but she's always had a string of bad luck, with her pony going lame right before the show one year, and a disastrous handy round another year.
But she made up for it this time when she swept the medium pony division, winning the championship aboard MMK's Sugarbrook Adorabelle and the reserve title on Aquitaine Equine's Tristan.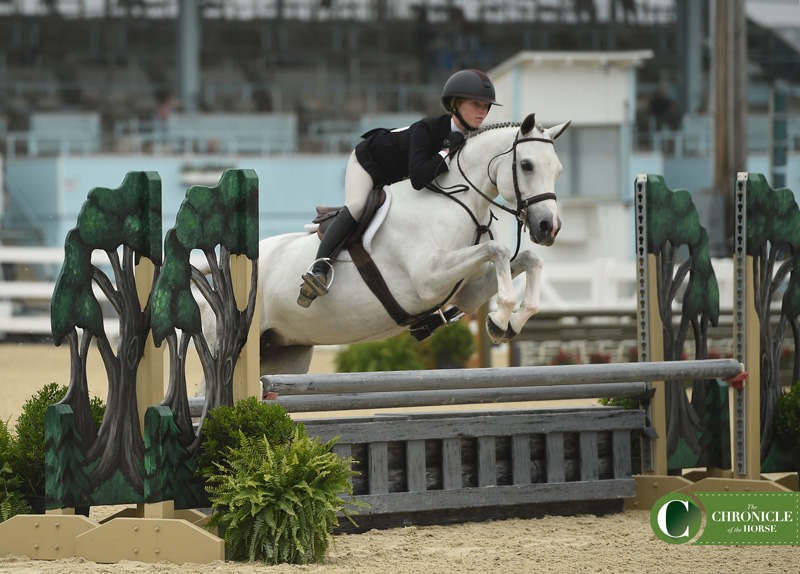 "She has a great personality," said Sweetnam, Wellington, Florida. "We get along really well, and she's a really good girl; she tries so hard. She's so sweet. She sees anybody and goes up to them and puts her face in their lap."
Danny Arendt, who is part of the Sweet Oak Farm team that trains Sweetnam, said she doesn't practice on "Shadow" regularly outside of showing, but that doesn't stop the two from meshing.
"She had a great [Winter Equestrian Festival (Florida)]," said Arendt. "I think every time she showed she was either champion or reserve. She's one of the favorite ponies in the barn. It's always a fight of who gets to ride Shadow."
When Sweetnam does throw a leg over Shadow she has plenty to practice.
"We just work on staying the same pace throughout the rounds because I tend to make a lot of changes, especially when I go from the horses to the ponies," Sweetnam said.
When Sweetnam aged out of small ponies this season she started riding full sized mounts in addition to ponies—she won a children's jumper class today on Just Noble between pony rounds. She said that to swap between the two she tries to take a deep breath in the schooling area and really hone in on what she's riding and what her mount needs.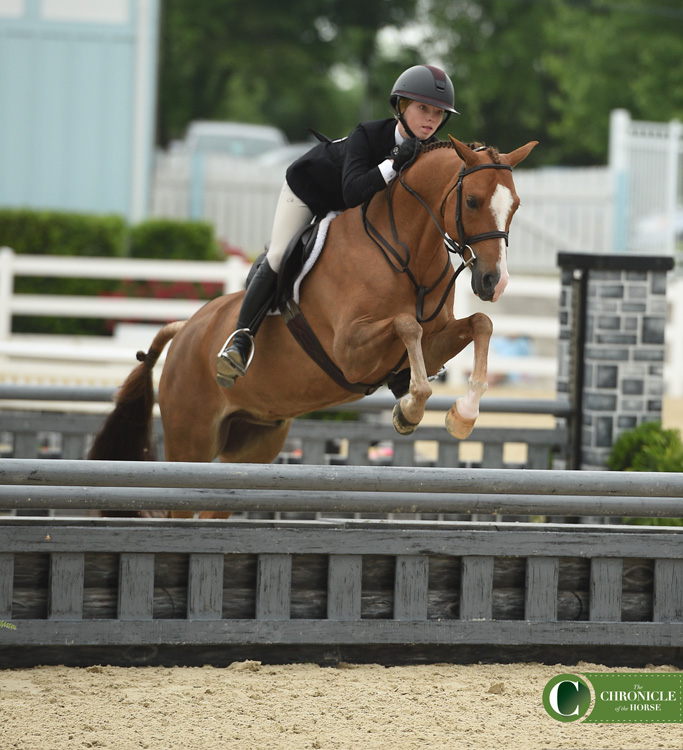 Jarrett Dreams Big To Earn Small Pony Title
This may be Reagan Jarrett's first trip to Devon, but because she lives just an hour from the showgrounds she's been here plenty of times. While she's watched other riders stand center ring to accept their championship ribbons, this time it was her turn, riding her own Dream Big to the top of the small pony hunter division.
Jarrett won both today's handy and stake classes to claim the championship over Sprucedale Inc.'s So Enchanted and Ella Tarumianz.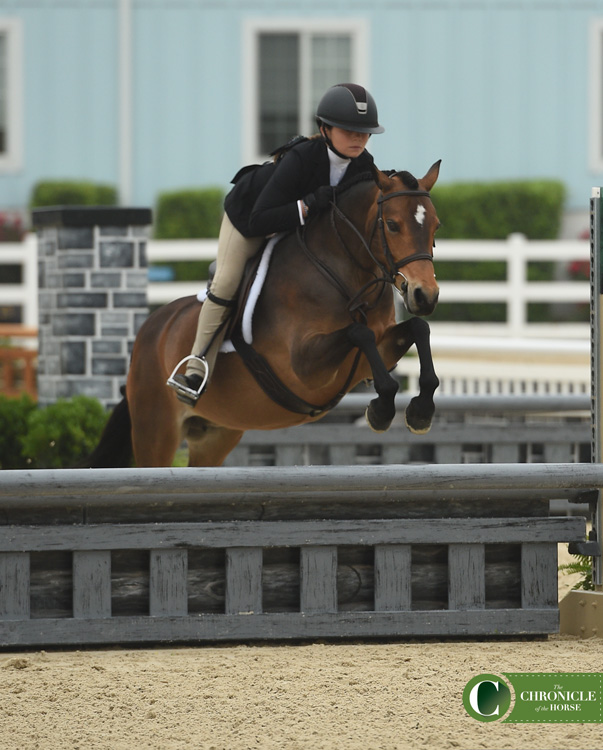 "After not having the best day yesterday I was just hoping for the best," said Jarrett, Center Valley, Pennsylvania. "In the handy my first jump was good and then I just kind of didn't get ahead of myself and I wasn't like, 'I'm going to win this now.' I was just taking one jump at a time."
That strategy paid off for Jarrett, who has been riding 8-year-old "Andi" for three years, two of them with trainer Ashley Hartman. She brought the pony up from a green pony.
"[Jarrett] definitely likes to rise for the occasion," said Hartman. "She definitely still gets nervous at the bigger horse shows but she's doing really well with putting the nerves aside and knowing when it's important and trusting her pony."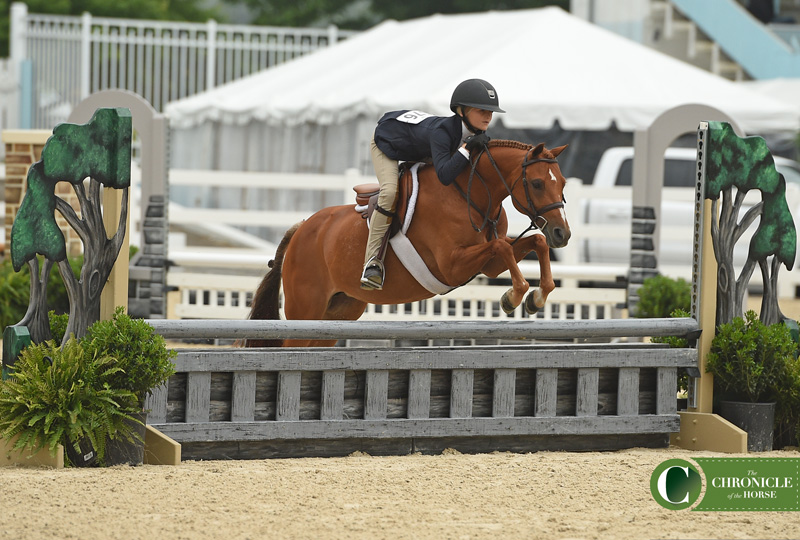 Hartman described Andi as the queen of the palace at the stable, with the biggest stall. But she has a softer side too.
"She's very playful," said Jarrett. "I hung a stuffed animal in her stall and she likes to play with that sometimes."
Important Links: Devon Horse Show website / Order of go and results / The complete schedule of classes and exhibitions / Livestreaming / All of the Chronicle's coverage
The Chronicle will be on site all week bringing you beautiful photos, daily reports and more. Don't forget to pick up copies of The Chronicle of the Horse magazine. Junior Weekend coverage will be found in the June 13 & 20 issue, and coverage of Senior Week will be in the June 27 issue.