It is genuinely fun having an idol. Regarding someone with pure admiration for their abilities that somehow evolved into blind adoration, and other general silliness, is a frivolity I like to indulge in from time to time with a certain tall and winning English gentleman.
Of course, I am talking about William Fox-Pitt.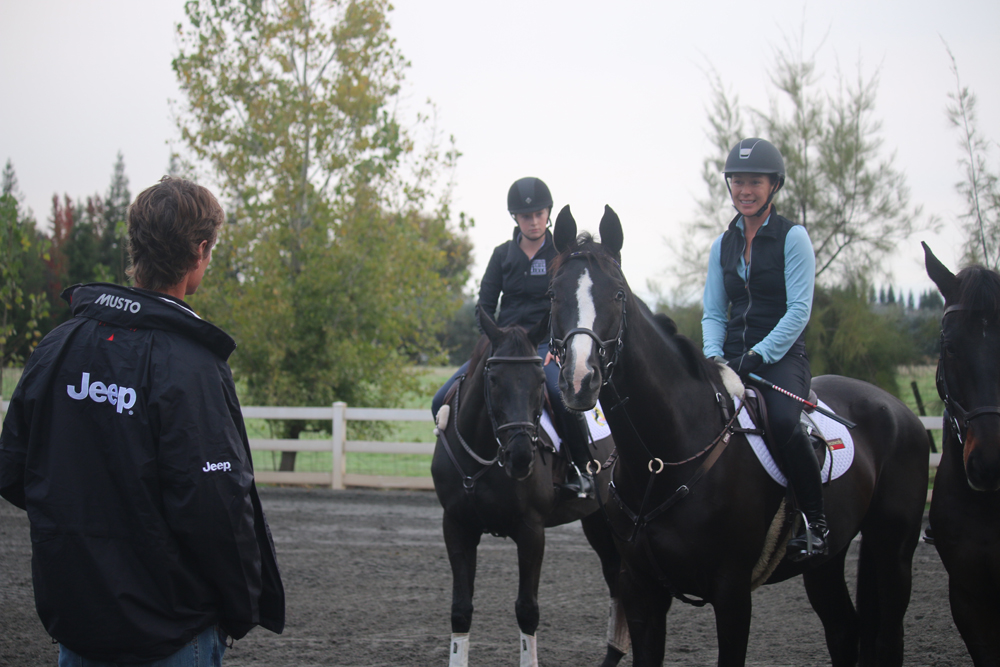 That's me on Billy (High Times) soaking up the knowledge from the legend William Fox-Pitt (left).
He is simply one of the greatest riders of all time; a true cross-country master. He is an obviously gracious winner, as he has had so much practice at it. And every time he wins a four-star event, he compliments his mount and the venue and thanks his owners and all that support him, while never taking any credit for himself.
From my distant view, he is indeed like another famous English resident who is practically perfect in every way.
Up until now, the chances of us really spending any time together have been very slim, keeping my idol status of him safe and sound. There really wasn't any way that he could be knocked off his pedestal by an unfavorable personality trait, or me simply embarrassing myself to the point of no return with any extended conversation with him.
I have met him causally, for sure, but aside from our "intimate" hack together at Rolex, he was mostly a legend and not a man to me. This distance left me free to joke at anytime about running away to England and starting a new life, which I would never come back from.
But, in a strange twist of fate, Scott Hayes Productions was looking for a venue to host William's first California clinic and Dragonfire became the destination. After my initial obvious delirium after realizing that William Fox-Pitt was going to be at my farm, the reality set in that WILLIAM FOX-PITT WAS GOING TO BE AT MY FARM!
There was no time to celebrate his impending arrival, only just enough time to go completely insane trying to prepare our facility for what was surely going to be an amazing weekend of epic proportions. Luckily for me, I have some equally "focused" people around me who wanted nothing less than a flawless environment for William to impart his wisdom upon us. Many a late night was spent readying the facility with friends and champagne, reveling in our good luck.
Celebration soon turned to worry in the days leading up to the clinic. I have to admit that I was getting fairly nervous about truly spending time with my eventing idol.
Obviously I was worried about how our farm would look, how useful our jumps would be, how he liked our barn, how well he would like my horses. But the real worry for me was actually meeting the man behind the legend. How was I going to act? Would I play it cool and act the professional, or would I be too star-struck to speak?
Luckily, I was riding in the first group of lessons scheduled and so I was busy getting ready when he arrived. This spared me from the initial introduction and painful small talk that could follow, such as, "HI! I just love your riding…" or , "Hi! Have you gotten my letters?" J/K J/K
I may have had a ridiculous smirk on my face the entire time I rode in that first group with Mr. Fox-Pitt, but you will all be proud of me for staying focused and riding like the capable person I am. After the lesson, I thought it totally appropriate to ask to have a picture with him, which he graciously accepted.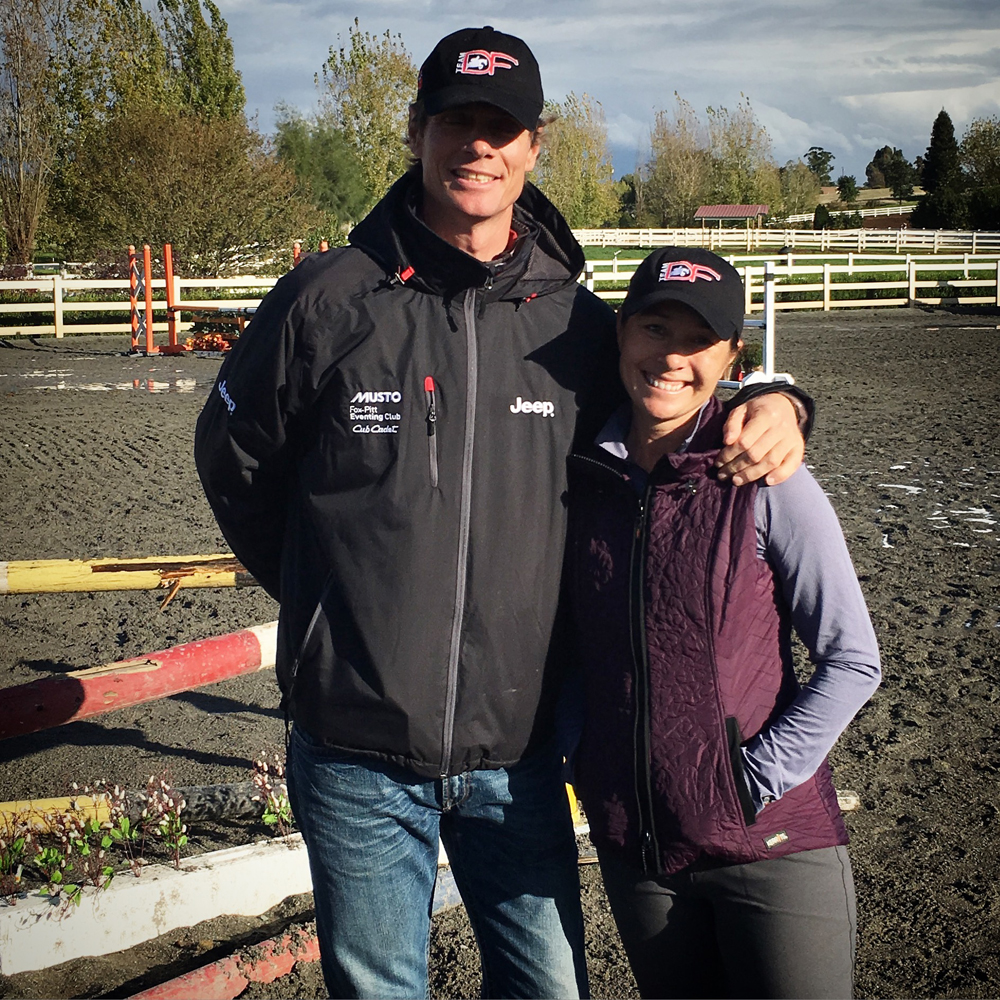 Yep, that's me. Next to the one and only WFP.
And since this was our official meeting and I was his host, I felt obligated to make him feel more comfortable in this foreign land by mentioning that this picture would not be the first time he would be making an appearance as my Facebook profile pic. That comment put him right at ease, to be sure. Phew! Our introduction was a great success!
The fog of glee had lifted slightly in my second ride of the day, and I could focus more on what he was asking of the riders. A firm believer in a confident contact, trotting jumps and eggbutt snaffles, William Fox-Pitt is a man a few words and a singular path of firm kindness.
He rewarded riders who could think on their feet, as he did not want riders focusing too much on what the striding "should be" between related fences. He wanted the riders to be able to assess the moment and adjust their plans according to how they jumped in and what line they were on. Although, he certainly would give the comment "get on with it" if a rider took advantage of this outlook and did not come forward enough.
He was also fairly forgiving of mistakes, but if a rider were to have a stop at a fence because they were not committed, he would wonder out loud where their leg was, or even worse, point out that the ride was "not ideal."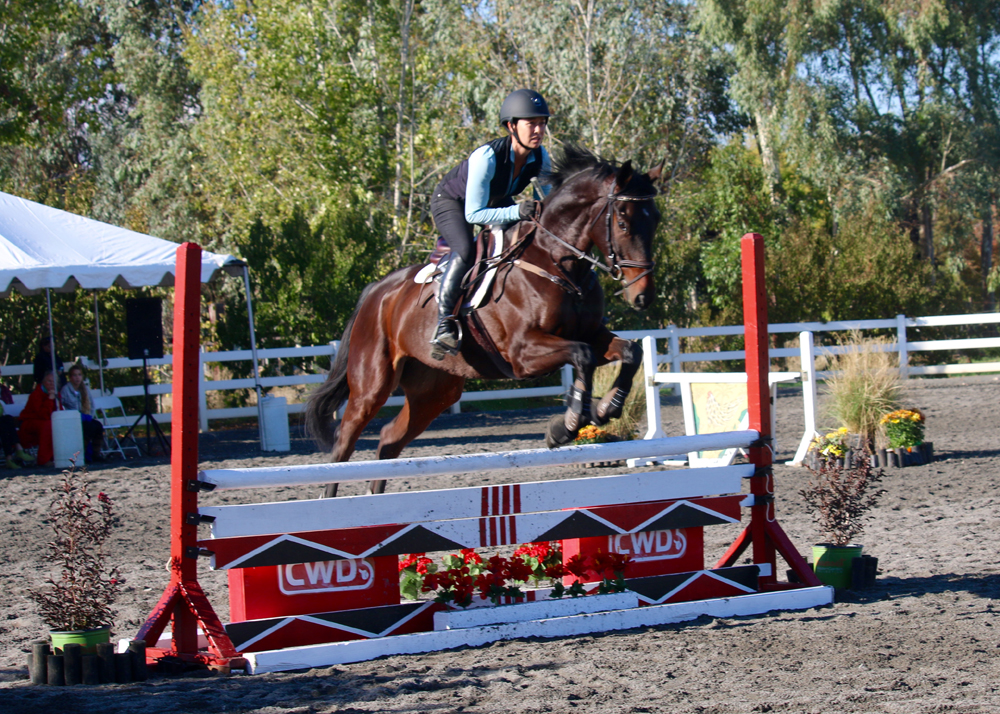 Riding my 5-year-old Stoneman DF in the WFP clinic.
After the lessons were over and the new course had been set, I gave a little sigh of relief believing I was in the clear. I had made a very respectable impression on WFP after a great day of riding and learning, and had only the one slightly inappropriate fan-girl comment to speak of. But my social anonymity with WFP was not to be as Scott Hayes, the organizer, asked if we would join them for dinner that evening.
This invitation meant I would be required to keep my composure for approximately an hour and a half while sitting across from William Fox-Pitt in dimmed lighting, sipping wine. Hmmmm…
The night was going smoothly by all accounts, when William was marveling at the amount of choice the American menus offer. We joked that California added its own flair with the inclusion of kale and quinoa in everything to make us feel virtuous, at which point he asked me to clarify that I was speaking about the cabbage that the English feed to sheep.
I wasn't sure about the diet of English livestock, but I felt obligated then to introduce him to the ultimate California breakfast—the kale smoothie. Since I grow the delightful greens in my backyard, I promised to make him one in the morning. I could see instantly that he was thrilled at the prospect.
Mutton-busting is another uniquely American/West Coast tradition that was introduced to him at dinner since we were on the topic of sheep. His shock was palpable when he was shown a YouTube video of little boys and girls clinging on for dear life on the backs and around the necks of galloping sheep.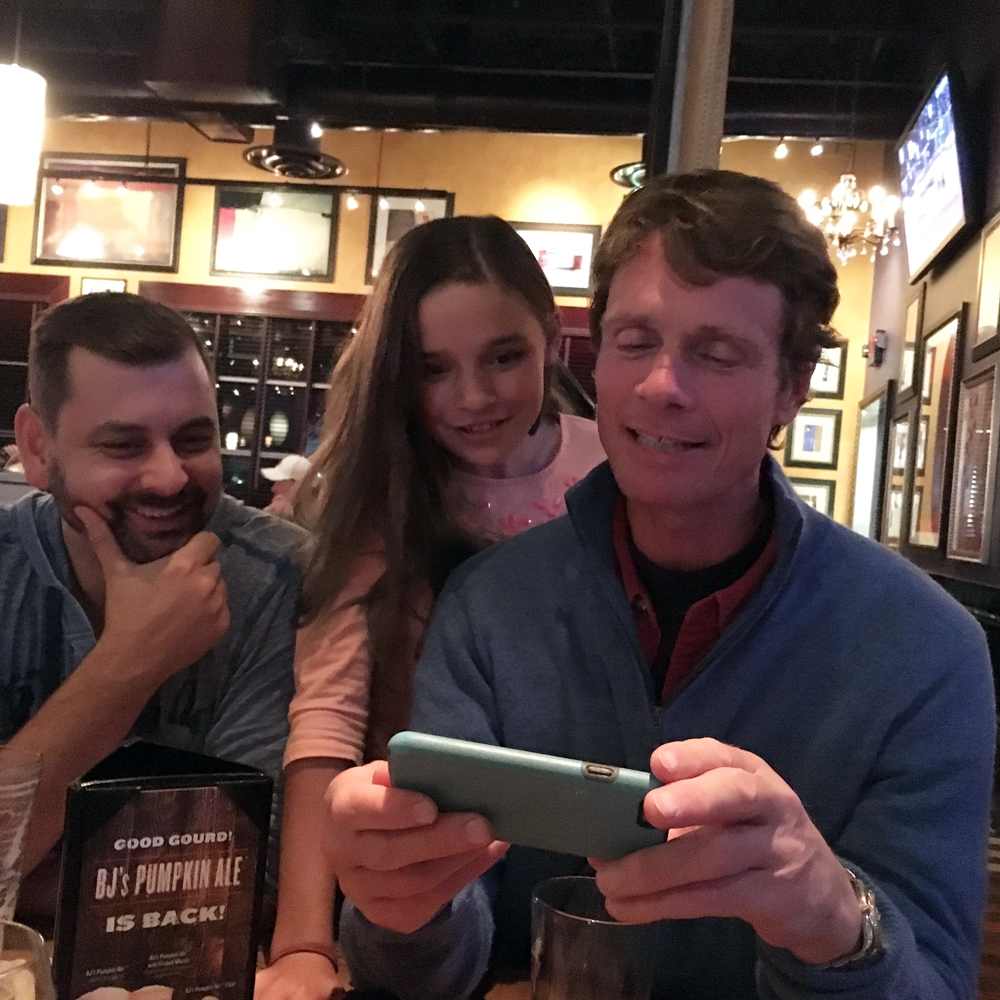 WFP watching a little mutton-busting action.
Luckily, we had our very own rodeo rider in our midst and she had been a past mutton-busting champion, so she was able to explain to him that it was perfectly safe and that the children volunteered to do it. He may not have totally believed her, but he did seem to brighten (or was that a look of fear?) at the suggestion that he could take a "spin" on her reining horse the next day. I am sure he went to bed positively vibrating with anticipation of all of the west coast wonders Sunday was to bring for him.
Although I had promised a kale smoothie for William's breakfast, I thought it wise to wait until after my first ride for two reasons. Firstly, it is of the utmost importance to consume a kale smoothie immediately upon blending it, and since I was in the first group, it would be impossible to give him a perfectly fresh drink that hadn't separated.
Secondly, if I had given him a sub-par smoothie prior to my ride, there really was no way of telling if I would have survived to my second ride of the day. And so, my cowardliness caution won out and I rode before I attempted to feed WFP liquified cabbage.
After seeing me ride and with no promised drink in sight, he might have thought himself safe from the experience. But I was emboldened after my positive ride and I headed to the house to create a masterpiece.
Once I had carefully selected the leaves of kale from my garden, I blended my concoction to perfection with enough for myself and to give William a full glass of California-love-in-a-cup.
Out of the corner of his eye he saw me lurking at the edge of the arena with a smoothie in my hand and I confidently presented him with his breakfast. I did warn him that he may not want to actually look inside the somewhat sinister red solo cup I had brought him, but of course at the suggestion, he immediately peered in to see the verdant green goodness. With all of this being said over his microphone, the crowd got involved and cheered at the notion that William was actually going to try it.
As a testament to his bravery, or more likely his extremely polite nature, he went bottoms up and gave it a big chug. And how did my idol handle drinking the livestock feed? Perfectly, of course.
He finished it entirely, gave a smile, and said he actually liked it better than tea. The crowd gave a round of applause as I marked an even higher pedestal in my mind for WFP to sit upon.
With the kale smoothie behind him, there was just one more promised west coast entertainment from dinner the night before to go—a ride on a western horse! Tanni, our newly converted event rider and self proclaimed #cowgirlinhotpants, made good on that promise and brought her reiner out for William to give a go on.
Before lunch, the darling chestnut was brought to the ring in all of his 14.2-hand glory. William was handed a helmet, and he proceeded to give the crowd a great thrill as he ran through spins and slide stops with the diminutive gelding, Valentino. WFP took instructions from Tanni, was urged to go faster from the crowd, and was generally the best sport ever as we all had a great laugh at how lucky we were to be a part of this historic clinic.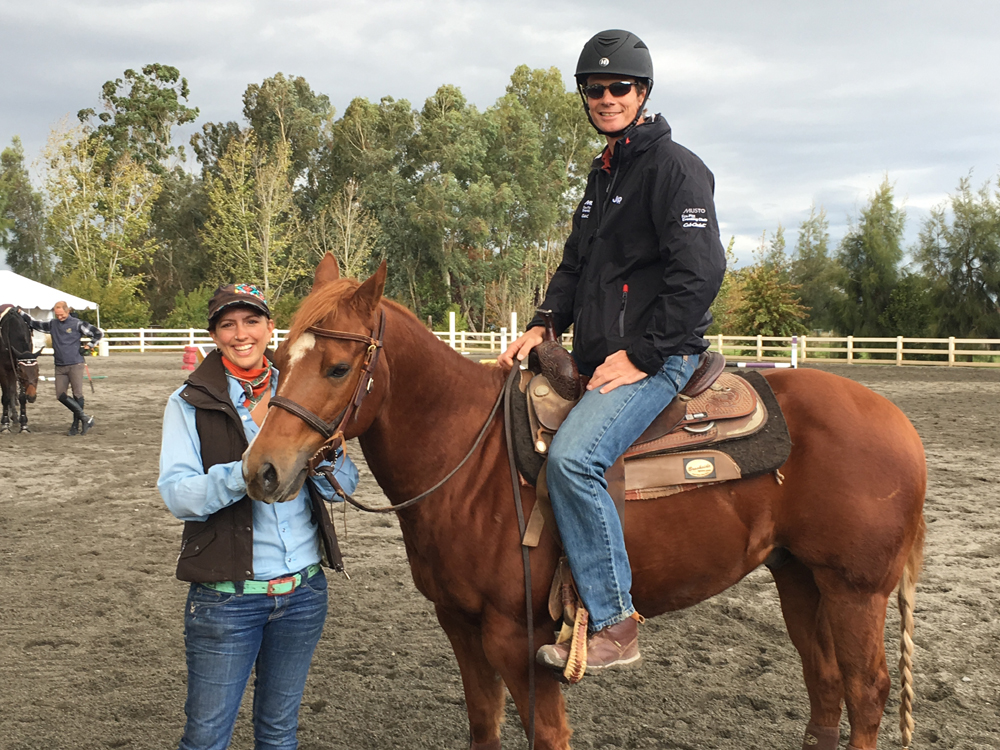 Tanni, Valentino and a very game William Fox-Pitt.
I can happily report to you that my WFP fantasy bubble is still firmly in place and has no signs of bursting in the future.
He not only gave his secrets into being a world champion rider freely and generously during his teaching, he also came through our Dragonfire shenanigans with grace and a smile. And now, my joke of running off to his farm in England may not be so much of joke anymore as we are invited to stay with him before a little show called Burghley next year.
Yep, dreams do come true. I just wonder if I will have room in my tack trunk for my blender?
Jennifer McFall started her riding career in Pony Club and showed her family's Morgan horses on a regional and national level, winning many national and world titles in hunter pleasure, western pleasure, dressage and jumping. She and Dragonfire Kublakhan, a Morgan gelding bred by her family farm and her partner during her teenage years, are pictured on the cover of the Pony Club "A" manual and had an exciting career together. Her early years as a trainer/instructor earned her recognition on the national level and most recently the Morgan Horse Association honored her for her influence on the Morgan breed, particularly in the area of eventing.
Jennifer has always loved eventing and remained an active competitor. Currently, she and High Times, a Holsteiner gelding she has brought up through the levels, have finished in the top 10 at multiple CIC and CCI*** events and successfully completed their first CCI**** together at the Rolex Kentucky Three Day Event in 2014. Jennifer runs Dragonfire Farm, a sport horse breeding, training and sales facility, in Wilton, Calif., alongside her husband and fellow eventer Earl McFall and their daughter Taylor.