In The Forum, horsemen are invited to express their views and offer constructive criticism on any topic relevant to working with and enjoying horses. The opinions expressed by the writers are entirely their own and not necessarily those of The Chronicle of the Horse.
---
I've been a professional horseman for more than 30 years. Hiring and keeping quality grooms has always been a recurrent problem in our business.
When I first started working with show horses, we hired U.S. citizens, of whom most had grown up in rural America around horses and cattle. This demographic group has been shrinking along with the
traditional small farm and is now almost non-existent, especially in my area near New York City.
In fact, non-immigrant population growth in the United States has been nearly static for some years resulting in a shrinking workforce that's unable to fill the jobs that immigrants now fill.
Since the early 1980s, the position of groom in the hunter/jumper industry has been filled with immigrant labor—Mexican, Central or South American, U.K., or European.
These people, some with legal documents and some without, have become the backbone of our industry.
My head groom/road manager, whom we sponsored for his green card, has worked for us for 17 years. He trains our new employees, manages the grooms at the shows and has won numerous grooms' awards. Without him, my workload and cares would be easily doubled.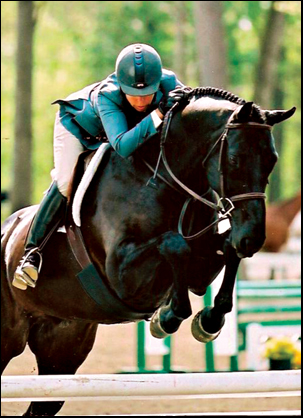 As professional trainers, riders, coaches and teachers we have a responsibility to our customers and our horses to care for them with the best practices of horse husbandry and management. We rely on our grooms and barn managers who will work until the job is done, are polite and professional with customers, are knowledgeable about horse care and handle horses with kindness and respect. These skills require time and training.
Continuity with livestock is important also, as trainers, owners, and horses rely on the knowledge that the groom has of the individual animal. This knowledge is imperative to maintain health and soundness of the individual horse.
Good grooms will know, for example, if there's a swelling on a leg, if the horse is off his feed, or he is "just not right" and a timely notice of these details will often derail much more serious problems of lameness, colic, etc.
We Want To Comply
I want to dispense with the myth that professional horse people prefer to hire illegal immigrants and pay their employees "off the books."
No business owner would by choice do this. Most of us spend thousands of dollars and way too much time trying to comply with the bureaucracies of Homeland Security and the Department of Labor. Time and money are scarce commodities for a horse professional, and no one wants to add to the ever-present headache of finding and hiring good grooms.
No one wants to fear raids. No one wants to break the law.
Last spring, during the Winter Equestrian Festival circuit (Fla.), more than 250 professionals signed a petition for immigration reform. Not one of these professionals was interested in hiring "off the books;" all were having trouble with the current system because the current system cannot fill our employment needs.
Good grooms are not getting their visas renewed, others are afraid to go back to their respective countries
and decide to overstay their visas, which makes them ineligible for visa renewals. Others won't go back because they fear unemployment in their home country, fear they'll not be allowed back into the United States legally and fear the dangerous life-threatening illegal border crossings.
Legalization of the immigrant workforce—including green cards and the temporary guest-worker program—has so many flaws for our industry it's hard to prioritize the problems.
The limited numbers of temporary guest-worker visas are time consuming and expensive to obtain with no assurance of getting the visas whether they are first time or renewal.
Green cards are preferable but take five to seven years and thousands of dollars and are even harder to get, requiring dedication and commitment from both employer and employee to each other.
The current temporary guest-worker visa isn't a workable solution for our industry. The process is expensive, uncertain and time consuming. If obtained, the current temporary visa, with its 10-month limit, is a minimal time period to train someone for a job with top show horses.
An employer cannot overlap this time period with other employees because the 10-month period is based on a fictitious "peak" period, so the government expects us to do with less help two months out of the year.
Compound this problem with the real time of the temporary visas often being much less than 10 months, and the visa programs are not viable for employers.
For example, I have two men working for me on a 10-month visa. They worked for me last year, went home to Mexico on the appropriate date in accordance with their visas. They applied for their renewal visas to begin March 15 through Dec. 15, 2007. We followed the process with the help of a good immigration lawyer in a timely manner.
The applications crawled through the processes of state and federal Departments of Labor, Department of Homeland Security, U.S. consulate in Mexico and border security. Three months after the March 15 date, these men finally arrived to work in June of this year but they still have to leave on Dec. 15.
This process has cost $1,500 per man even though they'll have only worked six months of their 10-month visa. These men are considered lucky because they obtained their renewals. In reality, working six
months out of the year doesn't maintain a living standard for anyone much less feed his or her families at home. Add to that the cost of the visa, and it's hardly worth it for them to work legally.
For these two men, my business has paid all of the fees because I want them here legally. And, although it's a hardship for me, by paying for them I hope they'll renew next year.
To Fix A Flawed Program
There are many cases of people who, although qualified, are turned down by the Department of Labor for no specified reason. This is a typical problem of visas because we don't know whether a renewal
visa or an original temporary work visa will come through or not until it doesn't happen.
Why should our industry have to put up with a system that's inadequate and nearly impossible to comply with? Why do we have to worry about whether our good, dependable grooms, whom we have trained and employed, are going to be allowed to continue to work for us? What year-round business can operate efficiently with a ten-month overturn in help and a two-month period with less or no help? How can we care properly for our livestock when we can't depend on full staff?
As in all businesses it's hard to find good help no matter the legal status. I understand that the government policy makes it cumbersome to hire immigrants in order to stimulate hiring of U.S. citizens. However, the U.S. citizens don't answer the help-wanted ads we place.
Our government needs to fix the flawed process of legalization of suitable workers. Since Congress failed to pass immigration reform this summer (which had some changes favorable to our industry thanks to the Farm Bureau), the Departments of Homeland Security and Commerce are enacting their own reforms without new legislation (see p. 12).
Although most of these reforms are to increase enforcement, streamlining the visa process is being considered.
It's imperative that our leaders take a common-sense approach to obtain legal status for our employees so that they can contribute to the tax base in the society in which they're living.
Employers and employees need a means to comply with federal, state, and local regulations without fear of penalty. The laws enforcing penalties against employers who knowingly hire illegal workers need to
be balanced with a practical method for these same employers to legalize their employees.
Congress must hear from all of us as horse owners and business people who care about a stable work force. The loud voices of the xenophobic groups who fear the influx of a different culture need to be countered with reason and common sense.
This problem is not going away; it's getting worse, and our politicians need to have the will to change and reform the problem.
It's up to us to keep them accountable for common-sense reform.

Patricia Peckham, a hunter/jumper trainer from Yorktown Heights, N.Y., has operated Arcadia Farm since 1987 with business partner Molly Flaherty. They train hunters, jumpers and equitation riders at the national level.