Spend a day watching cross-country at any event, and you'll often see top pros walking their courses with their canine companions in tow (or doing the towing!). We had so much fun learning the stories of some special dogs at The Fork last month that we decided to find a few more at the Jersey Fresh International.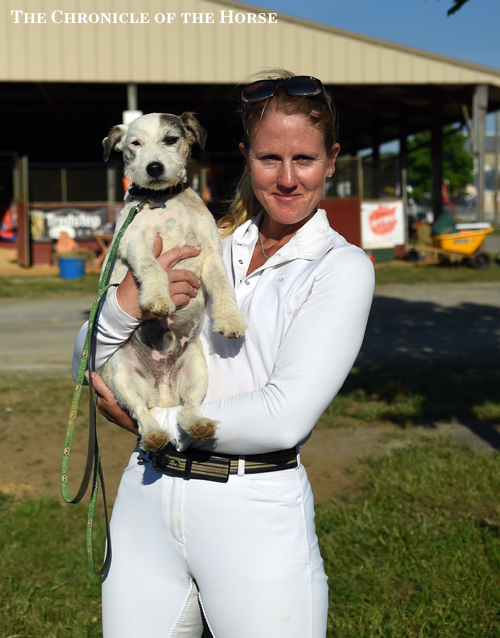 Bodie survived getting hit by a car as a puppy to become Allison Springer's best friend. Photo by Lindsay Berreth.
Allison Springer and Bodie
Ask Allison Springer about Bodie, and she'll tell you he's the best dog in the world. Ask anyone else, and you might get a different story.
"I think he's perfect, but I think if you ask anyone around you'll probably hear [different]. You'll hear everyone in the barn screaming 'BODIE!' "
A typical wire-haired Jack Russell, Bodie is a very active dog—but it's not always his fault. He's got a group of human friends who like to get him all riled up and barking before leaving him with Springer.
"They wind him up and get him barking and singing, and he's just wild," she said. "He can be pretty wild and noisy, but as much as people love to complain about him everybody loves him."
He enjoys a good course walk (he did two at Jersey Fresh) and has a penchant for singing.
"I remember one year it was good comic relief; it was actually at Rolex," Springer shared. "It was before show jumping. We're all in the barns; everyone's nervous. You've got that gap from when you can walk the courses to when they start show jumping. Whoever was singing [the national anthem] was really getting into it, and he and Buck [Davidson's] terrier started singing together in the aisle, and all the riders just started laughing because it was real quiet and nervous in there, and the two of them just started singing together. It was a good little break for everyone."
The now 8-year-old dog has many more talents. He enjoys a good swim followed by a float in the pool alongside Springer on her floaty. He's an excellent navigator and is always game for a car ride. Whenever he arrives at the farm, he takes a sport sprint and will take a look back at the car to make sure you're following. But one of his greatest achievements occurred at the Bromont CCI (Canada).
"I think he's one of the reasons why Bromont has such good footing. A number of years ago I think he had four different groundhog kills in one week at Bromont. Those are big kills; they love him and always ask were Bodie is. He's always welcome to come back," said Springer.
He's also a survivor. When he was less than a year old, Springer's dad accidently ran him over with a truck while they were in Aiken, S.C. He spent two days in an incubator at an emergency vet in Augusta, Ga., before making a full recovery.
"He's a Jack Russell. The world revolves around him, so if you're trotting along, I tell all the girls 'You have to be [paying attention]. He'll stop right in front of you and pee so you have to keep an eye on him.' He's always with me. He's my companion," Springer gushed.
Springer got him from Tony Leahy and Heidi Schmidt. He was named after Schmidt's favorite dog Bodie, which is short for Bowdoin, the college Springer went to, so contrary to popular belief he wasn't named after skier Bode Miller, "which would make sense because he's super cute, and he's a little naughty, but it's not."
"My parents called him velociraptor when he was a puppy because the mother had milk fever, so they had to take the pups off the mother at a really young age, so there was nobody keeping him in line," Springer said. "He was actually pretty aggressive as a baby more just because terriers play really aggressive. He was wild."
Springer often fields questions about Bodie's right eye with many people believing it's smaller because it lacks pigment around the outside, however it's just because he doesn't have his "eyeliner" on.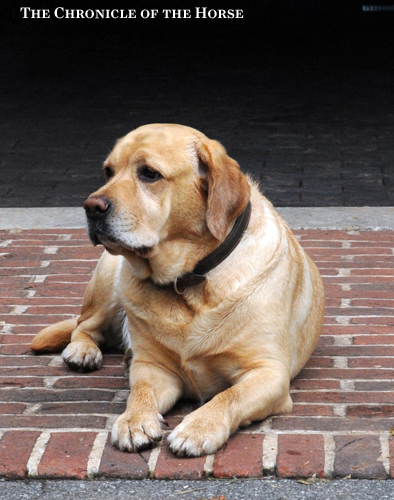 Holden loves to watch over Will Coleman's barn and appreciates only one course walk per weekend. Photo by Lindsay Berreth.
Will Coleman and Holden
Will Coleman had always been a fan of yellow Labs, so when it came time to find his first dog six years ago, he called up a family friend who bred them in Canada and found Holden as a 6-month-old.
"They were all just kind of big companion dogs—they have no talents, but they're just great, super laid back dogs," he said. "We just want something to come on the road with us. Holden is amazing. He's a hilarious dog. He's not as food crazy as many Labs can be, although you wouldn't guess it because he's a portly guy."
Holden came with his name, but Coleman found special meaning in it and decided to keep it. "I was a big J.D. Salinger fan. I loved Catcher In The Rye, and the protagonist in the book is Holden Caulfield."
Holden loves his routine and sticks with it at Coleman's Gordonsville, Va., farm. An "old soul," he's often the bean bag chair for the smaller dogs to climb on while he watches over the barn. "He has no enemies. He's like Ferdinand the Bull," he said.
"He hangs out in the barn every day and then goes and literally lays down in a mud pit, head to toe covered in mud. He gets a bath every day and comes home and sits on the couch until the next morning, and he gets up and repeats the same thing all over again," he said. "He makes his own routine up at the shows and makes the rounds. He walks the course and gets in the water jump, but he can only handle about one course a week, and it takes him a few days to recover from that."
In fact, Holden isn't at Jersey Fresh this weekend because he's at home resting after a long weekend at the Rolex Kentucky CCI****.
Holden only knows two tricks. "He sits, and his other trick is being awesome. He does that probably better than anybody," said Coleman.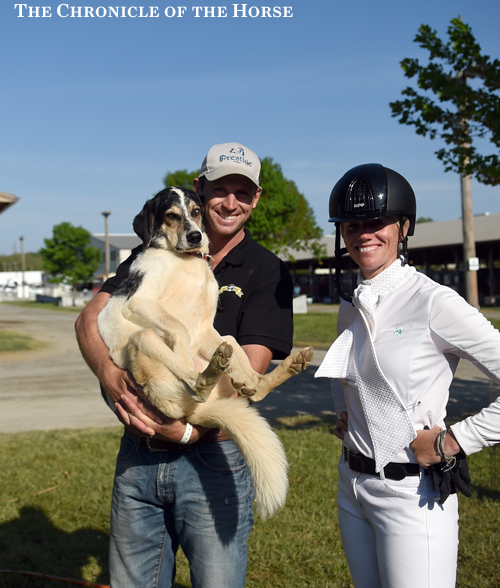 Sinead Halpin and Tik Maynard's Zeppo knows lots of tricks, but hates baths. Photo by Lindsay Berreth.
Sinead Halpin, Tik Maynard and Zeppo
Sinead Halpin and Tik Maynard's mixed breed, Zeppo, was adopted from the Eleventh Hour Rescue in New Jersey. Halpin believes he's an Australian Shepherd mixed with a collie, but he has a Husky tail that's quite fluffy. Now 6, Zeppo is very quiet but loves to wander.
"He was actually returned twice, which I can't imagine because he's such a good dog," Halpin said. "He really likes cats and just wants to play with them. He's great with horses. I think as a youth he got kicked by a horse, and there's a rumor that maybe Tik Maynard took him running, and he might have gotten away from him, and there was the sound of a screeching car, and he never goes near a road now!"
"At any farm we go to, he can seem to figure out the boundaries of the farm. He'll stay around the borders of the farm. He always seems to know where home is," said Maynard.
Zeppo loves going on course walks. "He's really fast and never loses us. If he loses us, he's at the concession stand," said Halpin with a laugh.
His favorite jump is the water jump, where he can play. But try to give him a bath, and he won't have it.
"He loves swimming," said Maynard. "If you take him to a lake, he'll run and jump off the dock. If anything is in the pool, he'll go get it. He'll dive for stuff at the bottom of the pool or the river."
When the couple went kayaking last year, Zeppo jumped into the river and swam alongside them for most of the two-hour ride.
Zeppo loves his mom and likes to watch over her while she rides at home, but Dad lets the rules slide a bit.
"He's kind of like an only child and is totally spoiled," said Halpin. "When you're riding in the ring, he comes out and sits right at the gate. I think that's where the shepherd comes in. When I'm riding, he always keeps his back to me and looks out and around to make sure no one is going to 'attack me.' "
"He's not allowed on the couch when Sinead's in town," said Maynard, who has Zeppo as his Facebook profile photo.
In addition to being a great horse show dog, Zeppo knows lots of tricks that Maynard taught him.
"He knows roll over, both directions, and if he's in a playful mood, you can get him to roll over three or four times in a row," he said. "He knows the difference between speak and whisper and can shake both paws. He can dance and stand on his hind legs. He can stay, lie down and crawl like a ninja."
Sara Kozumplik-Murphy named Bertie after her former advanced horse. Photo by Kimberly Loushin.
Sara Kozumplik-Murphy and Bertie
The playfully coined name "Jack Russell Terrorist" perfectly describes Sara Kozumplik-Murphy's Bertie. When she and her husband, Brian Murphy, went to pick up the puppy from her friend Caroline Marrison, Marrison's husband jokingly said, " 'Oh so you're here for Osama' like the terrorist, and my husband was like, 'No, no, no we want the dead quiet one there,' " Kozumplik-Murphy said.
While he leads an active life, the 2-year-old has proved to be an ideal farm dog—one who stays close without running off to hunt some critter as many Jack Russells are prone to do.
He's named for Kozumplik-Murphy's advanced horse Somerset (barn name Bertie) who'd passed away the same summer she brought the Jack Russell home. Bertie loves coming to horse shows because that means it's his social hour.
"He has loads of friends; he's very social actually," she said. "He gets very annoyed with us if we get boring and go in because he wants to go to the parties and go check on his friends."
He might be a social butterfly, but there's one dog he's not so friendly with. "[Canadian eventer] Kendal Lehari's dog's son, Morris. That's the only dog in the world that he hates," Kozumplik-Murphy explained. "It's very Oedipus Rex because they both have a go at each other."
When asked if he had any tricks up his sleeve, Kozumplik-Murphy shrugged, glancing down at her charge, who was enjoying a bit of shade as a reprieve from the 80-degree day.
"This is what he does; he looks glamorous," she joked. "It's not the perfect temperature—he's into [horse shows]. He loves swimming; he loves retrieving. He's a retriever Russell. He likes course walks, windy days; holding hands on the beach. He's just a very friendly, sweet dog."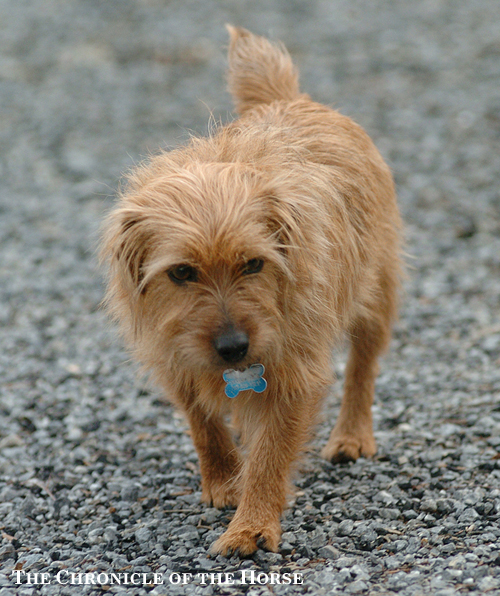 Theodore is an excellent groundhog hunter at Sharon White's farm. Photo by Sara Lieser.
Sharon White and Theodore
If you're a groundhog on Sharon White's Last Frontier Farm in Summit Point, W.Va., you better beware. She's got the two best hunters there in Theodore the 9-year-old Norfolk Terrier and Butter the 12-year-old lurcher.
"They're really good groundhog killers," White said, recounting how her canine companions nabbed one prior to this week's event. "The reason [Butter's] not here with me is that the groundhog got her neck just before she disposed of it, so she had to have some stitches. She's supposed to be taking it easy."
Jane Murray, chairman of the Carolina Horse Park, gifted White the pesky pooch Theodore as a puppy.
"His mother Fannie is the cutest most bad dog ever, and Theodore really takes after her," said White. "He's bad. He's just all bad, and I say that with absolute love. He owns my farm. He walks around; he surveys. He walks very slowly around making sure that everyone is doing what they're supposed to do. He'll sit and just observe until there's a groundhog or something."
Just as he believes it's his job to keep the humans in line, Theodore, who has a multitude of nicknames including Mr. T and Theo-dorable, is sure to be found bossing around White's horses, telling them off if he deems their behavior inappropriate.
"I think he looks in the mirror and sees a really, really, really large bull, is what he sees, and he's a little tiny thing," she said. "He's really fluffy and he's really fat. He's like a little brick house, and he makes me very happy."
While the tiny terrier has plenty of spunk and street smarts, he chooses to use them for his own purposes.
"He would definitely not do a trick. That would be beneath him," White explained. "Unfortunately, none of my dogs do anything I ask them to do. One of my friends once said about Theodore, 'Sharon, he thinks his name means turn around and run in the other direction really fast.' I'm like 'Yeah, pretty much so.' "
Want more from Jersey Fresh? Click here.
Know a pro who's dog deserves a feature? Email lindsay@chronofhorse.com.