When heavy rainfall caused severe flooding in Louisiana, a number of people in the equine community stepped up to help the horses affected.
On Aug. 12, Louisiana governor John Bel Edwards declared a state of emergency for the entire state. The rainfall had begun on Aug. 11, with some areas receiving up to to 20 inches total, and it resulted in floods in 20 different parishes in southeastern Louisiana.
FEMA estimates 146,000 homes were damaged or destroyed as a result, with 11,000 people displaced and living in state shelters. With those displaced families came homeless pets, and the equine community jumped into action.
Hagyard Equine Medical Institute in Lexington, Ky., collected donated medical supplies and hay from the surrounding areas, which was shipped by Brook Ledge Horse Transportation to different organizations assisting the horses in Louisiana.
"Our doctors expressed that we needed to do something, and they talked to various farms in the Lexington area, and we also put out a call on Facebook," said Hagyard marketing coordinator Allison Rogers. "The Lexington farms really stepped up. They always do; they're incredibly generous, but we were really surprised by how many people called in donations to the pharmacy for specific products that our doctors knew would be needed down there. We had just tons of people call in from all over the country."
Rogers says the main concerns with horses in the aftermath of a flood are skin conditions resulting from prolonged exposure to unclean water, so wrapping materials, hoof pack and medicine to treat dew poisoning (also known as scratches) were in big demand.
The Hagyard/Brook Ledge team also sent about 350 bales of hay with their medical supplies. Brook Ledge drivers Tom Dryer and Clyde Altemose loaded and transported the supplies to the Louisiana State University campus.
"[Lexington Thoroughbred farm] Castleton Lyons donated 300 bales of the most beautiful hay," Rogers said. "And a woman from Cincinnati named Jodi Sebastian brought down a two-horse bumper-pull full of hay she collected. I think there were about 50 bales."
"We like to help out and do our part. I mean, the horse business takes care of us," said Mark Brown, Brook Ledge's Lexington facility manager. "We're just proud to do it. The Gotwals family that owns the company is very much about helping people in a time of need."
Rebecca McConnico, DVM, a veterinarian and professor at Louisiana State University, was on campus to receive the donations from Hagyard, Brook Ledge and donations from other organizations. McConnico is also the equine manager of the Louisiana State Animal Response Team, an animal rescue group that helps pets affected by disasters in the state.
"One of the first calls I got for help was a lady who had brought her horse in her house," Dr. McConnico said. "It was flooding so badly outside of her house that the horse would have drowned, so she brought the horse up the stairs into the dining room."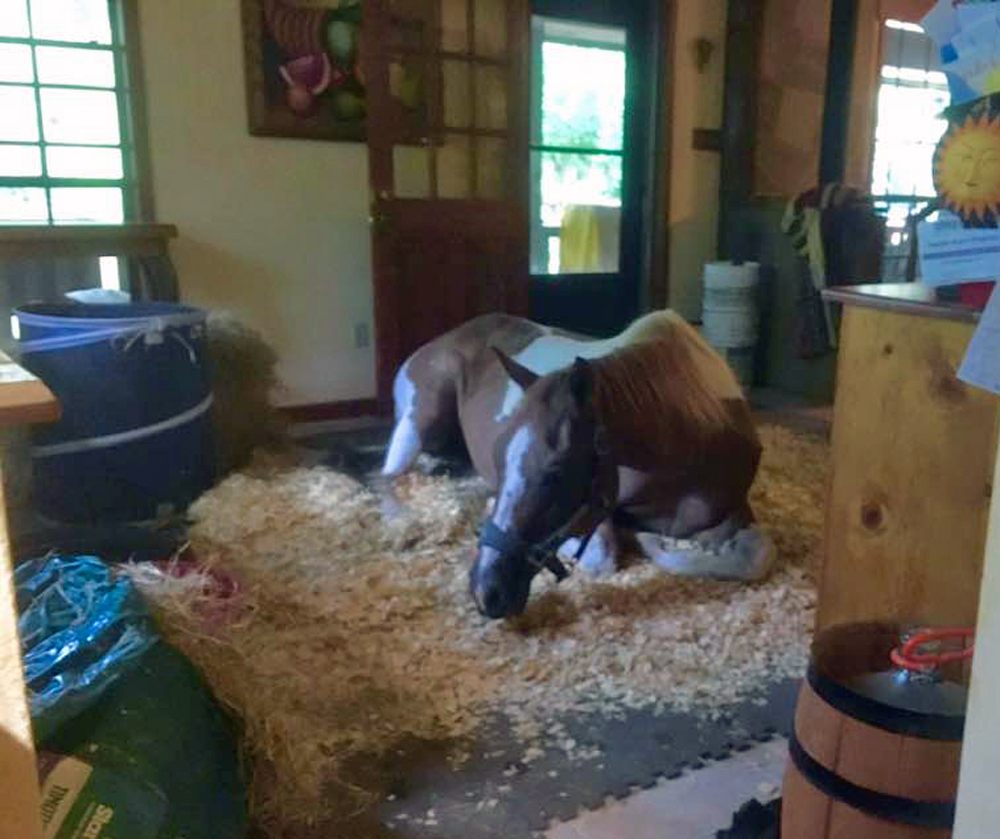 Mary Moreau's 23-year-old mare, Vandy, escaped the floodwaters in Moreau's house.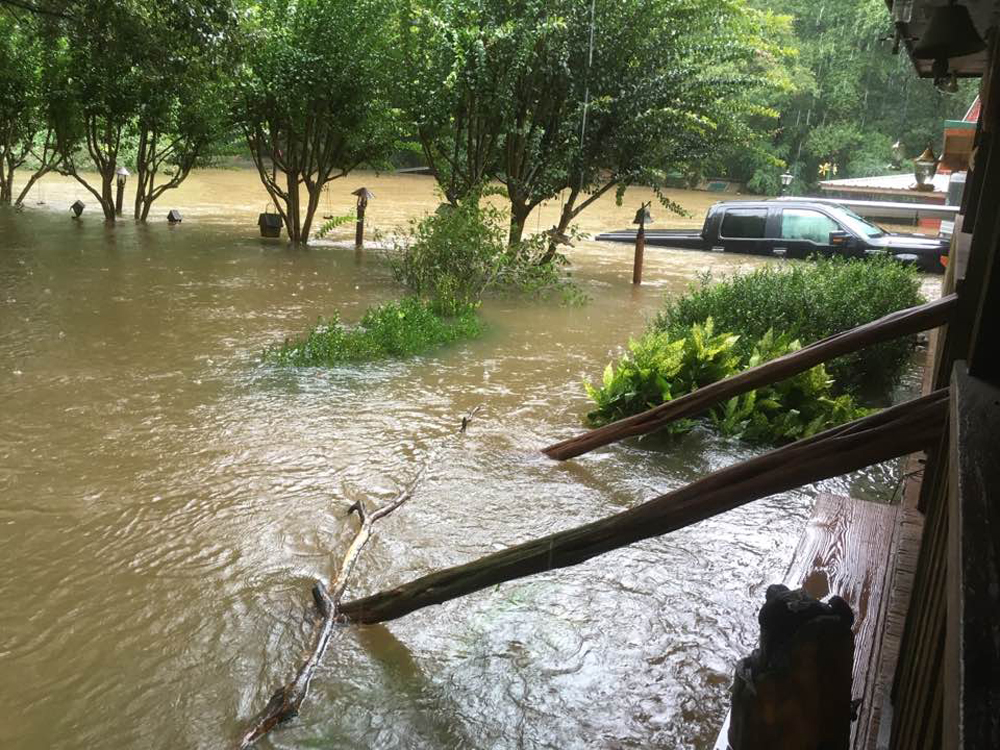 The flooding outside Moreau's house.
A temporary holding place for displaced horses and other pets was set up at the Lamar Dixon Expo center in Gonzales, La. Originally organized by the rescue group Cara's House, the center eventually turned to Dr. McConnico and LSART to help organize the animal section of the shelter. The Lamar Dixon Expo center was also serving as a human shelter and a staging area for organizations like FEMA and the Red Cross.
Tanya Carpenter, who organizes barrel racing competitions out of the Lamar Dixon center, volunteered in the makeshift animal supply room that was set up there.
"I went there initially to bring feed, because there were horses in there that had arrived that day, and then I was called by Lamar Dixon and asked if I could come help out with organizing the stalls," Carpenter said. "Because people were arriving with horses, and they were just letting them stay there."
The problem was a lot of the people trailering in horses had no idea who they belonged to—they were good Samaritans who had rescued the animals from flooded areas and didn't know what to do with them.
"Ninety percent of the horses there we did not know who the owners were initially," said Carpenter. "So that was the first issue. I thought I was going to get there and all these owners were going to be there, and we could talk, but it wasn't like that."
Carpenter estimates there were 300 to 400 displaced horses at the center at any one time in the 15-day time period she volunteered there. Eventually owners came forward to claim the majority of the horses at the center, with a few horses who were surrendered by owners who could not afford to take them home.
Jodie Summers, another horsewoman in the area, helped people haul their horses in danger of rising waters to the Lamar Dixon center.
"People were just in disbelief because none of these areas have ever, ever flooded—never," Summers said. "What was weird was the areas that usually flood didn't flood, and areas that have never flooded were the first to flood. It was extreme."
Dr. Brennan Lee, DVM, a veterinarian who runs her own practice of Double Diamond Equine in Amite, La., has been housing and treating horses injured in the flooding. You can follow along on the Double Diamond Facebook page.
"People out of state, they don't understand what happened here. They're like, 'Well, why didn't they get the horses out?' It all happened so fast. The water rose so fast," Lee explained.
Dr. Lee also received part of the donations from Hagyard/Brook Ledge, and the medical supplies have proved particularly useful for the roughly 12 to 15 injured horses she is caring for at her practice. The horses who were stuck in standing water for extended periods of time have serious skin issues and infected lacerations.
"The horses I started getting were rotting from the water," Dr. Lee said. "Wounds were just rotting in that nasty water."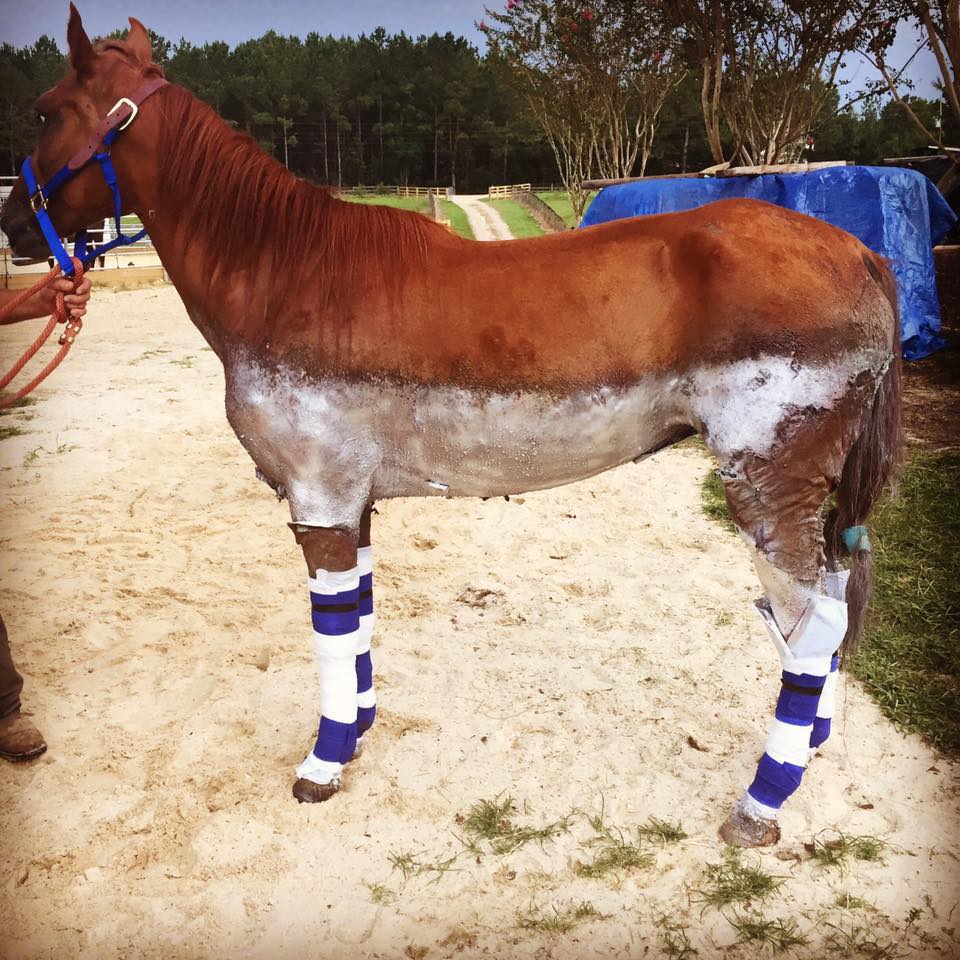 One of the horses Dr. Lee has been treating after the flood. Photo courtesy of Dr. Lee.
Dr. Lee has received so many donations from different organizations she is now redistributing surplus supplies to families in the area. She is also accepting monetary donations for the injured horses in her care through a Paypal account, as her goal is to not charge any owners for the emergency care their horses received.
With regards to the Lamar Dixon center, Summers said people have stepped forward to give homes to all the unclaimed or surrendered horses at the center, as the center is closing as an emergency shelter on Sept. 4.