Lexington, Ky.—Nov. 2
It was a stride Hunter Holloway will relive in her nightmares for a while. She landed off the next-to-last jump, looked to her left to the ASPCA wall jump and then settled in for a wide turn and seven strides.
It was a stride too much, and Holloway got Patrick just a little too close to the final jump. Trainer Don Stewart slumped a bit, the crowd sighed, and Holloway shook her head.
In that last stride, Holloway let the ASPCA Maclay Finals title slip through her fingers in the fourth and final round of competition. Tori Colvin didn't make that kind of mistake—she was as flawless in the final round as she'd been in the three phases before, prevailed in the amazingly tight competition and ended up with the coveted medal around her neck.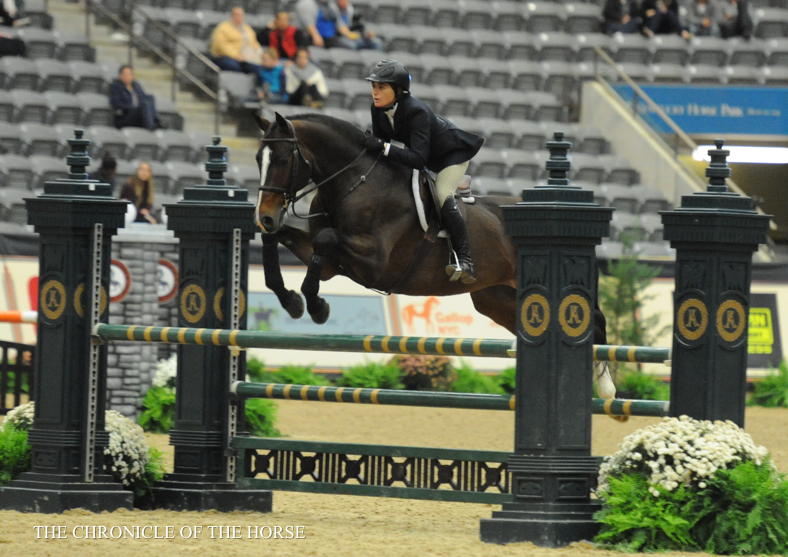 Tori Colvin on Any Given Sunday in the final test of the ASPCA Maclay Finals. Photo by Ann Glavan
Holloway led the Maclay from the start, with judges McLain Ward and Chystine Tauber putting her on top of the standby after all 153 riders completed the first round. Colvin was breathing down her neck in second. They stayed that way through the flat phase, with both of them flatting beautifully. And over the second course, neither of them put a foot wrong yet again.
So, Ward and Tauber called them back again, one last time, to switch horses and jump Round 2 again. Colvin laid down the gauntlet with a flawless round on Holloway's mount, Any Given Sunday. And Holloway was on her way to another perfect round before that last stride and last jump.
"I have to say in the end it was really a very fine line," said Ward. "It wasn't a significant difference between any of them here at the table, but particularly the top two. There was a little error probably to the last [for Hunter], and you can't just keep testing. At some point you have to have a winner.
"It's OK, Hunter, second place worked out pretty good for me," Ward joked. The two-time Olympic gold medalist was second in the ASPCA Maclay in 1993.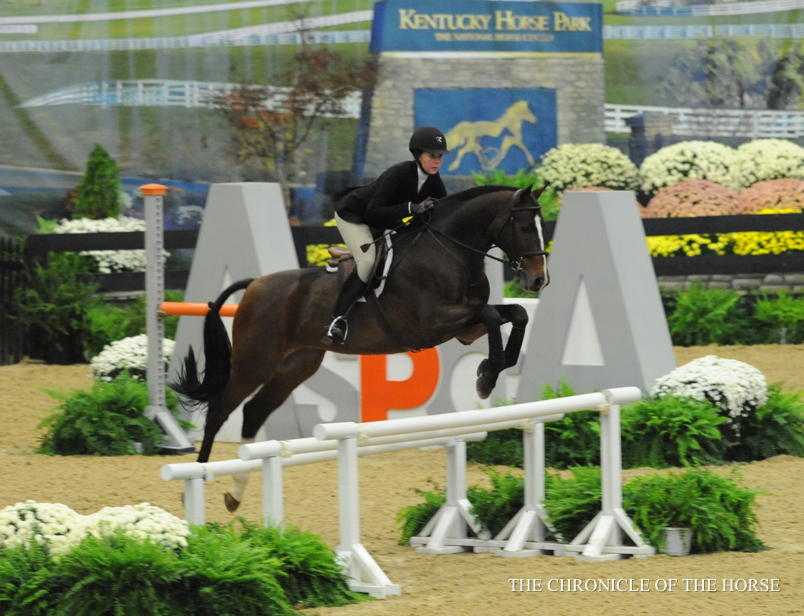 Hunter Holloway rode Any Given Sunday into second place. Photo by Ann Glavan
"I had a really solid first round this morning and was really happy with it," Holloway said. "I thought my horse was great. I've been really happy with him all season. He's been amazing—he went from the jumpers and the grand prixs to the equitation. I miscounted down the last line which was very unfortunate, but Patrick is a great horse fun to ride, very straightforward and so very fun."
Colvin set herself apart in Round 1, when she chose to ride a difficult inside turn between a double of verticals in the middle of the ring and a testing line on the long side. She sliced the inside turn to a tight three-stride combination and made it look effortless. Only two other riders all day attempted that turn, and her version was by far the best.
"When you come to there events with someone who rides like Tori you know that you have a shot at winning, and so my goal is to try not to mess it up," said Andre Dignelli who, along with his team at Heritage Farm, trained Colvin to the win. "I agonized for 76 rounds whether I was going to have her go inside to the three to the five. I went back and forth a bunch of times, but I said 'We were here to win,' and she took a shot and that paid off for us today."
Colvin is a girl of few words, even when she's ridiculously happy to win, which she was today. You get the feeling that she'd much rather be back in the barn feeding Patrick carrots than fielding questions in a press conference. But she managed to convey the import of what she'd accomplished. "It's an amazing feeling. I never thought I would be sitting here," she said. "I don't really get nervous at all. I thought it would be a lot of fun to do another horse [in the final test] and Hunter's horse was amazing. He looks like a hunter and I love riding hunters, so he worked out."
While Dignelli got to stand with Colvin in the awards ceremonies, everyone involved with Colvin acknowledged the important role her former trainers, Scott Stewart, Ken Berkley and Missy Clark, had in shaping her talent.
"I want to mention Scott Stewart and Ken Berkley—they taught Tori Colvin how to ride. When I got the call to be a part of this great team I felt a huge obligation not to mess it up. When Tori walks in the hunter ring I think she feels invincible; I said to her, 'When you walk in today, you've got to feel the same way and not to let this slip by you. And she didn't, and here we are."
The other essential ingredient in Colvin's winning recipe is Betsee Parker, who owns the hunters she rides to so many championships and also owns her equitation mounts Patrick (who she rode in the Maclay) and Clearway. "I can't explain the feeling of watching Tori win all these prizes except that to say that its more wonderful than if I had done it myself, so its all worth it," Parker said.
Want more Maclay Finals action? Check out the round-by-round commentary.