Upperville, Va.—June 11
To say that Tori Colvin's junior career involved a lot of championships and interviews is an understatement. However, since her initial foray as a professional, the headlines have featured her name less and less as she focused on her young horses. Although she had a stellar start in the Winter Equestrian Festival (Fla.) with Style, Colvin joked that she's been hiding a bit. But she found her way back into the limelight at the Upperville Colt and Horse Show.
Colvin resurfaced and checked off her fourth Upperville derby win in as many attempts with Alexandra McReady's Checklist. The 18-year-old phenom proved once again just how smooth she could be in the tack, as she rode the gelding to win the $20,000 USHJA International Hunter Derby.
"He was just amazing," said Colvin. "He's my type. He's there for you, and he's very scopey and jumps amazing."
Colvin, of Loxahatchee, Fla., received the ride on Checklist just this week and had only competed in one schooling jumper class before entering the derby. Scott Evans and Daniel Geitner originally found the gelding in Germany before bringing him to the United States to be showcased in the derbies.
"He's so sensitive," said Evans. "He's like a Thoroughbred. He really takes his job very seriously, and he needs a rider who will understand that he's a perfectionist. For quite some time, I thought Tori would really communicate well with him."
Colvin did just that as she navigated a course that was causing many competitors to have problems. Six riders had rails on course, and two riders finished on refusals. After a refusal both Evan Coluccio (Socialite) and Paul Matthews (Ronaldo) retired.
"It was very open and nice," said Colvin. "There weren't many lines or bending lines. It was kind of like a half jumper, half hunter course, so it worked out with everything. There weren't as many fluffy hunter jumps as there usually are, so I think that was an advantage as well."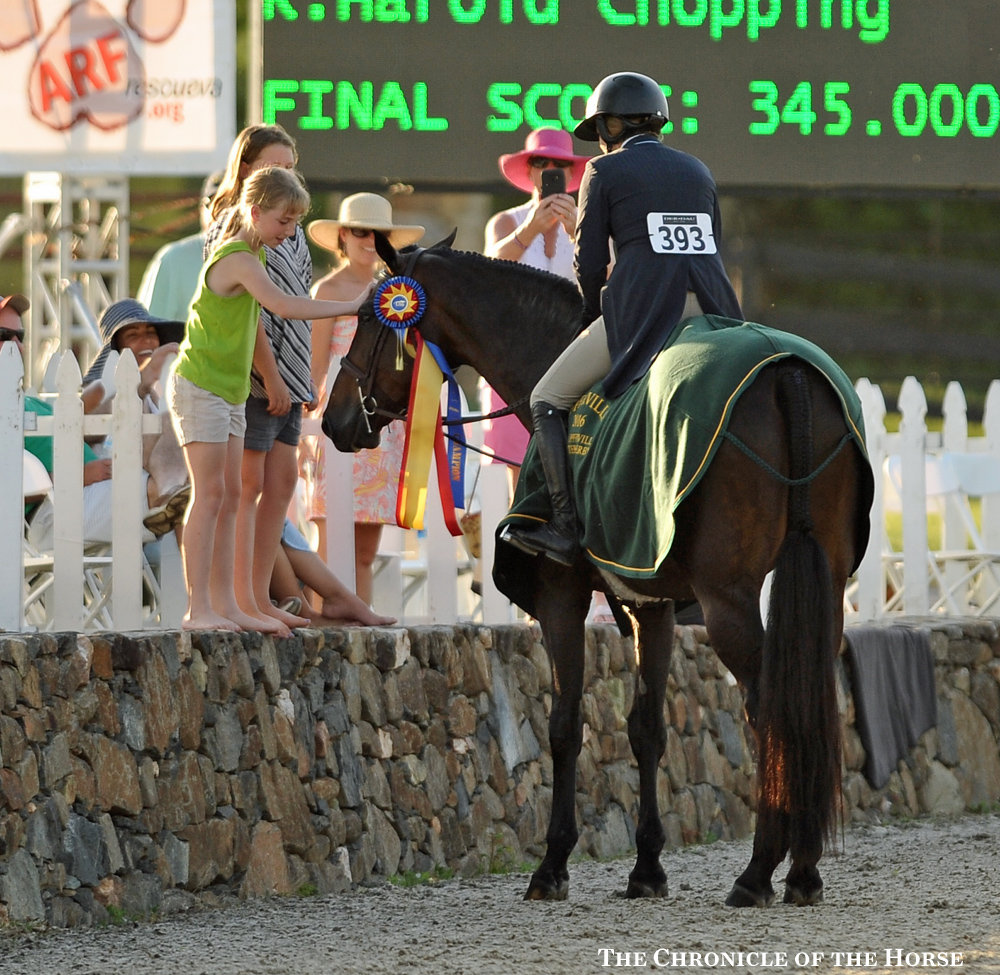 Tori Colvin and Checklist greeted fans during the awards presentation. Photo by Kimberly Loushin.
Colvin also acknowledged that the competition venue might be advantageous as well: "Every time I've come to Upperville, it's gone well. I don't think there's been a bad year yet. I love it here. The scenery is amazing and it's so quiet and peaceful, but then you come [to the derby] and there's a crowd. To have a crowd cheer for the hunter derby—it's spectacular. I love it here. I'm going to come every year."
"What we would like to do is focus on the derbies," said Evans. "It's something that Tori and I have talked about, and it's both something that we really like. We want to support the derbies. It's so important for our sport in this country. Tori and I love the jumpers, but we also have a soft spot for the hunters, but yet I think this is really exciting for the horse sport right now.
"I think it's a wonderful thing to have a horse that's careful, that jumps like a hunter, but also can turn like a jumper and be dared a little bit. Notice that there weren't a lot of division horses in here because it's a lot—it's a different ball game. Everyone wants a derby horse. Everyone wants to take a shot, especially at Upperville. This show means a lot to us."
Derby Redemption
The youth domination continued with 23-year-old Samantha Schaefer, who finished second on her sister Madeline Schaefer's In The Know and third on her own Classified after being one of the few to successfully execute a tight roll-back option in the handy phase.
"Actually, when I walked the handy, I said, 'No way. I can't make that turn,'" Samantha said. "The only reason I chose to do that turn was because of my position coming back.
"Basically, Kate [Conover], my trainer, was like, 'What do you have to lose? You know the horse.' So once I did it on the first one, the second one was easy."
The turn, a tight option that Samantha herself initiated, left her with only a few strides before jumping a four-foot hay bale vertical at an angle.
In The Know is a new member to the Schaefer family. They bought the 7-year-old gelding for Madeline at the Swan Lake Series (Pa.) in the hopes that he would become her equitation mount. After only having the horse for a few weeks, Samantha decided to enter him in the derby to give him more mileage and experience in different rings.
"So, I didn't really give her an option," Samantha said. "I was like, 'We're going to do the derby.' "
Therefore, after competing in the equitation at the beginning of the day with Madeline, In The Know had her older sister take the reins in the derby field.
"It is good experience for him to come in different rings, and obviously I did not realize how scopey it was," Samantha said. "He's a first-year horse. This is his third horse show in the States. And I rode him like he's been doing it his whole life."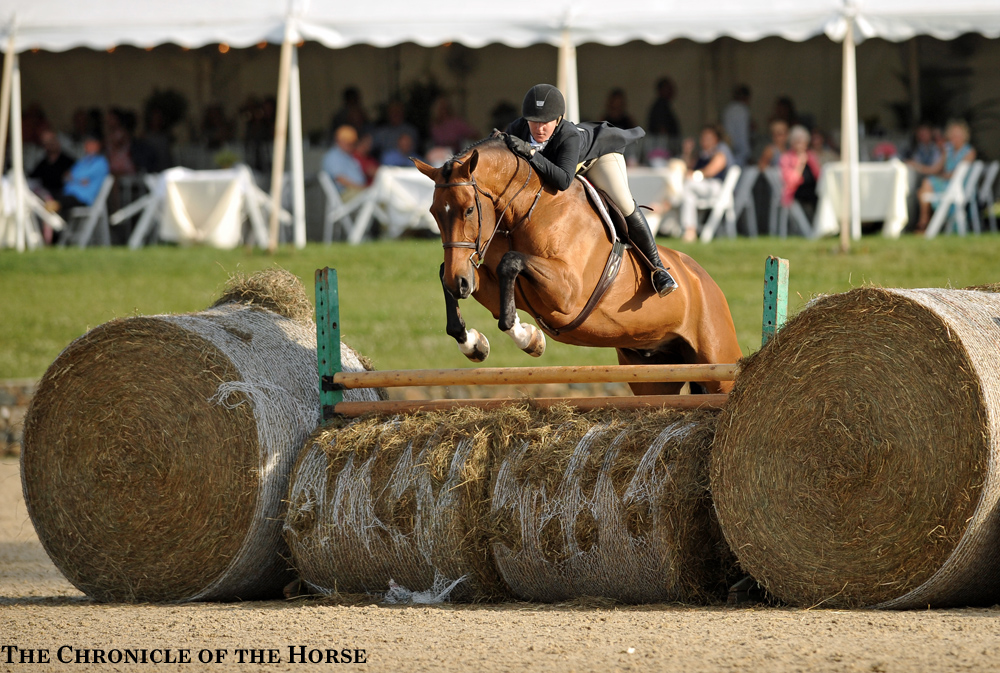 Samantha Schaefer piloted her sister Madeline Schaefer's In The Know to second in the 7-year-old's first derby. Photo by Kimberly Loushin.
Schaefer's third-placed finish on Classified came after the two won the amateur-owner, 18-35, division earlier in the week. After her derby performance last year, where she and Classified flipped jumping out of a combination, Samantha swore she would not do a derby again on the horse. But after a ninth-placed finish in Ocala (Fla.) and second in Wellington (Fla.), along with her third-placed finish at Upperville, Samantha now hopes to compete the chestnut gelding at the USHJA International Hunter Derby Championships in Lexington, Ky.
"He's a good boy, and he tries to please you," Samantha said. "You can't make a horse up that way. So, I'm really lucky to have him."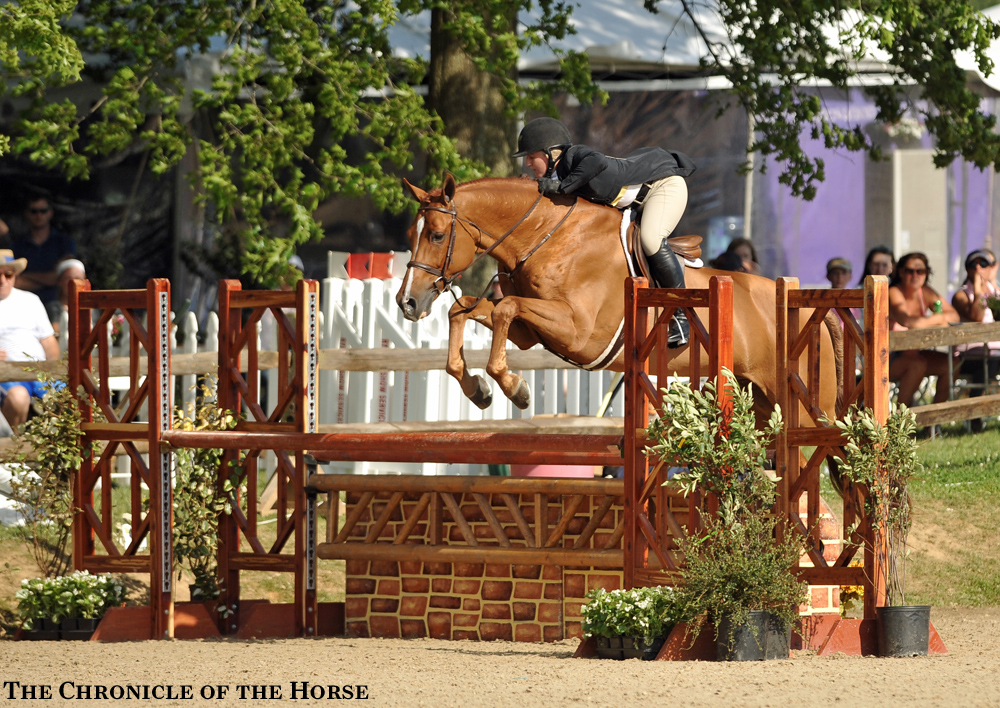 Samantha Schaefer also piloted her own Classified to third. Photo by Kimberly Loushin.
Want to see more gorgeous derby horses? Check out our full gallery from tonight's class.
Want more from Upperville? Don't forget to check back at coth.com tomorrow to read about the winner of the $216,000 Upperville Jumper Classic. Pick up a copy of the July 11 issue of the Chronicle for an in-depth look at what the junior phenom-turned professional's plans are for her future.
Find results here.