Washington, D.C.—Oct. 23
When top riders plan their fall indoor schedule, they have to think especially hard about what to do with the Washington International. With plenty of pomp and the excitement of being downtown in a major city, it's many riders' favorite show. But not all horses feel the same way. With extremely limited schooling and lunging, stabling on the street and cramped quarters, it takes a special horse to shine in the city.
Lucky for Tori Colvin, Small Affair is a Washington fan, and he showed that today by winning the large junior hunter, 16-17, title and the grand junior hunter championships. He sealed the tricolors with the highest junior hunter stakes score of the day—a 90—to earn the Lyrik Challenge trophy as well. Colvin's second mount in the division, Inclusive, claimed the reserve division title.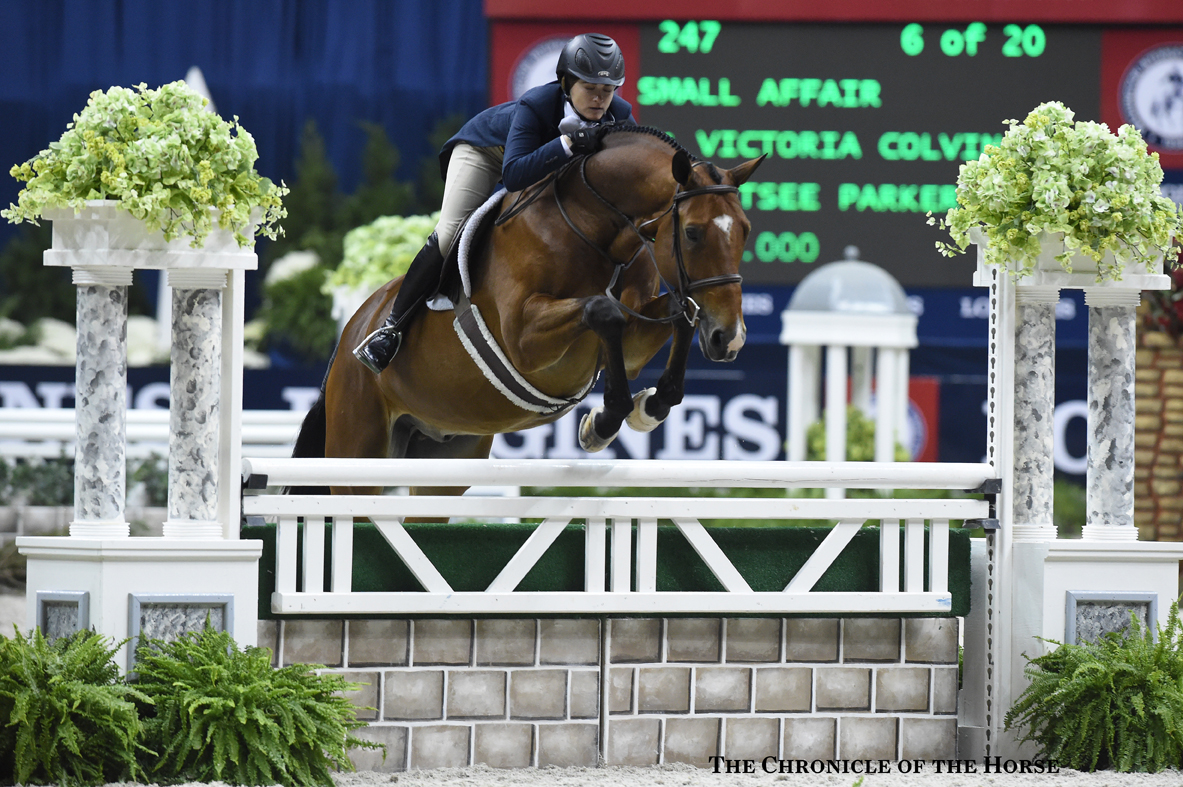 Small Affair earned a score of 90 in today's large junior hunter, 16-17, stakes with Tori Colvin to secure the division championship and the grand junior hunter title. Photo by Mollie Bailey.
Colvin wasn't too worried about bringing the 12-year-old Selle Français (Elf D'Or—Eva de Fontenay) owned by Lyn Pedersen and leased by Betsee Parker to the city. He's been here three times before, winning tricolors each time out with John French and Samantha Sommers up.
"I have horses that won't jump here," said Colvin, 18. "Way Cool, we don't bring him here anymore because he just trots in and says 'no, thank you.' "
Small Affair came here fresh off earning the championship at the Pennsylvania National.
"A lot of mine have little quirks," said Colvin, Loxahatchee, Fla. "You have to kind of hold him before the jump because he gets a little nervous. He kind of holds his breath, but by the third round he just canters right around. In the beginning you have to hold his and leg him a little bit so he knows you're there."
Small Affair is owned by Lyn Petersen, and Betsee Parker leased him for Colvin's last junior year.
The judges also honored Colvin with the Best Child Rider title. While the hunters have wrapped up, she still has plenty of horse show left. She leads the Washington International Horse Show Equitation Classic after today's hunter phase, and will be focused on repeating that strong performance in tomorrow's jumper phase. She also beat out all the other Fédération Equestre International riders in yesterday's $35,000 Welcome Stake and placed second in the $20,000 Gambler's Choice costume class.
"It was awesome," said Colvin, who dressed as Belle from Beauty and the Beast. "That was the best thing ever. I have never done a Gambler's Choice and it was the most fun I have ever had."
An Especially Proud Moment
Colvin's not the only one continuing her streak during indoors. Emma Kurtz rode Isabelle Aldridge's Kahlua her second small junior hunter, 15 and under, title in a row.
Despite that accomplishment and plenty of competition, it was a less-successful ride that made her trainer, Amanda Lyerly, smile.
"I was super proud of her on Kahlua, but Frederick was really nervous here," said Lyerly. "She came in the ring and took her time, and did the most amazing job in the last round. He wasn't good in the beginning, so she didn't get a ribbon, but she really showed me how talented she is. She looked like a true horsewoman out there today. That was my proudest moment today."
Kurtz rode the 8-year-old mare right when she started wearing hunter tack this spring, then Aldridge purchased Kahlua. Aldridge is just stepping up to the junior hunters and asked Kurtz to fill in during indoors.
"She's naturally slow and has a really nice rhythm," says Kurtz. "At first she would get a little excited through the in-and-out, or land shallow, or try to add or be a little jumper-y. But the transition to the hunters was pretty easy."
Emma Kurtz (left) piloted Isabelle Aldridge's Kahlua to the small junior hunter, 15 and under, championship. Photo by Mollie Bailey.
Kahlua is Aldridge's first junior hunter.
"She takes such good care of me," said Aldridge. "She's so generous and so much un to ride, with a great canter. I hold my breath when she jumps, it's so beautiful."
West Coasters Rule

The other two junior hunter champions made a long trek from California to the nation's capital to win in their divisions.
Kaitlyn van Konynenburg came from Pacific Palisades, Calif., with four horses, but had to find a sub as Washington limits riders to three junior hunters. She recruited Morgan Ward to take over the ride on Triton Z in the small junior hunter, 16-17, division, which paid off with the division title.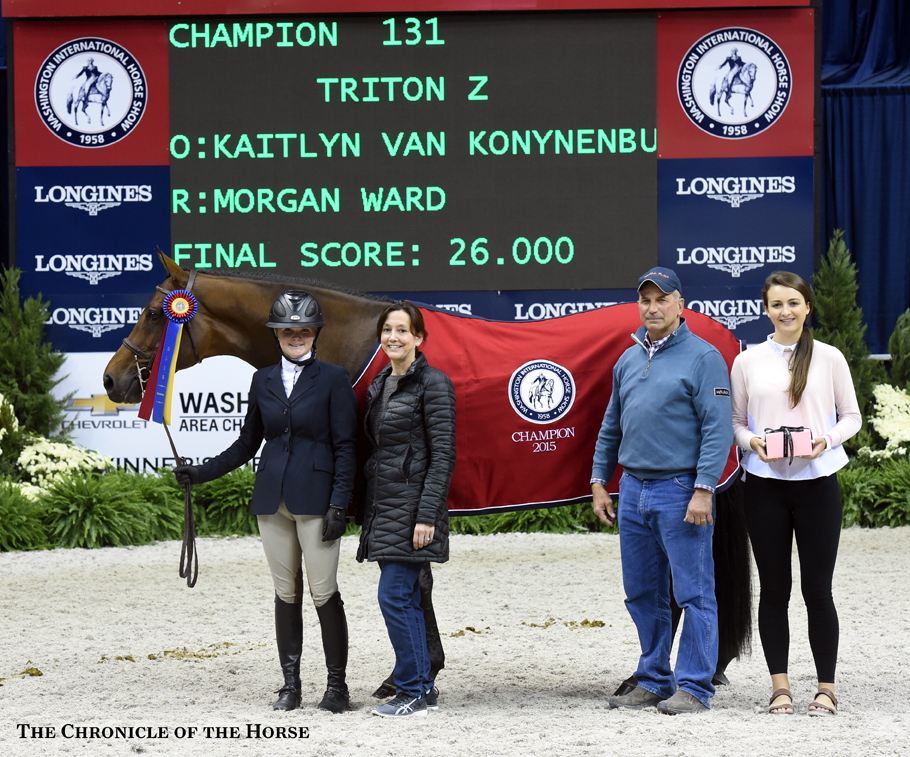 Washington International Horse Show Youth Ambassador Miriam Dupree (left) awarded Triton Z's small junior hunter, 16-17, championship to (from left) rider Morgan Ward and trainers Traci and Carleton Brooks. Photo by Mollie Bailey.
Van Konynenburg chose to hand off Triton Z's reins as that quirky horse thrives with something new to hold his attention. Though he's a tried and true hunter, he's dabbled in the equitation, and even contested a few jumper classes with van Konynenburg and Susie Hutchison to keep him on his toes.
"He's smart; he gets bored," said van Konynenburg, who trains with Carleton and Traci Brooks. "The more stimulated he is by his surroundings the better he goes. If it's a really boring arena, he gets complacent. In here he knows it's the real deal and he puts his game face on.
"Morgan did a really good job with him," she continued. "He's not an easy horse to just hop on and win."
Hunter Siebel made her second trip to Washington from Woodside, Calif., and rode Pure Abundance to the large junior hunter, 15 and under, division.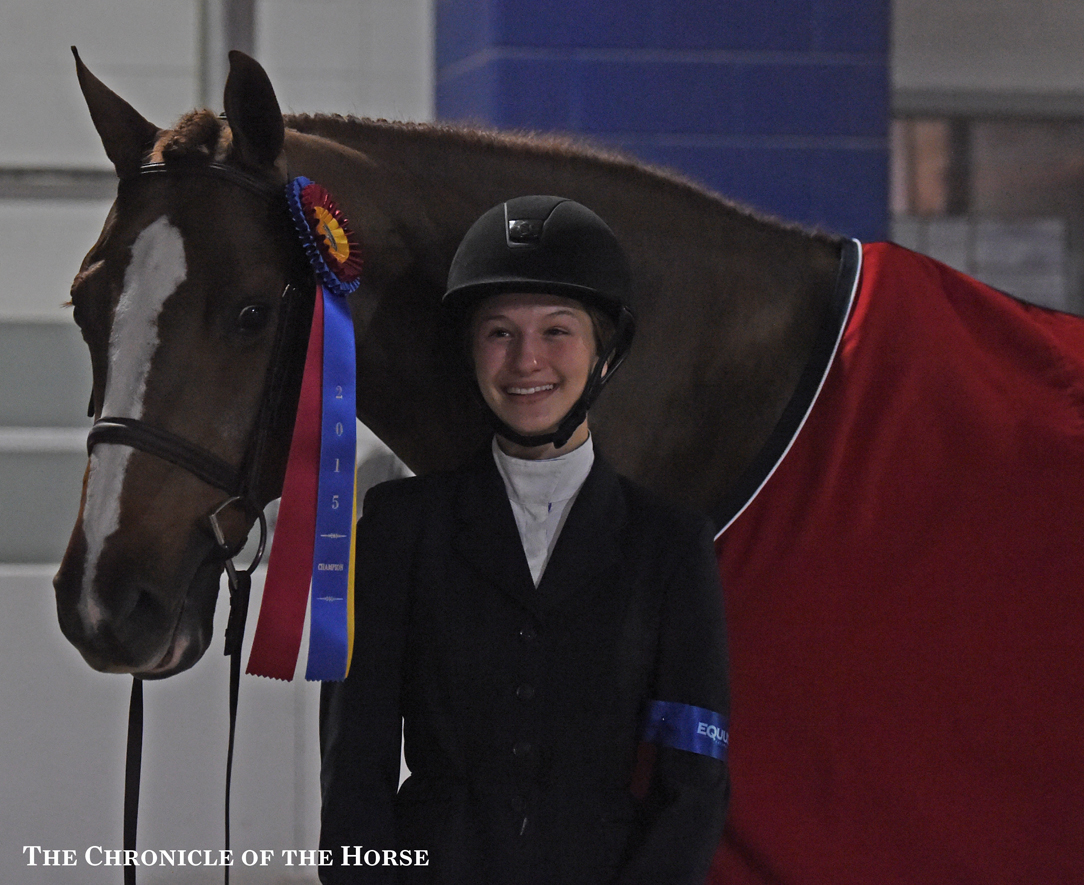 Hunter Siebel rode her own Pure Abundance to the small junior hunter, 15 and under, title. Photo by Mollie Bailey.
"He's a very organized ride," said Siebel, 16. "He's a really long horse, so you really have to take his neck in. He likes to be elegant."
Siebel, who rides with Carrie Robinson at home and meets up with Archie Cox at shows, will wrap up her season at the HITS Sunshine Circuit (Calif.).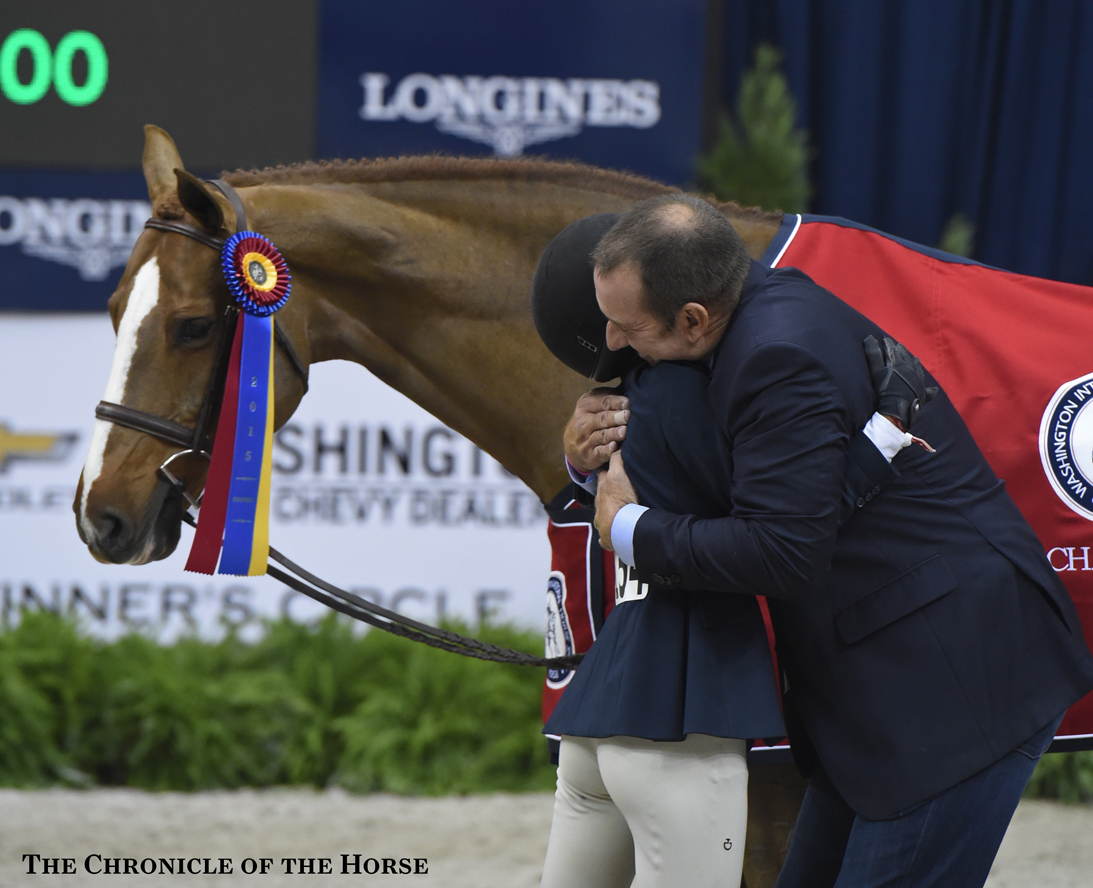 Trainer Archie Cox congratulated Hunter Siebel on riding Pure Abundance to the small junior hunter, 15 and under, title in Washington. Photo by Mollie Bailey.
Want more from Washington? Catch up with the Chronicle.
For full coverage and analysis from the show, check out the Nov. 9 issue issue of the Chronicle of the Horse magazine.