Lexington, Ky.—Oct. 9
On the same week-end that Colombian President Juan Manuel Santos was awarded the Nobel Peace Prize, countrymen and cousins Ilan and Daniel Bluman took first and second place respectively in the $130,000 CSI 3* Grand Prix presented by Split Rock Farm during the Split Rock Jumping Tour's Bourbon International CSI 3*.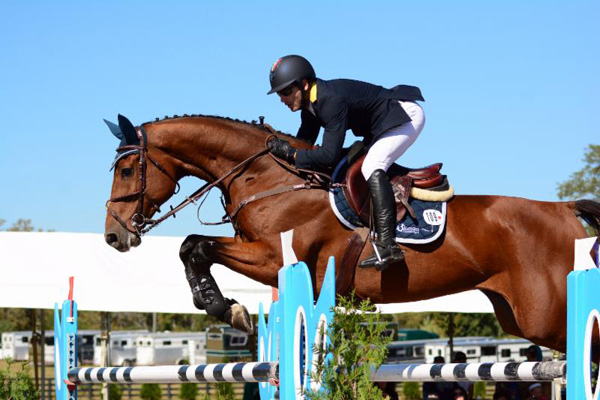 Ilan Bluman on Ladriano Z. Photo by SEL Photography
The grand prix saw 33 horse-and-rider combinations start over a course designed by Oscar Soberon. Just seven of those qualified to compete in the jump-off.
Richie Moloney of Ireland, riding Equinimity LLC's Slieveanorra, was the first to return. Moloney raced around the course in a time of 38.97 seconds but had a rail down for 4 faults.
Before Daniel entered the ring for the jump-off with his Bacara D'Archonfosse, there hadn't been a clear round recorded in five jump-off rounds. So Daniel had a different plan. His jump-off round was slow and precise and resulted in a fault-free performance in a sedate time of 47.43 seconds.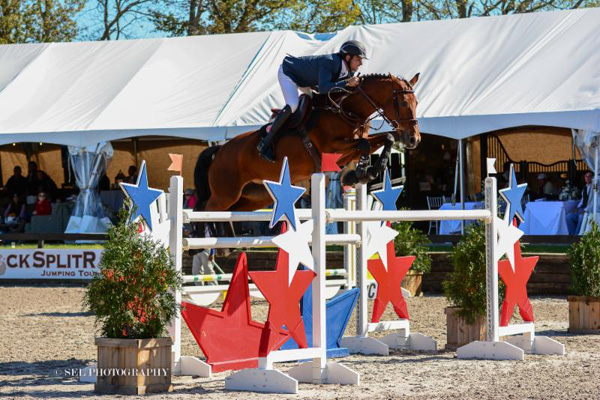 Daniel Bluman on Bacara D'Archonfosse. Photo by SEL Photography
Ilan was just as precise with his round but stepped up the pace a bit. His mount, Ladriano Z, owned by Blue Star Investments, answered the call with a clear round in 40.43 seconds.
That left only Freddie Vazquez of Puerto Rico, and Messenger Hill's Bachelor 4 as a threat to the Blumans' grip on the top awards. Vazquez was not up to the task as Bachelor 4 took down a rail for 4 faults in 40.78 seconds.
"I don't know what to say, I am just really excited," said Ilan after the prize giving. "This is my second FEI-ranked win. I have been working for that for almost five years. I am really happy with my horse; he is amazing. I got him when he was 6 and he is now only 8, so he is really young. I like him so much. I think he likes me too so it is a really good thing."
It was Ilan's second win in as many days as he also claimed victory in the $40,000 Amalaya Investments CSI 3* Grand Prix on Oct. 8 with Ladriano Z. The two wins were Ilan's first wins in FEI ranking classes.
"I had the same plan that I had two days ago," Ilan said. "I wanted to go clear. The riders before me had one down, two down, so I wanted the clear but I wanted a little bit faster than Daniel. So that was my plan."
When asked about stealing the win from his cousin Daniel, Ilan stated that: "If I win, he wins and if he wins, I win," a very diplomatic answer and one that guarantees a peaceful barn.
$130,000 CSI 3* Grand Prix presented by Split Rock Farm
Place/Horse/Rider/Country/Owner/R 1/R 2/Time
1. Ladriano Z/Ilan Bluman/COL/Blue Sky Investments/0/0/40.43
2. Bacara D'Archonfosse/Daniel Bluman/COL/Daniel Bluman/0/0/47.43
3. Slieveanorra/Richie Moloney/IRE/Equinimity LLC/0/4/38.97
4. Casall/Ali Wolff/USA/Blacklick Bend Farm/0/4/39.19
5. Bachelor 4/Freddie Vazquez/PUR/Messenger Hill/0/4/40.78
6. Fortis Fortuna/Daniel Coyle/IRE/Susan & Ariel Grange/0/8/38.43
7. Adamo/Abigail McArdle/USA/Plain Bay Sales LLC/0/8/40.47
8. Casper/Sharn Wordley/NZL/Sky Group/1
9. Bugatti/Wilhelm Genn/GER/Eduardo Leon/1
10. Ace/Alison Robitaille/USA/Mr. & Mrs. Bertram Firestone/1
11. Cantara 59/Sarah Segal/USA/Robert Segal/4
12. For Freedom Z/Keean White/CAN/Angelstone Partners/4