Laura Collett of Great Britain and London 52 retained their dressage lead at Badminton Horse Trials, turning in a clear cross-country round under the time allowed after being held on course. They head into Sunday's show jumping with a rail in hand. Tamie Smith remains the top-placed American on Mai Baum, jumping clear but adding 11.2 time penalties to drop from fifth to 15th.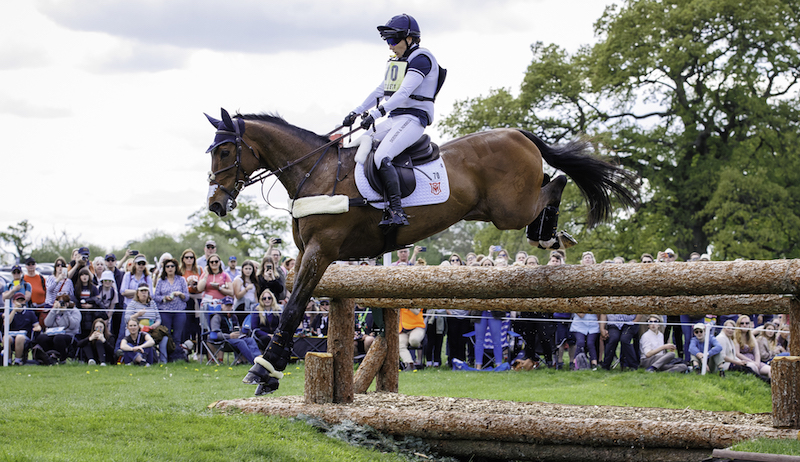 Eric Winter's course proved influential in shaking up the leaderboard, with Tom McEwen and Toledo de Kerser, who stood second after dressage, providing some early drama when they fell at the second element of the Lightsource bp Solar Farm bounce ramps at Fence 24ABCD, ending an otherwise brilliant round. Mollie Summerland, who was fourth after dressage on Charly Van Der Heiden, retired after stops at Fence 17AB, the Mars Sustainability Water.
Oliver Townend, who had been tied for sixth and eighth on Swallow Springs and Ballaghmor Class, respectively, turned in two of the day's six double clears, moving up to second and third behind his Tokyo Olympic teammate Collett.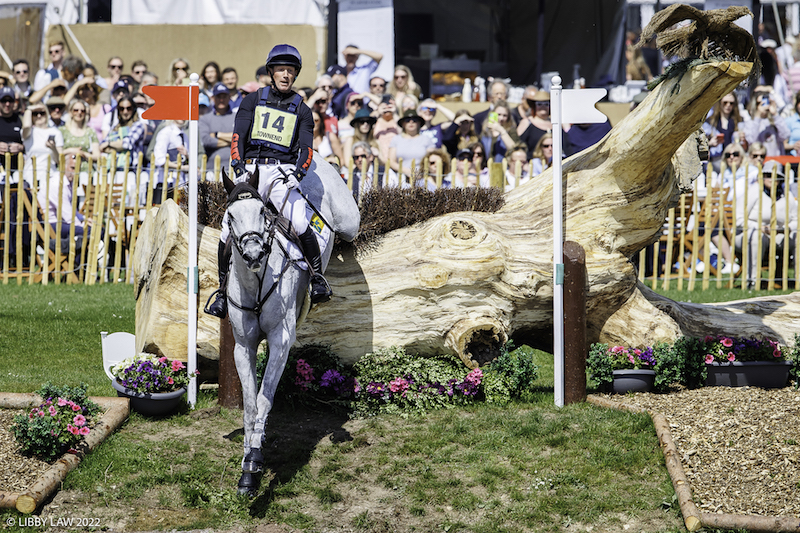 Townend performed a heroic save worthy of Andrew Nicholson, Swallow Springs' former rider, when the gray took off early at the last element of the Quarry, Fence 4. Townend was initially eliminated at the end of his round but then reinstated when the footage was examined. "I kicked for one more stride, but then he picked up, which I didn't expect!" he said.
Fellow Brit Ros Canter also has two horses in the top 10, standing fourth and sixth on Lordships Graffalo and Allstar B, respectively, having moved up from 10th and 12th after dressage.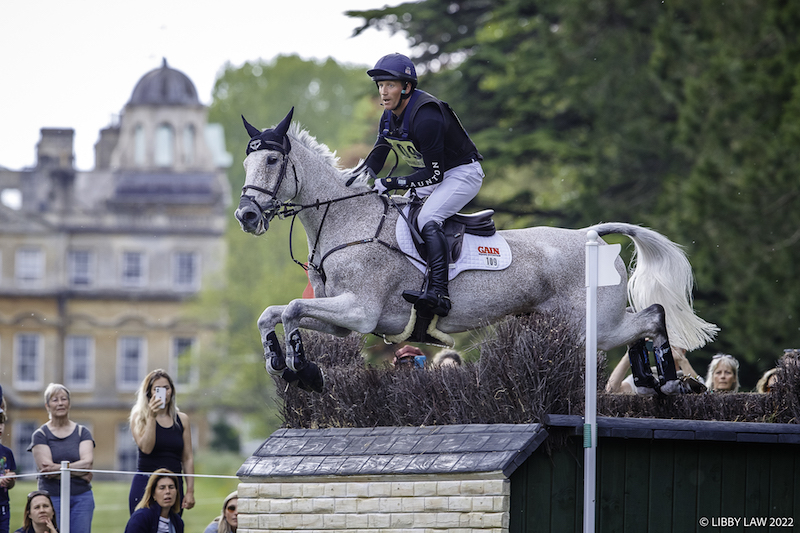 Piggy March and Vanir Kamira, the 2019 Badminton winners, added just 0.4 time penalties to their dressage score with a masterful clear round and are in fifth.  New Zealand's Jonelle Price and the 2018 Badminton winner, Classic Moet, rose 20 places to take seventh place, with the famously fast mare  showing she hasn't lost any of her step at age 19 by turning in another of the six clear rounds inside the time.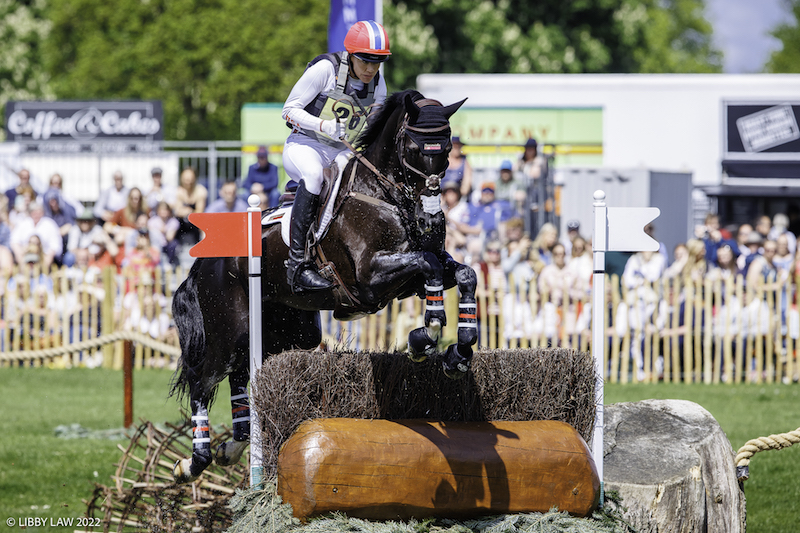 Kitty King is eighth with Vendredi Biats, and  William Fox-Pitt moved up into the top 10 with both his mounts—Little Fire added 6 time penalties to move from 15th to ninth, and Oratorio added 2 time penalties to leap from a tie for 27th to 10th.
Laura finished 11 seconds inside the time on Karen Bartlett and Keith Scott's 13-year-old Holsteiner gelding. The pair were held on course when Vitorio Du Montet, ridden by France's Maxime Livio, fell at the last fence and took a while to stand up.
"It was so near and yet so far, but he came back onto the bridle [after the hold]," she said. "The feeling of coming into the arena at the end was quite something. We've missed Badminton and we've missed the crowds, and it's great to be back.
"This horse owes me nothing. He's given me my first five-star win [at Pau in 2020] and an Olympic gold medal, and this was the biggest, most intense course he has ever seen," she said.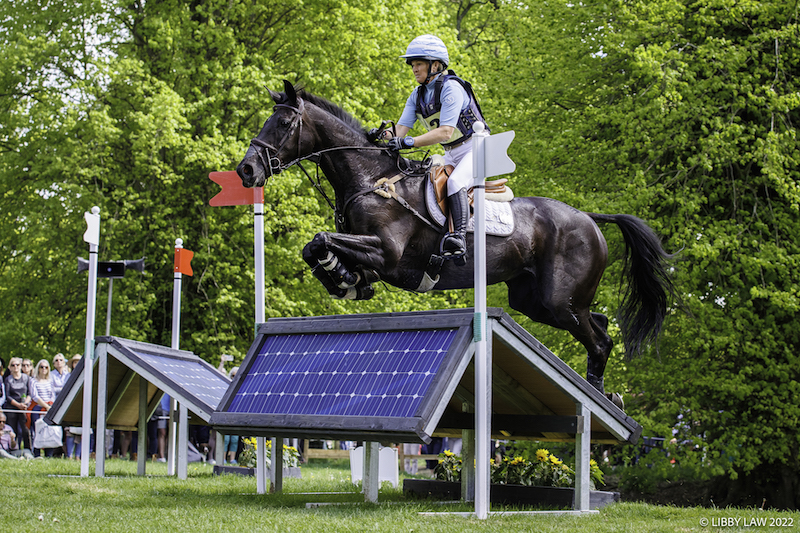 Townend said the track "felt like a five-star should feel. The class horses made it look easy, and I felt the balance was right."
The seven-strong contingent of U.S. riders proved their mettle with four jumping clear around the 32-fence track.
Ariel Grald and Leamore Master Plan turned in the fastest cross-country round of the group, galloping home clean with 8 time penalties to leap from 54th to 24th place.
Phillip Dutton on Z and Will Faudree on Mama's Magic Way each picked up 10.8 time penalties to sit in 25th and 35th places, respectively, overnight.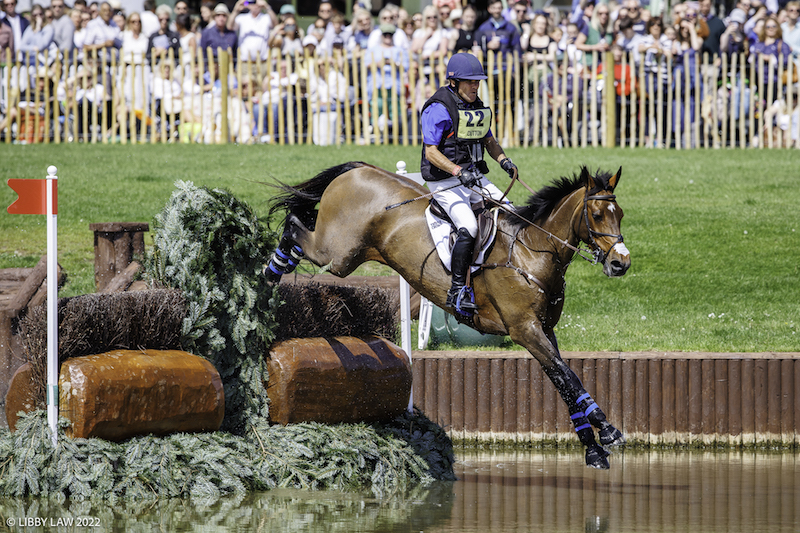 U.S.-based Australian Dom Schramm opted for slow and steady in his Badminton debut aboard Bolytair B, galloping home with no jumping but 44.4 time penalties.
Lillian Heard and LCC Barnaby were clear until Fence 26AB, the Mars M, where they were eliminated with a "fall on flat."
Canadian Karl Slezak retired Fernhill Wishes at Fence 14ABC, the KBIS Brush Village, after the pair picked up their second stop on course there. They'd also had a stop at 6C in another brush complex, the Huntsmans Close.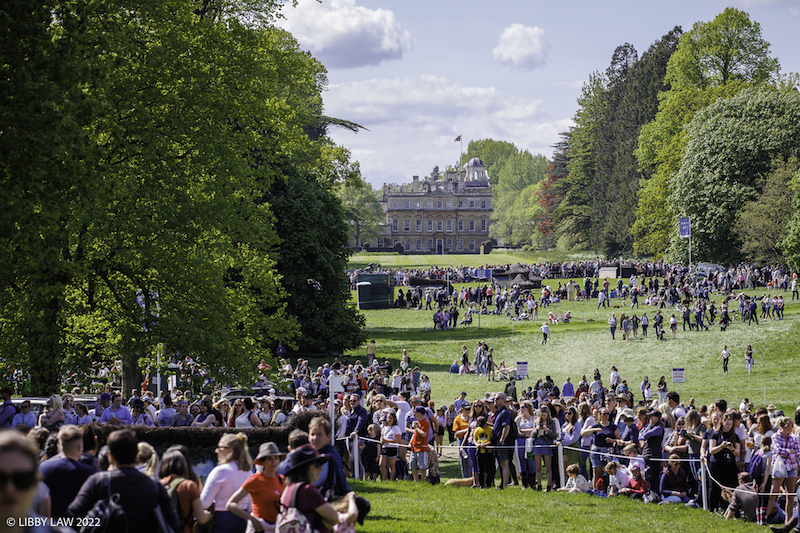 The 1.60-meter drop and waterfall to a fence in the water at 17AB, the Mars Sustainability Bay, ended the day for quite a few pairs, including Americans Matthew Flynn and Wizzerd, Pippa Funnell and Billy Walk On, and last year's Luhmühlen CCI5*-L winners Summerland and Charly Van Ter Heiden.
Emily Hamel and Corvett, the last U.S. pair to tackle the course, and Canadian Mike Winter and El Mundo each picked up 20 points there but continued home otherwise clean.
There were 50 clear rounds from the 80 cross-country starters, many of them first-timers.  The unofficial move of the day award went to Great Britain's Alice Casburn and Topspin, who jumped from 71st to 23rd—48 places—after adding just 4.8 time penalties to their dressage mark.
Click here for complete results.
Tomorrow's horse inspection takes place at 8:30 a.m. local time (3:30 a.m. Eastern Time) and the first part of the jumping phase at 11:30 a.m.
Click here for everything you need to know to follow tomorrow's action live.