Traverse City, Mich.—July 16  
Twenty-four international athletes went head-to-head in the $50,000 Grand Prix of Michigan CSI** during Week 2 of the Great Lakes Equestrian Festival, but it was Sloane Coles who took home the first win for the United States during the first week of FEI competition at GLEF with Esprit, owned by The Springledge Group.
Irish riders had been on a roll at GLEF, with Lorcan Gallagher riding to the win in the $35,000 World Equestrian Center Welcome Stake CSI** on July 14 during Week 2. During Week 1 of the GLEF, fellow Irishman Shane Sweetnam rode to back-to-back wins in the $25,000 Welcome Stake and the $50,000 Meijer Grand Prix. But on the Sunday of Week 2, it was the Stars and Stripes flying for Coles' win.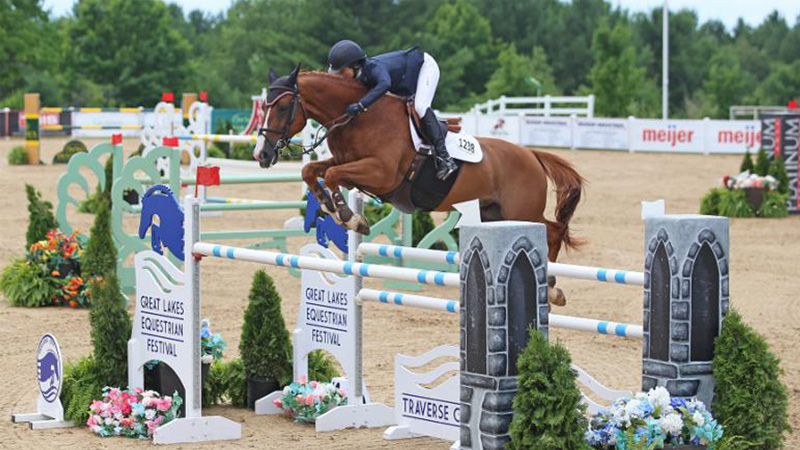 "I'm pretty excited with Esprit. He's really been on all year," Coles said. "He jumped great all spring after Florida. He came out, jumped well in Kentucky and then jumped with one down in the four-star at Upperville [Va.]. I kind of came here really wanting a win in the two-star. He was third on Friday [in the welcome stake] and I was lucky enough to go last in the jump-off, but Kaely [Tomeu], who was second, went pretty fast. I had to be right on everywhere. Esprit's just been jumping amazing. He feels younger and younger so it's nice."
Course designer Manuel Esparza of Mexico challenged horses and riders over a 13-fence serpentine in the first round, but only seven were invited back to jump off after going clear.
Kaely Tomeu, 21, and Gentille, owned by Siboney Ranch, produced the first double-clear round of the jump-off, stopping the timers in 40.93 seconds as second to go in the order.
It looked as though Tomeu would take the win as the only exhibitor to go clear in the tie-breaking round, as faults were collected throughout the next four rounds, until Coles and the 13-year-old Belgian Warmblood gelding entered the ring as the final combination to jump off.
The pair galloped around the shortened track, adding no faults to their name, and crossed the finish line in 40.45 seconds to clinch the blue ribbon.
"It was a hard jump-off," said Coles. "There were only two clear but we were both very fast. I think everybody was really trying to win. He jumped easy today so I felt like I could really go a lot faster. He's really peaking now but I've always believed in him. I just feel like I can go fast on him and he's careful so it's nice to be able to have these shows where you can compete in a two-star."
David Beisel and Harlow Investment Enterprises LLC's Call Me Hannes finished in third place as the fastest of the four-faulters in 39.86 seconds.
Watch Coles' winning jump-off round: