Reddick, Fla.—Nov. 18
Katherine Coleman and Monte Classico haven't had a show jumping rail down all season, and they came into the CCI*** final phase today at the Ocala Jockey Club International with a small cushion.
But "Monte" kept his streak alive, despite 5 time penalties, to clinch the win in his first CCI***.
Only nine horses show jumped in the inaugural CCI***, and two—Jacob Fletcher with Atlantic Domino and Leslie Law with Voltaire de Tre—jumped double clear.
Erin Sylvester and Paddy The Caddy moved up to second place with 1 time penalty.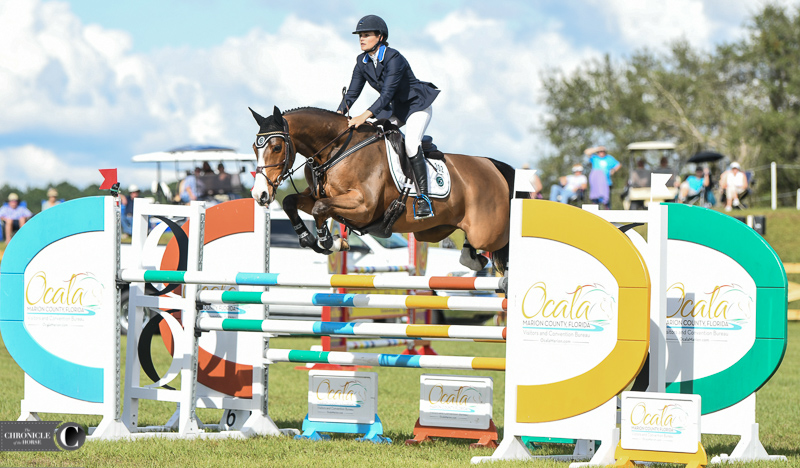 "We are missing some heavy hitters," said Coleman. "I feel really disappointed for Tamie [Smith, who withdrew favorite Mai Baum before dressage.] She has such an amazing horse. The leader board might have looked a little different, but I couldn't be happier with this horse. He showed up in every phase and just this season he has really grown up and is consistently showing up in every phase. I think he is a horse of a lifetime, and I am grateful I have the ride on him. He is just really cool. He is a pleasure to ride, and he just really jumps."
Coleman is eyeing another CCI*** next spring with Monte, a 9-year-old Dutch Warmblood gelding (Monte Bellini—W-Sally, Saami xx), and she's hoping to stay a bit longer in the U.S. before heading back to her British base so she can make an impression on U.S. selectors.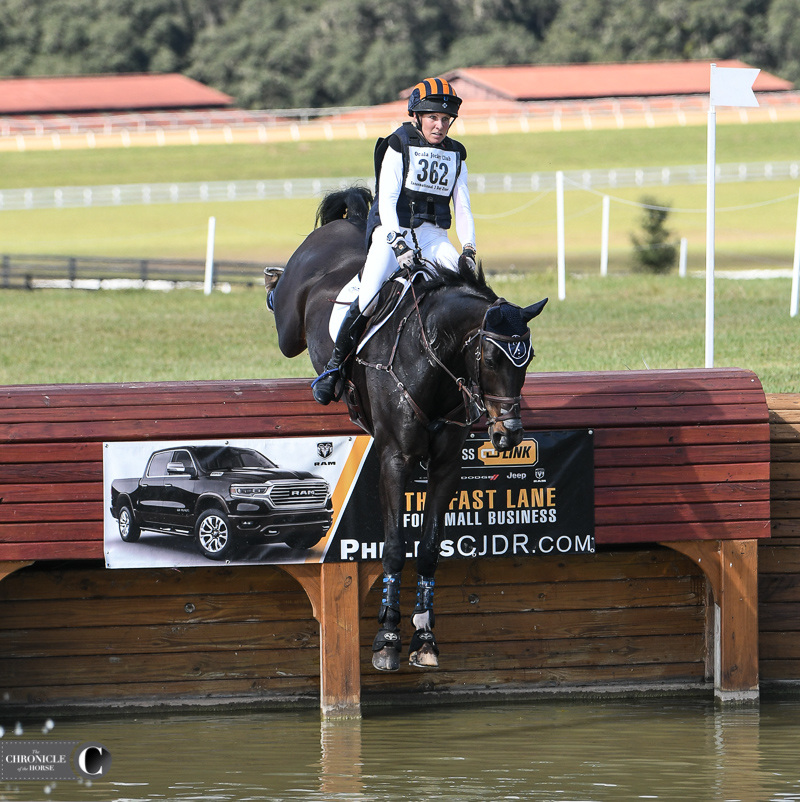 Liz Halliday-Sharp was out for redemption this weekend at the Ocala Jockey Club International CIC*** with Fernhill By Night after leading last year and falling victim to a pair of double corners on cross-country.
This morning she was in the same position, leading the field heading out onto Clayton Fredericks' course, but "Blackie" sailed through the corners, which were featured again, and galloped home with 2.8 time penalties, enough for the win.
"I was nearly more nervous here than I have been at all the events he's done in Europe, which were probably collectively harder courses throughout," said Halliday-Sharp. "But I suppose having had a mistake last year and back home again, it's hard to go out when you're in the lead. But Blackie's been amazing this year. He's really been brilliant everywhere he's been. I just kept thinking to myself, he's done a lot of hard questions this year, and he's good enough to do this. He was absolutely fantastic through all the tough questions like the corners and the angled brushes. He was perfect there. I was really proud of him. He got a little tired [and] sleepy towards the end because he hasn't run for 12 weeks, and I had not our best jump into the last water, which is untypical for him."
Halliday-Sharp has been partnered with Blackie, a 15-year-old Irish Sport Horse gelding (Radolin—Argentina XII, Argentinus) owned by Deborah Halliday, since 2012. She's focused more on CICs and fewer runs as he's gotten older, especially in the last year.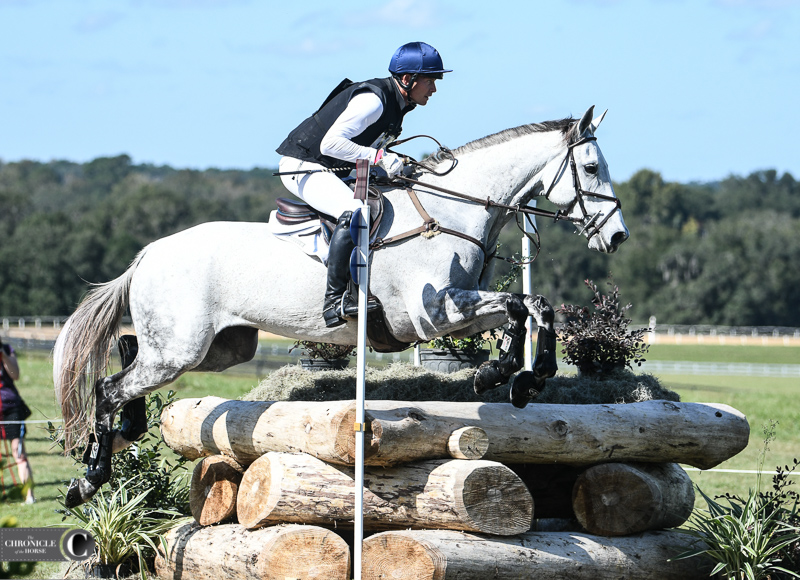 "I think a year ago he wouldn't have even fought for me [at the last water,] and he actually just kept going and got it done," she said. "I kept going and got it done. I was a little tired at the end, but I'm absolutely thrilled with him. The horse deserves this because we've had a long time together, and he's never won a three-star. This is his time to win, so I'm very happy for him.
"When I got Blackie six years ago, he'd been really ruined," she continued. "That's kind of how I got him. He'd been ridden badly, and he's a careful horse. He'd sort of run out of try at the last second, and I had to find a way to get him to fight for me. We've stopped doing CCIs on him, so he comes out now to every event, and he's really excited to be there—pumped to be at the party. He knows he can do a good job. I actually think that was part of it. Getting him to that place where he's like, 'I know I can do this, I'm the big man, a super star.' "
Halliday-Sharp, who's based in England half the year and Ocala during the winter, was excited to take home the win and support her hometown event.
"This is such a great event," she said. "I've been coming every year since it started. Deniro Z did his first CCI* win here. I think it gets better every year. I think the hills are a fun trait here because we don't get that much. The ground gets better every year, the courses get better. It's fun to be back in the U.S. because we've only been back two weeks, and we sort of hit the ground running. We have four horses, and it's a little bit crazy from our end, but it's a great way to finish up the year in the sunshine. All the horses felt fantastic this week."
Only eight pairs finished the cross-country, with three rider falls. Joe Meyer fell from Buccaneer, Grace Fulton fell from Wild Orange, and Jacob Fletcher fell from Van Gough, but all horses and riders were reported to be OK. Shannon Baker retired on course after one stop with Ballingowan Zeal.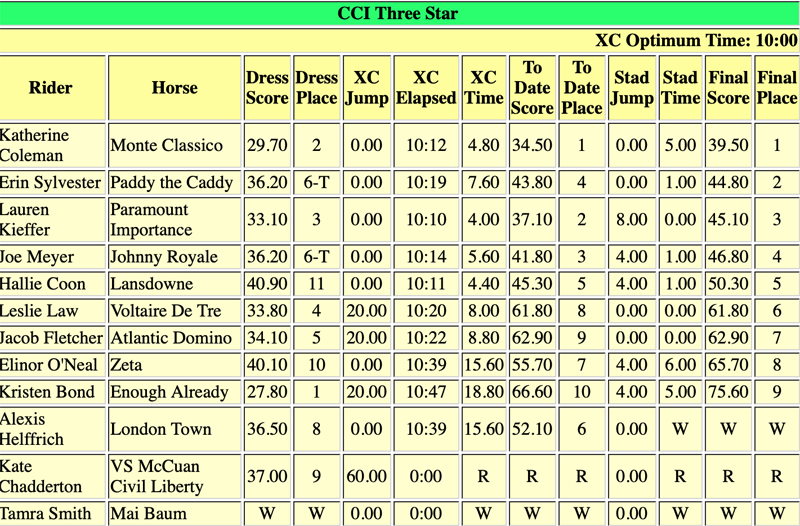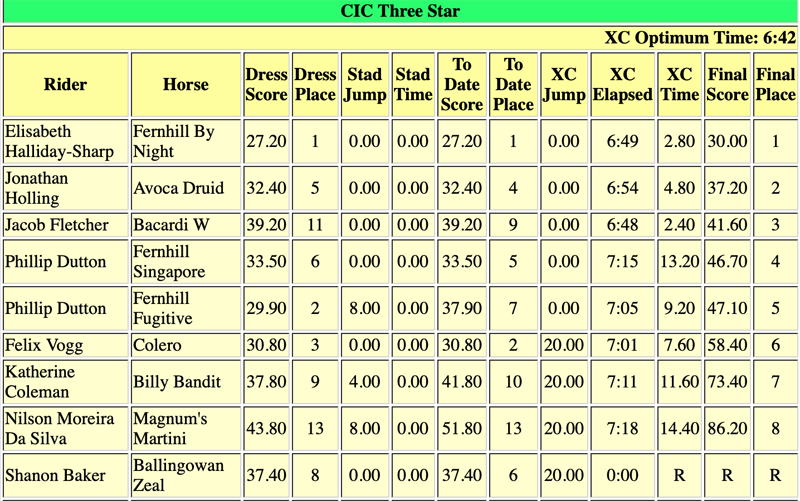 Full Results/COTH Coverage/Live Stream
We're on site at the Ocala Jockey Club all weekend to bring you news, photos and results from the final FEI event of the year in the United States. Check back all weekend for more, and if you know of a good story, email lberreth@coth.com!
Check out the Dec. 10 print edition of the Chronicle for much more.
2018 Ocala Jockey Club International CIC*** Cross-Country
Lindsay Berreth / Nov 18, 2018 4:49 pm