The Plains, Va.—July 8
Although the British team had a nearly 24-point lead at the Brook Ledge Great Meadow International CICO*** heading into cross-country this morning, it wasn't an easy fight to the top of the Nations Cup podium.
But in the end the team of Ben Hobday (Shadow Man), Georgie Spence (Halltown Harley), Leslie Law (Voltaire de Tre) and Sophie Brown (Wil) took home the win on 138.5 ahead of Canada (148.7) and the United States (157.5).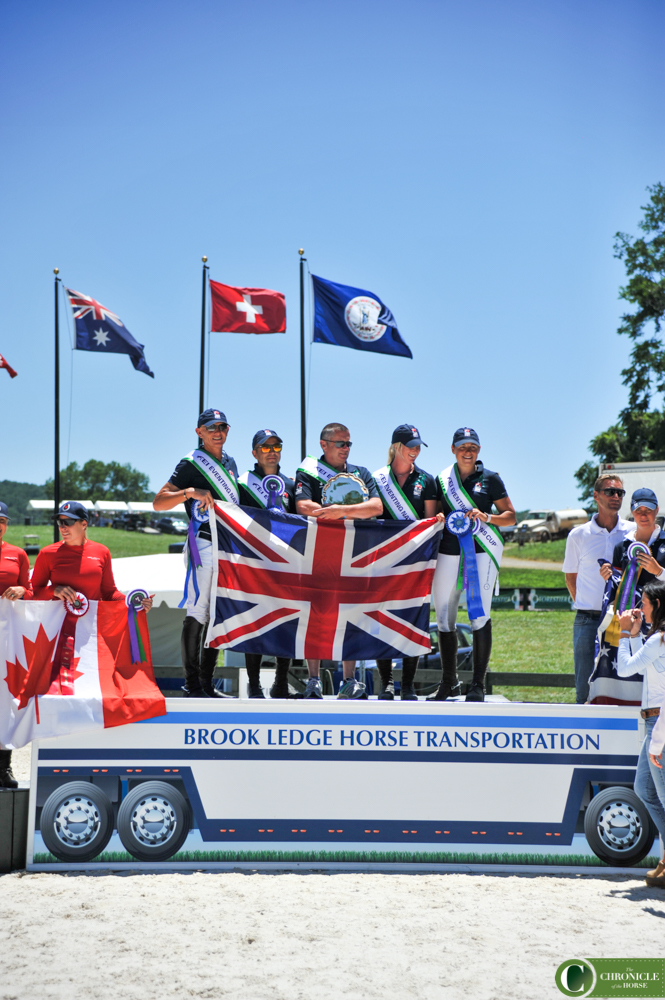 Fence 9, the Beverly Equestrian Brush Corners set two strides apart in the main arena, caught out rider after rider, including show jumping leader Hobday and Shadow Man. In all, 25 of 40 starters finished the course and 18 pairs had faults at 9a or 9b. Five pairs made the time.
There were two horse falls. Will Faudree and Michel 233 fell at 11b, an angled brush in the second water, and Savannah Fulton and Captain Jack fell at 13. Fulton went to Fauquier Health Hospital to be checked out, and Faudree got up quickly to tend to Michel 233. Both horses walked off course. Clayton Fredericks was the only rider fall. He parted company with Luksor at 5c, a narrow brush that was part of the coffin.
The U.S. team was in position to clinch the win up until the wire with Buck Davidson on the experienced Park Trader going last, but he too fell victim to 9b.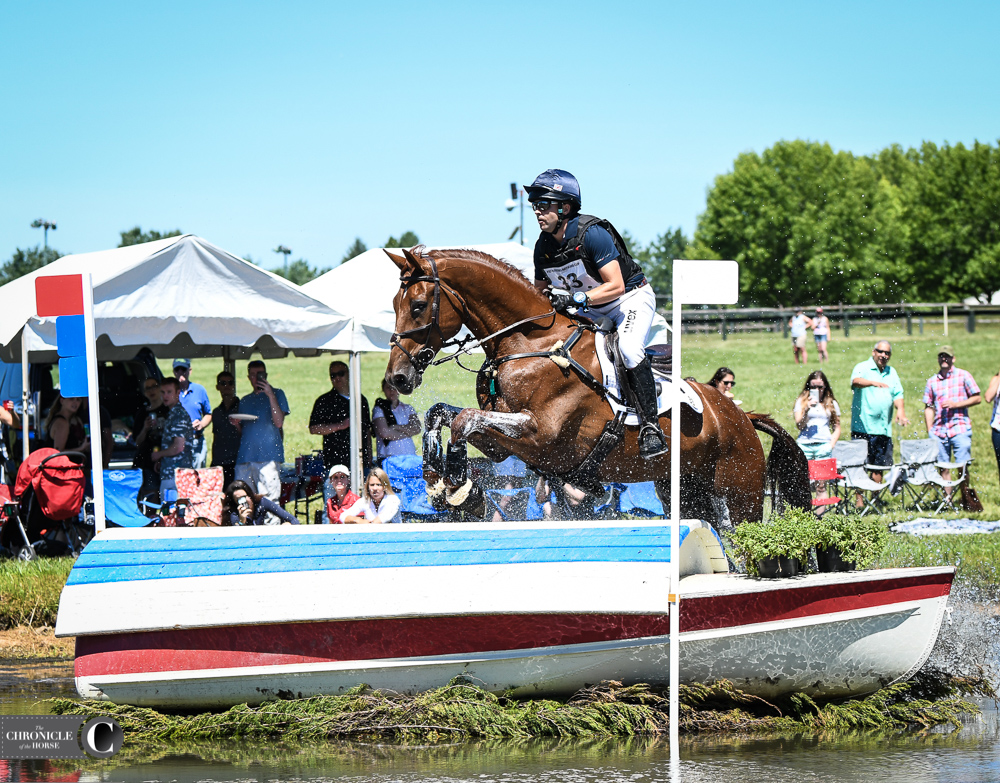 Will Coleman moved up from 11th to take the individual win on Off The Record with a double clear round. Spence was second and Jessica Phoenix and Pavarotti were third.
Spence went out second on her experienced partner. "I think for me I was quite lucky I went out early," she said. "I know my horse well and trust him 100 percent. He was good to me. I think sometimes you can over analyze how people are riding things and how they should jump it. To go out early sometimes is a benefit. I thought they did a good job at the ground, and it obviously worked out well for all of us."
Hobday was disappointed with his run out but is looking forward to the future with Shadow Man, who just moved up to the level this year.
"It's a little bittersweet for me," he said. "It's nice to be in the position I was going into the cross-country, but he's a young horse, and he just came out a little bit green and a little bit looky. He cantered down to the ring, and it was a little bit of a shock for him. It happens. This is the job we're in. I'm grateful we brought him home sound and safe and he's feeling clear and good. It's disappointing, but I'll look on to the next show, and hopefully that horse will do something really special soon."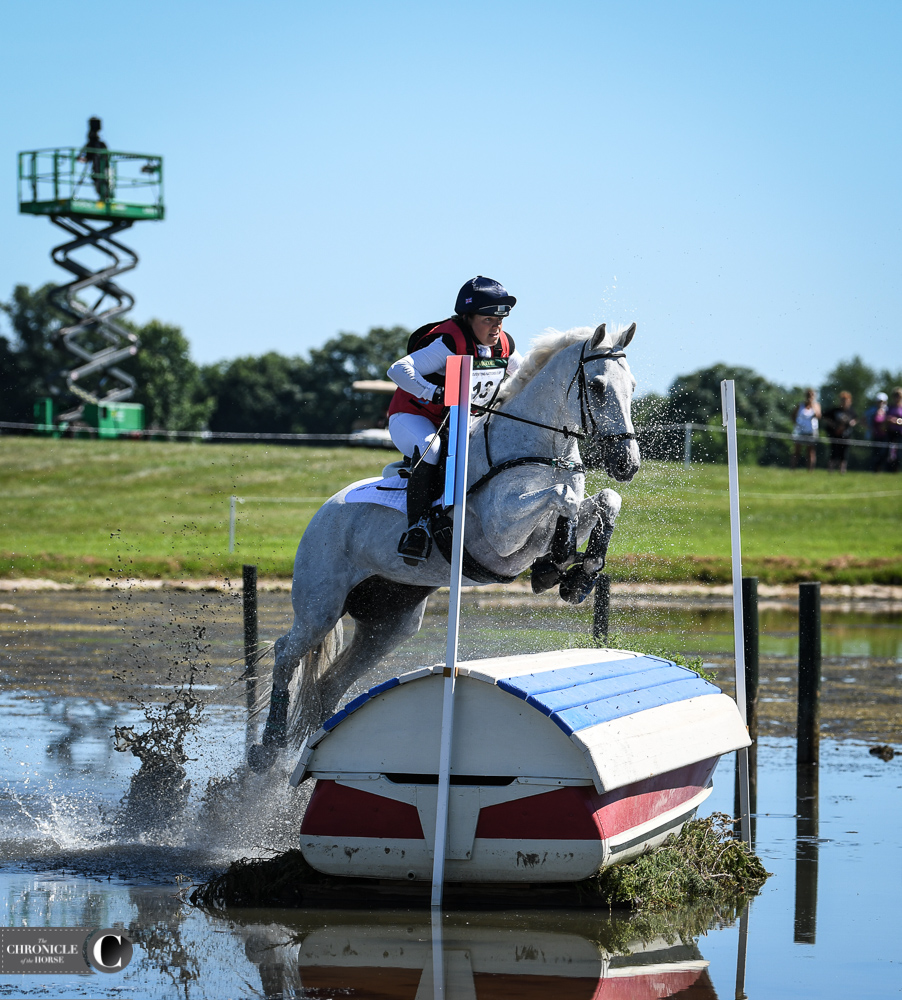 Brown picked up 20 penalties at 9b as well, but Law, riding on his first British team since 2005, clinched a clear on Voltaire de Tre to finish ninth.
Chef d'Equipe Philip Surl has brought developing teams to Great Meadow for the last three years, and he was thrilled to finally bring home the win.
"With Mike's courses, we know them very well in the U.K.," he said. "He always builds a good track, and there's always a fence or two that maybe catches people out. It's great to come over here. We've had a couple of more challenging years. Today was a roller coaster from start to finish. It didn't go how my dream happened last night. It didn't work out that way, but it just shows that in a team competition, anything can happen until the very end."
Coleman wasn't necessarily expecting to win today on Off The Record, who's only moved up to the level this year, but this weekend has given him an exciting glimpse into the horse's future.
"I think he's generally a horse that runs better when he goes out and has a crack at it," he said. "I'd be lying if I said I wasn't paying attention a little bit to the scores, and when I saw that maybe there was an opening, it was probably a bit easier to let him go, let him run, but he likes to go like that, so I'd say that's his style—to kind of go hard, so let's have at it."
Coleman had a bit of a hairy ride through the double corners at 9, but said he still thought it was a good course.
Watch Coleman's cross-country round courtesy of USEF Network.
"I thought the course was fabulous," he said. "I think we're lucky to be able to have Mike do the track here; he's one of the best we've ever seen designing cross-country courses. I thought it had enough for an older horse, and it was a lot for a greener horse, but still, you could see how they finished. They finished with a good taste in their mouths, and even if they had a run out or a little bit of a problem, like there was plenty of time to get them confident again and really feel like you gave them a form of experience, and that's really all you can ask for. You can't ask for easy, because that doesn't do you any good. And I thought it was just about right for what we want for this time of year and for these horses."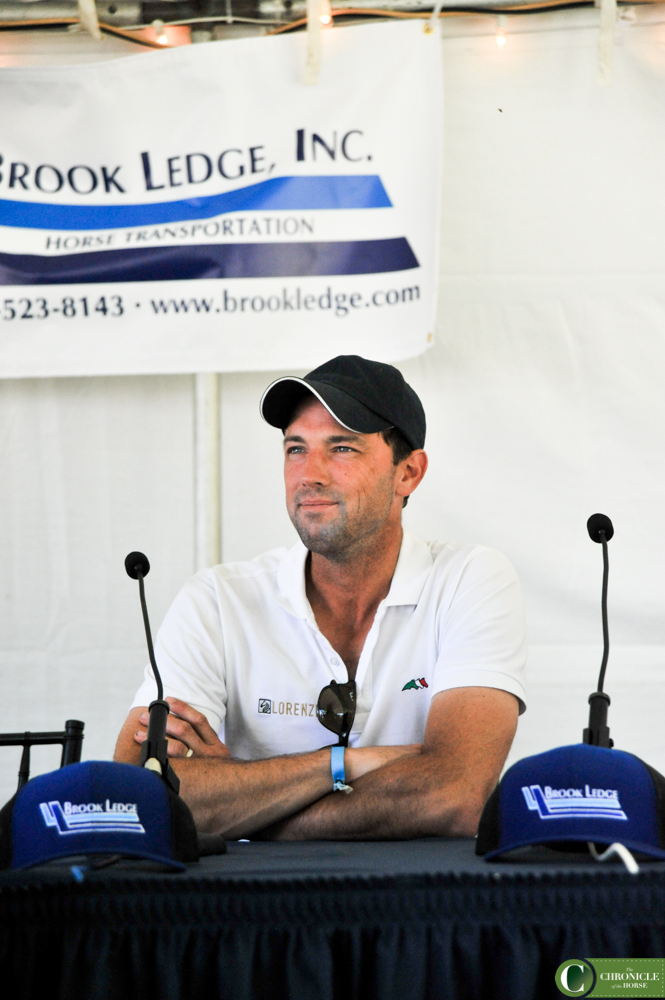 Coleman got "Timmy," a 9-year-old Irish Sport Horse gelding (VDL Arkansas—Drumagoland Bay, Ard Ohio), from Cooley Sport Horses as a 4-year-old and has patiently brought him along.
"I made the decision this year to move him up to advanced in the spring and kind of take my time and aim him for a CCI in the fall," he said. "I thought he'd be a horse that needed a bit more patience to develop the blood and the stamina for the upper levels and the longer tracks so my plan was basically to run some of these kind of big CICs throughout the summer and then potentially take him to Boekelo [the Netherlands] in the fall. He was a pretty hard young horse but we've kinda formed a bigger partnership now. He's had a really, really good 18 months, and his record has been pretty outstanding, so I'm very pleased and happy for his owners they're an amazing group of people behind him."
USEF Network will be live streaming the event.
For all of the Chronicle's coverage, click here.
For scores, click here.
For a course walk, click here.
For a schedule, click here.
2018 Great Meadow International CICO*** - Cross-Country
Lindsay Berreth / Jul 8, 2018 6:34 pm