Cody Rego still remembers the first time he stepped into a show ring in the United States. He was at the Tryon International Equestrian Center (North Carolina), in the summer of 2018, and it was a different world from the horse show scene in his native Bermuda.
"[It] really opened the whole world, and I wanted to come up more frequently and show," he said.
In Bermuda, Rego had dabbled in everything from puddle jumpers to equitation and hunters, but the equestrian community there is far smaller, with just a couple hundred members in the Bermuda Equestrian Federation each year across all disciplines.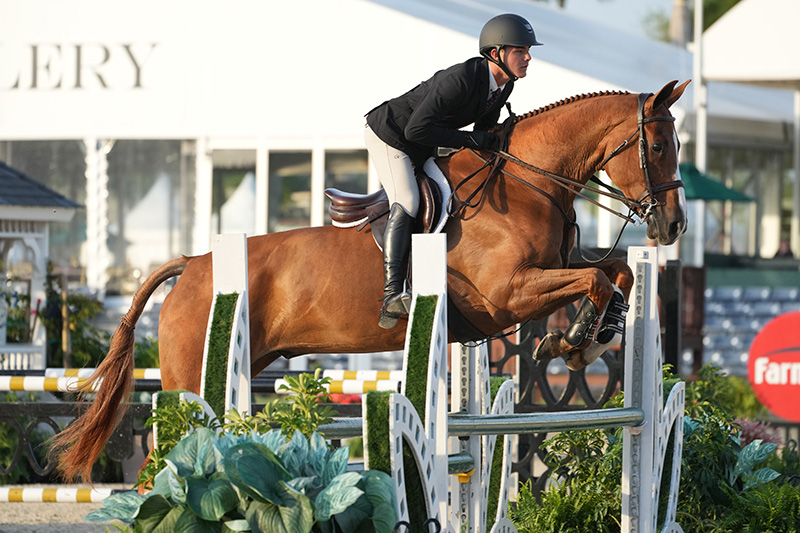 "There's about 10 to 12 shows in the season, all at the same facility, so you kind of go up against the same people every week," said Rego, of Devonshire, Bermuda. "We had some international judges come in and judge the classes, but I'd say it doesn't really compare to the U.S."
When South Carolina-based hunter/jumper trainer Wendy Arndt came to Bermuda to teach a few clinics, she convinced Rego to travel to the States with her. Since 2018, he's increasingly spent more time in the U.S. After purchasing his first horse from Germany, he showed it a few times in the United States before bringing it home to Bermuda. When it was time to sell, they returned to the States, which gave Rego more exposure and strengthened his resolve to compete at the top level.
In 2021 he took a working student position with Missy Clark and John Brennan at North Run in Warren, Vermont, and Wellington, Florida, in pursuit of top placings in the equitation finals.
"It's something that I've always wanted to do, seeing as some of the best riders went through the whole equitation program," he said. "Obviously Missy and John have created a lot of top riders through their equitation program, and I wanted to try it out."
Rego's mother, Kristy Rego, competed in the hunters and jumpers as a kid, and his father, Anthony Rego, used to harness race. As a child he enjoyed going to his grandparents' farm to see the horses, so his mom signed him up for lessons. By age 6 he was showing with his first pony, Georgie.
"She wasn't the easiest; let's say that," he said. "We bought her when she was about 7, and we still have her but lease her out. She was a little naughty, but she was a good teacher."
A Good Work Ethic
As online schooling became the norm during the COVID-19 pandemic, Cody's parents opened up to the idea of sending him north to prioritize his riding. While he was showing in 2020, top hunter rider Scott Stewart noticed his skill and recommended the working student program at North Run. Cody began working there in 2021.
"He's really come a long way in a quick amount of time, so we're very proud of him and happy to have him on the team," said Clark. "He's great; I'm so fond of him. He has a great work ethic and a very, very good attitude, and takes instruction well and is very hard working and diligent about working on the things that we discuss, but he's also got a great sense of humor, which I really appreciate. He's got a great disposition."
Living in the U.S. full time was an adjustment. "I was ready to take it to the next level; I was excited," Cody said. "I got a little homesick at first, but once we got into the groove, I never looked back. I met some new friends, met some new faces, called my parents frequently. They all reassured me that this was the best place to be, and it was the best place to grow and do what I can."
Cody, now 17, returns to Bermuda two to three times a year, and his parents attend about two shows a year, but they're always watching him on livestreams.
As a working student, Cody's duties include all care for his equitation mount Tanzanite De Semilly, odd jobs around the barn for barn manager Nikki Arnold, and assisting with course setting and whatever is needed on a show day.
"It can be demanding at times, but walking to the ring at horse shows, I'm so happy to have them— Missy, John and [assistant trainer Maggie Gampfer]— by my side, and when you balance hard work and long days, you get some fun in there as well," Cody said. "We have a family, North Run. It's a really great team. There's other working students, Luke Jensen and Callista Smith. It's nice to have other people doing what you do, going through the tough times with them, also going through the good times."
Cody's attention to detail makes him a vital part of the team, Clark said. "He's really very thoughtful about his flatwork with them and the care of them," she said. "If he's got to turn one out, he's there to watch what it's doing in the paddock and check on it, or if he's got to give one a bath, he's very conscientious about the care of the horses, and they all look great. He perfectly takes care of Tanzanite."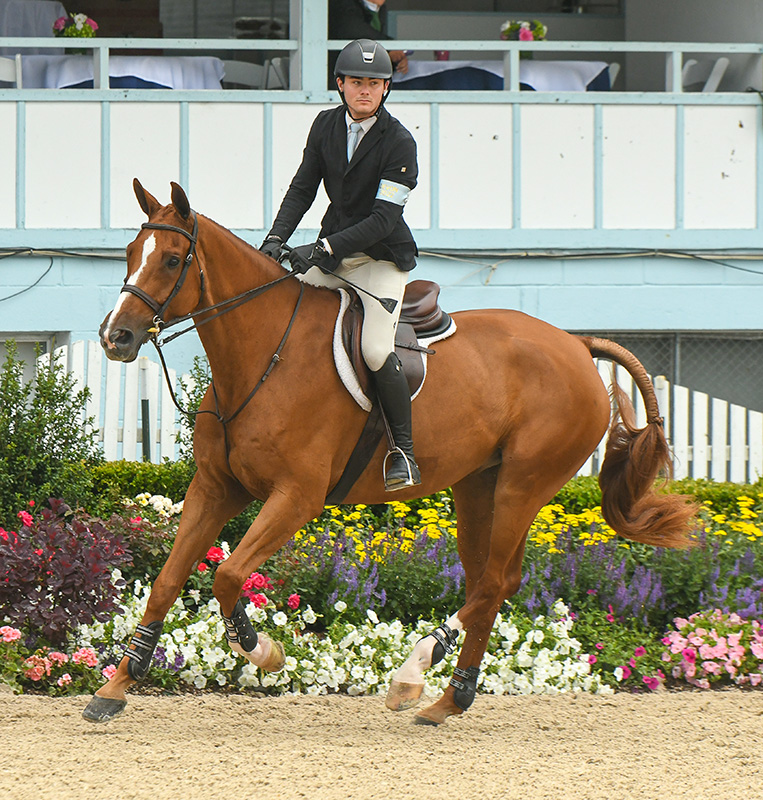 Stepping Into The Big Ring
While Cody occasionally shows in the jumper ring, he spends most of his time on equitation. He's been riding "Tanzer," an 8-year-old Dutch Warmblood (Diamant De Semilly—Olille Fomia) owned by Wolfstone Stables & Sales Inc., since summer 2021. "Tanzer's one of my favorite characters in the barn," he said.
"I love taking care of him. I love riding him. The opportunity to ride him is awesome. Last year was his first year and also my first year in the equitation. We both learned. We both went through the whole equitation training. He's really showing his talent now, and he's really a great guy."
In Cody's first equitation final season, he earned ninth place at the ASPCA Maclay Final (Kentucky).
"It was not as much pressure because it was my first time, but I learned that there's long days and early mornings there, especially at finals," he said. "I learned the importance of getting your sleep hours in and also how rewarding it can be, especially after Maclay Finals last year, Top 10. It was really rewarding after the fact that all that hard work paid off for something."
This year has been similarly strong with good ribbons in the Washington International Horse Show Equitation Classic—Jumper Phase and the Dover Saddlery/ USEF Hunter Seat Medal at the Devon Horse Show (Pennsylvania) and a win in the ASPCA Maclay class, as well as a third-placed finish in the $10,000 Hermès Equitation Championship at the Hampton Classic (New York).
While success has led to more pressure, Cody said once he's in the ring, he can tune out the excess noise.
"When I'm at the in-gate it's obviously very pressuring, but once you step in the ring I think I just say, 'Hey, gotta go around this course the best I can, and whatever happens, happens,' " he said.
---
This article ran in The Chronicle of the Horse in our Nov. 21 & 28, 2022, issue. Subscribers may choose online access to a digital version or a print subscription or both, and they will also receive our lifestyle publication, Untacked. 
If you're just following COTH online, you're missing so much great unique content. Each print issue of the Chronicle is full of in-depth competition news, fascinating features, probing looks at issues within the sports of hunter/jumper, eventing and dressage, and stunning photography.