After two weeks of testimony and closing arguments, which were presented today, April 11, it is now up to a 12-person jury to decide the fate of Grand Prix dressage rider and trainer Michael Barisone.
Barisone has pleaded not guilty to two counts of attempted murder and two weapons charges related to the Aug. 7, 2019, shooting of his former student Lauren Kanarek at his Long Valley, New Jersey, dressage facility. He faces up to 20 years in prison for each attempted murder charge and 10 years for each charge of second-degree possession of a weapon for an unlawful purpose.
In his closing arguments, defense attorney Edward Bilinkas painted a picture of a man who had been systematically broken down by Kanarek and her boyfriend Robert Goodwin through a campaign to "destroy" him that included threatening social media posts, listening devices used to record Barisone's private conversations and share them on social media, and complaints filed against him with agencies ranging from local government in Washington Township, New Jersey, where the farm was located, to the U.S. Equestrian Federation and the U.S. Center for SafeSport.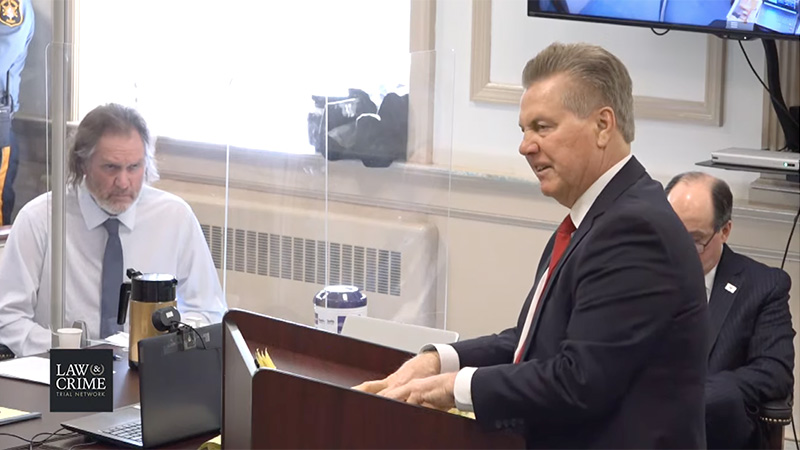 Bilinkas accused Kanarek and Goodwin of lying to the jury, calling out a number of instances in their testimony that he said were lies, and said that if the jury determined she was lying about parts of her testimony, they also could decide to disregard all of her testimony, including her testimony about the details of the shooting. For example, Bilinkas questioned their testimony that they coincidentally decided to disable cameras they had installed, which would have captured the shooting, just before the incident, and Kanarek's statement that she did not report Barisone to child protective services when her phone records indicated the phone had been used to search for a hotline number on two different days, and that she only placed a recording device in her own locker but it was able to pick up conversations Barisone had in other parts of the barn, on the opposite side of closed doors.
Bilinkas talked about the 20-plus witnesses, including friends, work associates and former students such as 2016 Rio Olympian Allison Brock, who testified to Barisone's apparent physical and mental decline in the days leading up to the shooting and said he became "disheveled," "suicidal" and was no longer able to conduct business or hold conversations.
"All these people testified to Michael Barisone's systematic destruction," Bilinkas said. "It was her plan, and her plan worked. They drove him crazy."
He talked about a psychologist and psychiatrist who evaluated Barisone and determined he suffered from various issues ranging from anxiety to amnesia, diagnosing him with delusional disorder.
"The defense has established clearly that Michael Barisone was insane at the time of the incident. He was suffering from a mental defect, a delusional disorder, and did not know the nature and quality of his actions, and did not know right from wrong. What Lauren Kanarek, Robert Goodwin and [Kanarek's] father did to him was horrible, horrible," Bilinkas said in his closing, his voice rising. "They had a plan to destroy Michael Barisone. Don't let them use you to do the job, to 'finish the bastard.' Find Michael Barisone not guilty. It is the right and just thing to do."
Morris County Supervising Assistant Prosecutor Christopher Schellhorn, closing the case against Barisone, was as quiet and measured as Bilinkas was loud and emotional: "I'm not going to tell you what to think or feel; I'm going to point out evidence. I don't have any remarkable catch phrase for you; I'm not going to cry," he said.
From the beginning of the trial, Schellhorn focused his case on Barisone's decision to get a gun—a 9mm Ruger pistol—from another client several days before the shooting, as the situation at his Hawthorne Hill farm worsened, and ultimately retrieve that gun from his safe, load it and drive to the farmhouse where Kanarek and Goodwin were living to confront them. Simply by choosing a deadly weapon, a gun, the jury can infer that he intended to kill someone, Schellhorn said, repeating the argument he made in his opening statements.
"There's no question these people were not getting along," Schellhorn told the jury. "You heard about all the Facebook posts; you heard about calls to the town; you heard about calls to 911; you heard about the police coming, the town coming, reports to the USEF, reports to SafeSport. This is two groups that are not getting along and do not like each other… but that's not a delusion. When the defendant went to confront Lauren and Rob that day, he was acting impulsively. He was acting emotionally, but he was acting purposely—and that's the [legal] standard for attempted murder."
Although stakes in the feud had been rising—the day before the shooting, health, fire and construction inspectors from Washington Township (New Jersey) had arrived at the farm in response to a two-page letter from Kanarek and Goodwin and cited Barisone for various violations there—Schellhorn argued that it was a specific incident on Aug. 7 that caused Barisone to try to kill Kanarek and Goodwin. On that day, a caseworker from the state's Division of Child Protection and Permanency showed up to investigate an abuse complaint lodged against Barisone relating to the son of his then girlfriend, Mary Haskins. The case worker testified during the trial that she was called to investigate a child abuse claim, not a sexual abuse claim; Schellhorn argued in his summation of the case that Barisone saw her arrive and imagined what had happened to hunter/jumper trainer George Morris—who received a temporary SafeSport suspension in August of 2019 before receiving a permanent ban in November of that year—was about to happen to him.
"He's frustrated. Furious, you could say. Not frenzied, not frantic, not freaking out, but furious. Maybe seething is a better world. Frustrated, perhaps desperate. Emotional. Emotions are not delusions, and he's feeling very emotional at that point in time," Schellhorn told the jury. "When the DCP&P caseworker identifies herself as being from DCP&P, he's at his breaking point. He's not delusional; he's not freaking out. He's reached his breaking point because, two days before, his mentor George Morris, another great horseman, had just been given a lifetime ban from equestrian competition. And in that moment, in the parking lot at his farm, he envisions the same fate for himself. He imagines that Lauren Kanarek must have done this: She must have called; she must have reported him for sexual abuse. That's not what happened, but that's what he imagines, and in light of everything that's going on, and for doing that, she has to die."
Schellhorn told jurors that what transpired next involved Barisone interrupting the caseworker and Haskins, who were talking in his office, and giving Haskins a goodbye kiss as they left.
"He says goodbye because he knows and appreciates exactly what he's about to do," Schellhorn said, going on to describe how Barisone then got the gun from the safe, loaded it and put an extra magazine of bullets in his pocket, before driving to the farmhouse and standing behind some bushes to obscure his hands and the gun.
"And he says to Rob Goodwin, 'How can we end this without a war?' " Schellhorn told jurors. "He knows that he's armed with a deadly weapon. He knows there will be no war because he's about to commit a murder, but he waits. He waits until his enemy Lauren Kanarek steps down off that step… and then he hit his breaking point … and pulls out the gun and shoots her twice, and then as Rob tries to flee from him, he tries to shoot at Rob, but the gun is out of bullets. None of what I just said was driven by any sort of delusion of fear. Everything I just said was driven by the defendant's emotional impulses."
As part of his closing arguments, Schellhorn questioned the credibility of two doctors called by the defense who evaluated Barisone and diagnosed him with delusional disorder, and he encouraged jurors to reject that diagnosis.
The jury now will enter its deliberations. In delivering instructions, Superior Court Judge Stephen Taylor told the jurors, among other things, that, "The use of a deadly weapon such as a firearm, in itself, may permit you to draw an inference that the defendant's purpose was to take a life."
The jury must reach a unanimous verdict. They may find Barisone guilty, not guilty, or not guilty by reason of insanity. They may also, if they feel the state has not proven its attempted murder case beyond a reasonable doubt, find Barisone guilty or not guilty of the lesser included offense of aggravated assault, which is intentionally causing or attempting to cause serious bodily injury to another person. The jury also will consider the two weapons charges.
Video coverage of the trial is available at www.lawandcrime.com.