This weekend, Jan. 24-25, I had the opportunity to work with world-class groom and horsewoman, Ruthann Smith of Wellington, Fla., at The Essentials of Sound Horsemanship Clinic Series. This educational series is being hosted by Dana Hall School's Karen Stives '68 Equestrian Center in Wellesley, Mass. Both experienced and beginner horse people attended the first of the clinic series. All were interested in growing their knowledge of horsemanship.
Although Ruthann, a Dana Hall graduate, taught us safe handling, grooming and braiding techniques that she has acquired over decades of working with horses, I found that there was so much more subtle knowledge that I took away from the clinic. Coming out of this weekend's clinic, I feel that we all have been empowered toward becoming keen horsemen.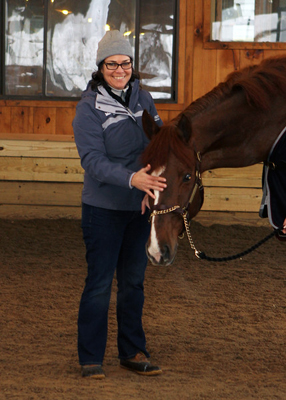 Ruthann Smith teaching communication.
Ruthann opened the clinic with the saying, "Who knows what the wise man says?" The answer is, "The wise man says I don't know." Going into this clinic many of us assumed we knew all of the basics of horsemanship, but we quickly discovered that there are sounder ways to approach every day interactions with our horses. Ruthann shared what she has learned through her own personal experiences with horses, in hope to educate people in all aspects of horsemanship.
My personal goal during this clinic was to learn different ways to connect with horses with different personalities. Ruthann brought in one horse considered to be a "problem child," and another that was a "solid citizen."
The first horse was very skeptical of all of the people in the arena. She snorted and danced around, but Ruthann stayed very calm. When Ruthann tried to walk the horse towards the people, the horse shied and backed away quickly. Ruthann was firm about making sure she moved forward. Ruthann said, "There is only ever one way out of a problem and it is forward."
When the horse planted her feet again, Ruthann stopped and patted her forehead with a steady rhythm. This is a technique Ruthann taught us that lowers a horse's heart rate. The horse reacted by lowering her head and mouthing. She seemed quite relaxed for a little while, but when she caught herself off guard she popped her head up and had a look of worry in her eye.
Ruthann never made it over to the other side of the arena where the people were with the horse. Though, once the mare relaxed and had made some progress, she decided to dismiss the horse. Although our work with the horse was not completed as planned, we learned that sometimes you have to acknowledge little victories and call it a day.
The second horse Ruthann brought out was a solid citizen lesson pony. She led him right up to the crowd of people and as expected, he was unfazed. At first she set boundaries with the pony.
Ruthann gave clear signals to the pony, to have him stand still and focused. When the pony reached for the hay bale, Ruthann hissed at him. She explained that a well-timed and crisp guttural sound can be key to teaching a horse to stand still and a good correction intercepts the horses thought before moving.
The pony immediately responded, and stood perfectly still. Five minutes later, the pony tried this trick again, and once again, Ruthann gave him the same signal. He stood like a soldier. As she demonstrated braiding the pony's mane, she told us about how braiding was relaxing to the horse, because pulling at the crest feels like a massage if done properly. We could tell by the pony's soft eyes that he was very relaxed. The pony's ears were out to the side, which Ruthann told us that this meant he was listening. It was easy to see that he was very content with the situation, and was confident that all of his needs were going to be met.
For me, the important take-away messages from this weekend's clinic were: to be open to changing the plan; to put your horse's needs before your own; and most importantly, to make your horse feel confident. I believe that Ruthann is working to restore a culture that has been lost in my generation, by giving her students the skills to cooperate and learn from horses. I know that these are skills that I will not only use in the barn, but also in life.
Dana Hall freshman student Lily Foregger grew up on a small horse farm in Waterbury, Vt., and has worked for a local riding camp and as a working student. Lily's main focus has been the care and training of her family's young horses and ponies. In 2012, she won the VHJA Young Hunters on her 5-year old Welsh/Thoroughbred pony. In 2014, she enjoyed being a pony catch rider during the Winter Equestrian Festival in Wellington, Fla., and last summer she showed her 14.2 hand grey Connemara pony, High Jynx in the 1.10-meter jumpers. Lily has also competed up to third level in dressage and hopes to move up to the junior jumpers and show in equitation.