Tryon, N.C.—Oct. 19  
Marilyn Little and Clearwater picked up another fast-paced victory in the $130,000 Suncast Commercial Welcome Stake CSI*****, adding to a streak of recent wins.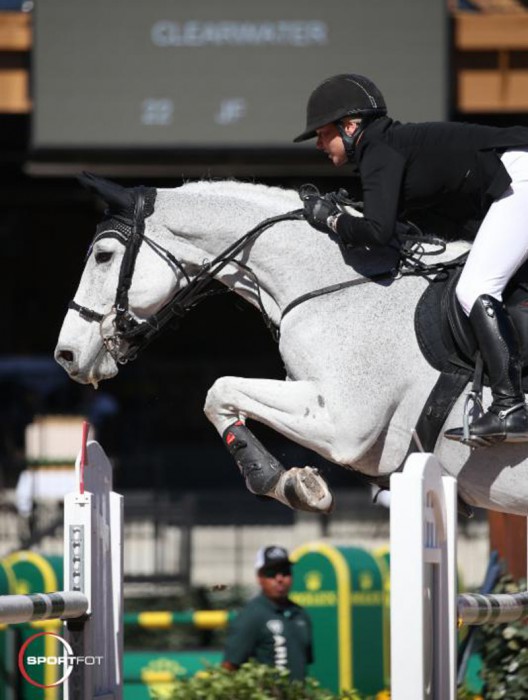 The pair sped through the jump-off track in a quick 38.94 seconds to secure the victory over Kent Farrington, currently the No. 1-ranked show jumper in the world, aboard Dublin and Margie Engle with and Royce.
Last week, Little and Clearwater topped the Saturday night lights feature class of the $130,000 Suncast Commercial CSI*** on Oct. 14. She has the gray gelding aimed at the $380,000 Rolex Grand Prix CSI***** on Saturday night, Oct 21.
"This is his first five-star week," Little noted. "I've only prepared for this by waiting for him to get older. He's a 10-year-old now. We've been bringing him along and just waiting for him to get stronger. He's a real technician in terms of his rideability, and that came before his strength to jump the big jumps. He just keeps stepping up as he goes along, and you think 'maybe this is all there is,' and then he answers the next questions and I think he's the real deal."
Although he is very focused in the ring, Little described the gelding's personality out of the show ring. "He is a total dude. We call him 'Dish,' 'Dishy,' 'Dirty Dishes,' if he's bad, and 'Clean Dishes' if he's good. He's just a total ham. He comes in from the paddock and is filthy. He walks in as a bay horse head-to-toe. He then comes out here and is a true showman."
She concluded, "I don't know how Saturday night will conclude, but I know he's ready and he's proving he can do it. I'm so proud of him."
The afternoon saw 45 horse and rider combinations test the track, cleverly composed by Olaf Peterson Jr., while 11 combinations returned for the jump-off round.
Of the course, Little said, "I thought Olaf did a beautiful job designing the course today. You have to make the five-star courses complicated and I think he did that with the width of the jumps. It was very technical. There were still a good number clear after the first round and it was a fast jump-off, which I love."
The George H. Morris Arena is sporting several new jumps specifically made for the five-star CSI week, built by Eric Sassmannshausen and team at U.S. Precision Construction LLC, a manufacturing company operated by Tryon Equestrian Partners. Little commented on the freshness of the ring and how new obstacles helped to tune Clearwater's focus in the ring. "There are some new jumps out there and the skinny made it so much fun. They all really jumped well, but they went in and definitely noticed the change, especially those of us that have been showing here for a while. There was a nice combination of filled-in jumps and then some airy ones and it really helps keep their attention."
See full results of the $130,000 Suncast Commercial Welcome Stake.