In a thrilling second day of competition at the Longines FEI Jumping European Championships 2019 in Rotterdam, the Netherlands today, Team Belgium rocketed up from overnight eighth place into pole position when they were the only side to produce three clear rounds.
Dutch course designer, Louis Konickx, turned up the heat with a significantly bigger track, and from the 68 starters that included nine individuals not competing in teams, there were only 11 foot-perfect runs around his 14-fence course.
The first-day leaders from Germany slipped to silver medal spot, the French dropped from second to fourth, and Great Britain climbed from fourth to overtake the third-placed Swedish side. And, adding to the heat of excitement, the battle for the three Olympic qualifying spots on offer also saw some shuffling with Belgium, Britain and France now well-placed going into tomorrow's medal-decider.
Germany looked set for another great day when reigning World Champion, Simone Blum, kicked off with another lovely clear from DSP Alice. But when Christian Ahlmann and Clintrexo Z hit both the vertical after the open water at fence 8 and the oxer at 11, and Marcus Ehning also double-faulted with Comme Il Faut, then they began to lose their grip. Despite a brilliant last-to-go clear from Daniel Deusser and Scuderia 1918 Tobago Z, they had to add one of those eight-fault scores to their tally.
Both France and Sweden added 12 and dropped off a potential medal position, but the British posted just the four picked up at the water by anchorman Scott Brash and Hello M'Lady, because Ben Maher (Explosion W) and Holly Smith (Hearts Destiny) made no mistake, so Amanda Derbyshire's eight faults (Luibanta BH) could be discounted.
Meanwhile the Belgians began climbing up the order with clears from both Pieter Devos with Claire Z and Jos Verlooy and Igor. They faltered with two down for Jérôme Guery and Quel Homme de Hus, but when Gregory Wathelet sailed home with their third foot-perfect run of the day they suddenly found themselves sitting pretty at the very top of the leaderboard because it's the best three scores per nation that count.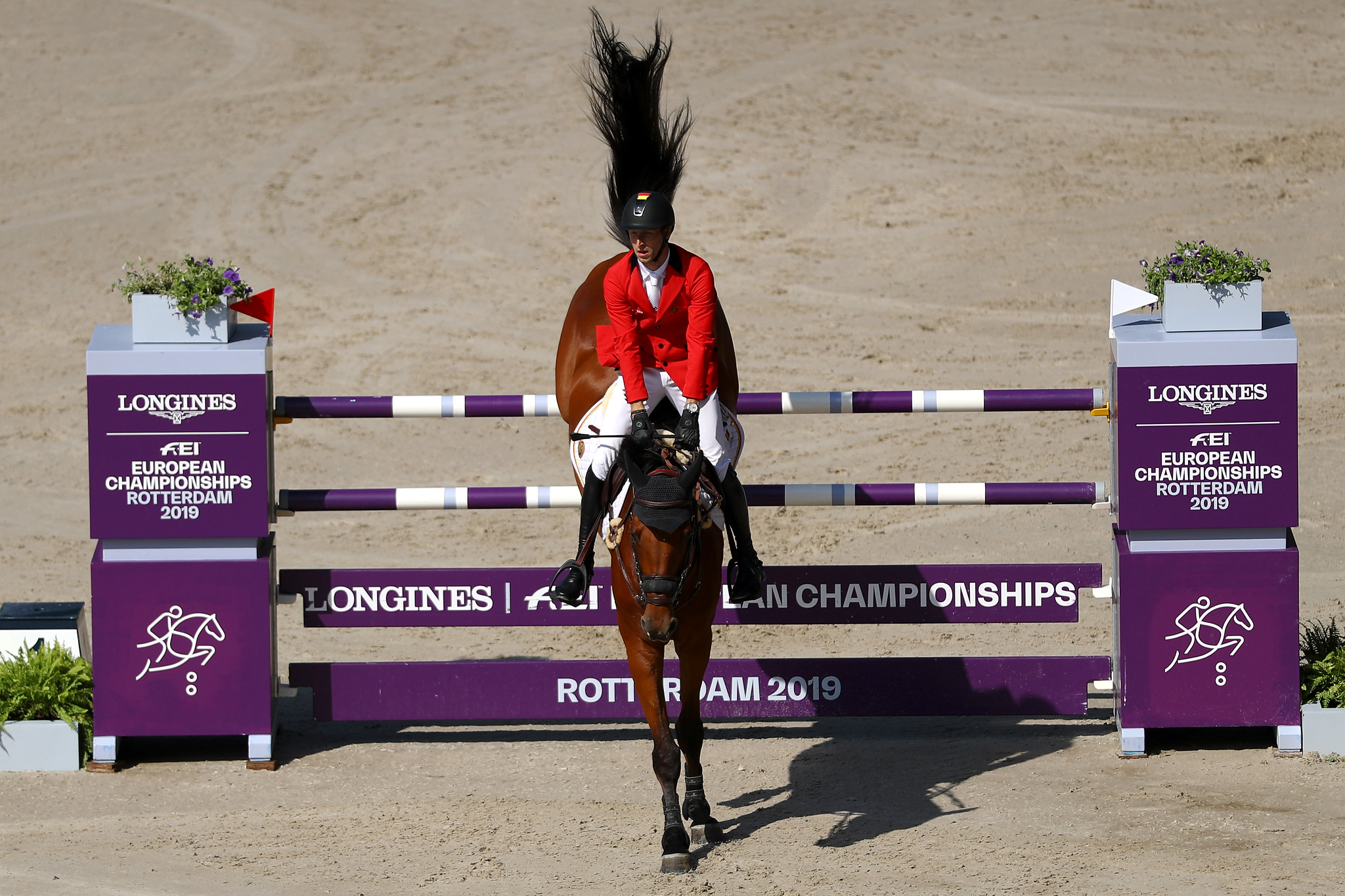 "We knew that after today we would have quite some changes on the leaderboard….the boys did a fantastic job, and the horses jumped amazing!" said Belgian Chef d'Equipe Peter Weinberg.
Pathfinder Pieter Devos said, "the course designer did a great job today. It was much more technical, you had to ride with a plan to the very last fence but it was a horse-friendly course. We can go to day three tomorrow with the horses not being in the red, and this is always good", he pointed out.
Jérôme Guery explained that this is a first championship for his 13-year-old stallion. "I knew the vertical after the water would be difficult, and the triple combination was really short for me, but I am happy and lucky to have a strong team with me. I am only riding this horse for the last six months, he's a slow horse but with a big canter. I use his big strides to be on time, and I always have to keep an eye on it" he added.
Watch excerpts from the championship.

Wathelet's horse is also a Championship first-timer, but he's been riding the 11-year-old grey stallion, MJT Nevados S, since he was six so they know each other very well.  "We now have a team of horses that are more experienced and we feel better and better each year" he said.
At 23 years of age Jos Verlooy is by far the youngest in the Belgian side, but he already has plenty of mileage on his career clock and this week his 11-year-old chestnut gelding is competing at Championship level for a second time. "He was in Tryon [at the 2018 FEI World Equestrian Games], but he didn't do too much this year so we could keep him fresh and fit for this Championship" he explained. It seems that decision is paying off in spade-loads because not only is his team out in front today but he personally sits in sixth place individually and a spot in Sunday's top-25 individual final looks very much on the cards.
Asked if he thinks his team can hold on to gold medal position at the end of tomorrow's last round of the team competition in which only the top 10 nations will battle it out, Chef d'Equipe Peter Weinberg said, "we will try very hard, but our first goal is to qualify for Tokyo and anything else will be a bonus on top of that!"
Britain's Ben Maher has moved up to pole position in the individual rankings ahead of Swiss star Steve Guerdat while Frenchman Alexis Deroubaix is lying third ahead of Germany's Daniel Deusser in fourth place. First-day leader, Sweden's Peder Fredricson, dropped to eighth with a fence down today, but he's only a fence off the leader, while in the team rankings there's less than a fence separating the top three nations.