Clayton Fredericks captured the lead at the Burghley CCI**** (England) today, Aug. 31, after posting a 39.0 in the dressage phase with Nullabor. The Australian rider bested the score of New Zealander Andrew Nicholson aboard Lord Killinghurst, Thursday's overnight leader, by .6 points.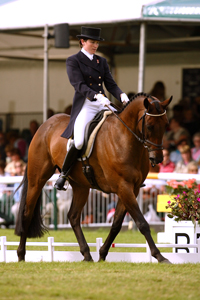 "I thought that Nullabor was capable of doing a test of 30 today, but was very pleased with a 39.0," said the British-based Fredericks. "He is relatively new at this level and had a good run at Luhmuhlen [CCI**** (Germany), where they placed fifth] in June.
"We are lucky to have Harry Boldt as team trainer this year," he acknowledged. "He's been a great help to me. He suits my riding and is sharp at picking up little things. It takes time to get up to this level."
Jan Byyny and Task Force emerged as the top U.S. pair with a score of 51.2. They are currently tied for 15th place, followed by first-time four-star competitor Dornin North and Lion Display in 22nd (left).
Other U.S. ambassadors include Young Rider Sara Mittleider (below), who currently stands tied for 28th with her longtime partner El Primero, in this, her first foreign competition. The pair scored a 56.8. Kristin Schmolze and Cavaldi follow in 36th with a 58.0, while veterans Bruce Davidson and Jam are tied for 42nd on a 59.0.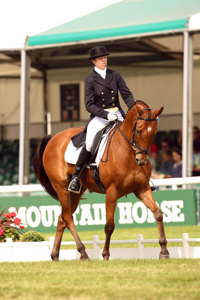 Higher penalties went to Kristin Bond and Fleeceworks Blackout (63.8) and Will Faudree and Antigua (70.8), leaving them 54th and 64th, respectively. Jane Sleeper and UN have the unfortunate placing of 73rd and last with a score of 87.2.
After the cross-country footing debacle at the Badminton CCI**** (England) earlier this year, the Burghley grounds crew has been hard at work to ensure tomorrow's course offers "perfect footing," according to the event's website.
With less than 10 points between the top 13 horses, making time on the course will be imperative. "It is a true four-star course and will have to be ridden with an open mind," said Fredericks.
All photos Anthony Trollope/StockImageServices.com