Pam Hall Mahony got a few odd looks as she hurried through the airport in her breeches, boots and show shirt on a spring day in the late 1970s. She was on her way to look at a horse, and she had no time to change from a day of showing.
What horse could be such a priority? Mahony's trainer at the time, Ronnie Mutch, had gotten word that a very special Thoroughbred was up for sale, and he knew there wasn't a moment to waste if Mahony wanted him.
So, they flew from Connecticut to Minnesota to meet Valor. The moment Mahony sat on the plain bay gelding, she knew the hurry and the trip were worth it. "Valor and I were of one mind. He went the way I rode, and it was just awesome," she said.
Valor had been the king of hunters in the '70s in Minnesota with former owner Susie LeRoy riding. LeRoy had brought Valor along from a 3-year-old to be a top competitor in the amateur-owner and working hunter divisions. But an unusual set of circumstances had led to his sale.
LeRoy's stepfather had murdered her grandmother for the family inheritance. "They were bankrupt, and he was put in jail. It was the longest and most publicized murder trial in the state. All of the horses were to be put up for a dispersal auction," Mahony said.
But Hans Senn, who trained LeRoy on Valor, had a soft spot for the Thoroughbred. "He spirited Valor away to this other barn so that he would not be on the list of horses to be sold," Mahony said. "Valor was hidden there for almost a year. Then, once all the interest died down, he returned to Hans and Susie. But when Susie started showing Valor again there were so many whispers about her that she felt uncomfortable in the show world. That's why Valor was up for sale."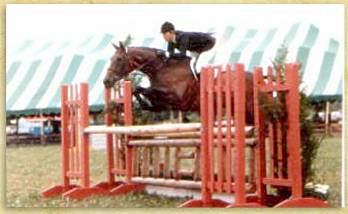 Valor was just Pam Hall Mahony's kind of ride.
Mahony and Mutch weren't sure if Valor's dominance would carry over from Minnesota to the East Coast, but they started winning right away in the amateur-owner classes. "I had sort of been one of those riders who was the best seven fences out of eight, but all of a sudden, Valor and I were of one mind," Mahony said. They earned blues at top shows up and down the East Coast under the training of Mutch and then Joe Fargis and Conrad Homfeld. Then, in 1979, Mahony moved to California, where she'd lived before. She brought Valor with her, and showed with Linda and Champ Hough. And she and Valor started to really shine.
"They were the ones who turned Valor and I into an unbeatable team. We won everything. One year we went to 14 shows and were champion in 13 and reserve at the other," Mahony recalled. "Linda just put the polish on it all and knew how to prep him for the ring." They also returned to the East Coast multiple times to show at Devon and indoors and kept winning.
While Linda Hough's management was one of the keys to Valor and Mahony's success, it was Champ Hough's words of wisdom that helped Mahony ride Valor to his best. "I'd still miss [a distance] occasionally, and Champ would say, 'Don't look at the jump; look at Valor's ears. About four strides out, he'll see his spot. All you have to do is agree with him.' And that's what I did," Mahony said.
Mahony admits that if you watched Valor school at home, you wouldn't think he had a chance in a hunter class. "He would not do a flying change at home, but I never missed one in the ring. He didn't jump well at home; he'd be kind of flat and blah. Then in the ring, he just snapped his knees up so high. He knew game time. When he walked into the ring, he was a showman," said Mahony.
Valor had another quirk; he liked a very particular ride. "If you dropped the reins on Valor, he'd stop. That was his rule," Mahony continued. "Occasionally, I'd forget, and I'd float the reins at him and he'd stop. You had to hold his head up and give him support all the way off the ground. Then he was wonderful. When I first had him, Ronnie loved him so much that he came out of retirement to ride him in the 4-foot division. At their very first show, Ronnie jumped into a line down to a big wall oxer. He saw his spot a few strides out and just floated the reins. Valor quit dirty, and Ronnie went over his head."
Valor and Mahony dominated the amateur division in California until 1981, when Linda encouraged Mahony to retire Valor. It was at the Cow Palace show that she forced Mahony's hand. "Unbeknownst to me, Linda had written up a retirement blurb. During the awards ceremony [and in California then they had huge ribbons and plates and everything], she ran around to the announcer's stand. The announcer announced Valor's retirement as I was getting these awards. So I couldn't come back and show again!" Mahony recalled.
"Linda loves a good horse, so she bought Valor for $1 and took him home to Sutton Place where he spent the rest of his life. He was out in the field with Royal Blue and Spindletop Showdown and some other big-name hunters of the day. He was 25 when he passed, and he had a wonderful life."
Valor had begun his days in British Columbia where he was bred and raced briefly under the registered name of Parksville. His pedigree (Saber Charge—Brown Cord, Cortil) was unremarkable, and he was an ugly duckling as a young horse, but Dave Kelley's wife, Judy, took a chance. "She bought him as the ugliest 2-year-old. I saw a picture she had of him, and he was not pretty. But she saw something in him," Mahony said. "He was not a fancily bred Thoroughbred and, frankly, he didn't look like one. He had a huge body and a leg at each corner, and not a very pretty head. But he was the horse of my lifetime, and I knew it from the moment I got him."
Mahony has always been a fan of Thoroughbreds in the hunter ring. "I do miss seeing Thoroughbreds in today's hunter ring. They brought a lot of class. I don't think you can beat a good Thoroughbred, but the judges don't tend to agree," she said.