Tap The Till didn't look like a future star. He had slightly deformed withers, and his legs sported the tell-tale scars of pin-firing. But Terry Haake Morrison knew the minute she saw him that he was special. He could jump.
With the help of her trainers, Butch and Lu Thomas, and Michelle Grubb (nee McEvoy), the 16-year-old found "Tap" on Long Island in 1975. "They said they saw him jump the first cross-rail and they knew that he was the horse. He just had that intangible quality, so smart and clever and athletic. He was a really unique horse," she said. "I don't think he really vetted, but we didn't care. We just loved him so much."
Foaled in 1966, Tap was ridden by Glen Senk in the junior hunters before being bought by Neal Shapiro for his then-wife, Suzy, before Morrison came into his life. As a junior, Morrison had already garnered plenty of ribbons with her junior hunters Ruby Tuesday, Fantastico and Wait For Me on the West Coast. When she bought Tap, she was looking to try the jumpers, and the gelding proved to be versatile.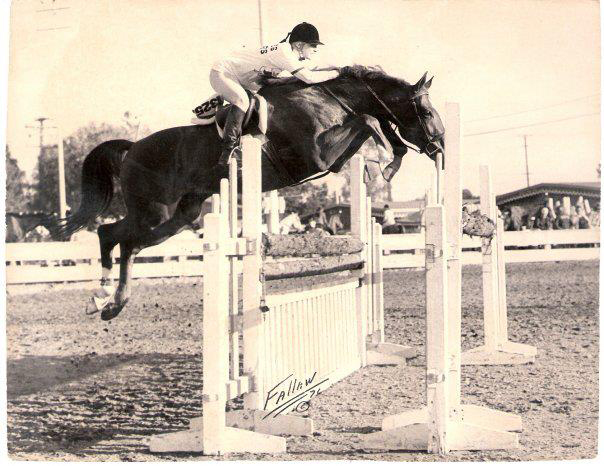 Terry Haake Morrison had to get used to Tap The Till's
extravagant jump.
Photo by Fallaw
In 1976, the pair competed up and down the West Coast and at Spruce Meadows in the junior hunters, junior jumpers, equitation and even the regular working hunter division.
"At the Flintridge Junior show, which was one of the top shows in California at the time, he won a junior jumper class and was second in the junior hunters with George Morris judging. I have no doubt that he had the ability to win almost every time out, but I struggled a bit with riding a horse that jumped so round, and struggled even more with believing that I could compete in such good company," admitted Morrison. "I'm much more a hunter rider. I don't really have the personality for jumpers. I used to go as fast as I could and often get time faults in the jump off."
Morrison remembered Tap as a wonderful learning horse. "I was just fortunate enough to have a horse like that to spend time with. He had so much heart and talent and just gave so much of himself. I would miss at some big jumps, and he just jumped even better. I held my own on horses that jumped maybe a little flatter. At that point in my career, I still had a whole lot to learn, and he taught me so much," she said. "There was one class at Flintridge, and he jumped me loose and I lost my reins and I tried to stop him, but I couldn't. He kept going and he just jumped the next three fences and finally there was enough time to gather up my reins and finish the course, and he jumped around clean. I'll run into people that were there and they'll still remember it and bring it up."
Morrison described Tap as the ultimate "showman," but at home, he could be cheeky. "Sometimes he'd jump me loose and then he'd drop his shoulder in the corner and deposit me on the ground. He was really clever. If he was turned out, and he decided he was ready to come in, he'd just jump out of the paddock and walk back to his stall," she said.
Occasionally, Morrison competed in the regular working division at open shows, and she and Tap held their own. "We did OK. I'm sure I was just sort of hanging on at four foot," she said with a laugh. "We started showing over 3'6" back then. The courses were just bigger. We got to do really fun things. We'd go to the Flintridge show and they'd have a hunter course out on the cross-country field, where you'd jump in and out of the show ring and jump all of the natural jumps."
In 1977, Morrison handed over the reins to her sister, Jane, who rode Tap for three years in the hunters and equitation.
Terry took back the ride for one show at Spruce Meadows, where they won a hunter classic. "It was really fun to show at Spruce Meadows. We went in the early years when there were hunters and the junior grand prix. It was on the international field and we got to jump the open water. He went around clean there," she said.
Tap retired sound to Terry's parent's farm in Oregon where he lived into his late 20s. Terry now lives in Michigan and rides with Jan Dooley at Hawthorn Hill Farm. Her daughter, Alix, competes in the children's hunters.
While she enjoys riding warmbloods, she misses the rides that her Thoroughbreds gave her. "I really loved riding them not only because they had so much heart and were so clever and light on their feet, but also because I much prefer to finesse a horse than to demand something from a horse," she said. "There is no better feeling on a horse than when you get a Thoroughbred to the perfect distance and then sit as quietly as you can and they rock back and explode off the ground, giving you their all. I have had some warmbloods that I loved, but they are just not quite as fun.
"I have been so fortunate in owning some really terrific horses of which Tap The Till was one of the most special. As a kid, having a partner that was so kind and clever taught me a lot not only about all the usual things such as responsibility, hard work, and winning and losing, but also what is truly most important, that a special horse allows us direct connection to our hearts," she said.
Did you miss any of our Classic Thoroughbred Show Horses features? You can read them all here.