Red Shoes may not have been much to look at, but Betsy Gerson Densen can look back with a smile when she thinks of the chestnut Thoroughbred mare who carried her to multiple open jumper championships and all the way to the steps of the U.S. Equestrian Team headquarters in Gladstone, N.J., in 1965.
Although Densen wasn't sure of Red Shoes' breeding, she was sure she could jump. "She was the most unusual looking horse you ever saw. She was two horses long and just the sweetest thing," Densen recalled. "She was just a wonderful mare, not marelike in the least little bit. I had two of them that were the most wonderful animals that ever lived. We fit together, we just did. She was always consistently good."
In 1958, Densen's family moved to Closer, N.J., and she started riding at Hutchinson Farms as a junior.
When she got serious about riding, her family bought the neighboring farm and kept their horses at home. "I didn't really have a trainer. I just pretty much did it on my own," she said. "We were very, very close with Ben O'Meara. Benny sort of lived with us between stables when he was young and just getting started. He was who I mostly learned to ride jumpers from. He was a brother and a teacher."
When she was 16, Densen's father bought Red Shoes from Dan Marks after they saw the pair competing in jumper classes around the area. "I was a very spoiled person. My dad bought me pretty much every horse I loved," she joked. "Dad bought her, and we just clicked."
Densen and Red Shoes proved to be fierce competitors, picking up several junior, amateur and open jumper championships in New York, New Jersey, Pennsylvania, Connecticut and Virginia throughout their five-year career. "She would jump the moon. And just as easy as can be. She went in a snaffle bit," Densen said. "She stopped once in a while, but don't they all? Sometimes I had to watch distances because she had this big, long stride."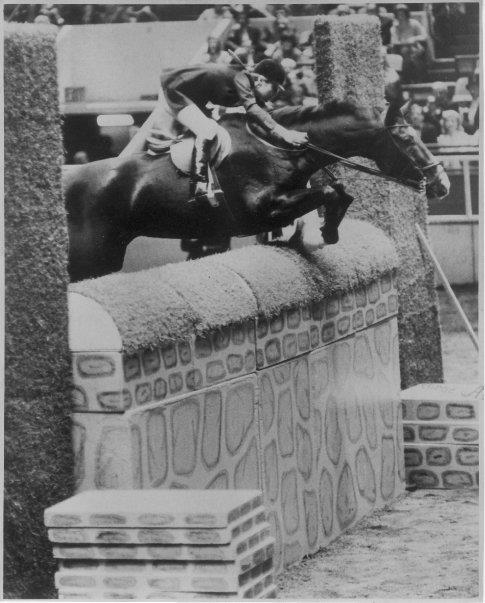 Gang War was another of Betsy Gerson Densen's
great Thoroughbred jumpers.
Densen rode several other Thoroughbreds in her career, including Tea Time, Rhubarb and Gang War. In 1966, when grand prix classes were in their infancy, she won the Grand Prix of New Jersey with Rhubarb and came second with Red Shoes. "I was one of those riders, when it came to timed jump-offs, I preferred to get around safely rather than get around as fast as I could," she said. "Poor old Red Shoes would be consistently second or third, or whatever. I was a little too cautious to go hell bent for leather. She had this amazing long stride, so she made up a lot of time that way. She really floated."
In 1965 at the age of 18, Densen competed in the USET screening trials with Red Shoes and Rhubarb in New Jersey and was chosen as an alternate to train with the team. But she turned down the offer to continue showing and attend college.
She sold Red Shoes to Sonny Brookes in 1967, but soon after tragedy struck, and Red Shoes died in an accident when the horse van she was in turned over on a highway in Canada.
Densen stopped riding in the late 1970s after a close call with one of her father's broodmares. "That was still almost the days where I would get on anything. She stood and reared up, and my first thought was, 'Who's going to feed my kids when my back was broken?' That was it," she said.
These days, Densen gets her horse fix volunteering at a therapeutic riding center near her home in Tenafly, N.J. She attends shows occasionally with her goddaughter. "I'm always amazed at the difference. It's a whole different feel. The kids, to me, all look like they come to the show and get on and look like every other kid and get off and walk away from the horse," she said. "After the end of the show season, we'd just get on and ride in the woods and go for hours and hours, and the horses just thought they'd died and gone to heaven because they weren't jumping anything other than logs. We played with the horses and fooled around. Nobody does that now."
But she can still think back with fondness to the days she spent with her special Thoroughbreds, especially Red Shoes. "She was sound. Never off a day in her life, [and] she had the most wonderful face. I had a real special place in my heart for my animals. It wasn't business for me."