West Yorkshire, England—June 10
U.S. rider Clark Montgomery has taken the lead in the Event Rider Masters CIC*** division at the Bramham International Horse Trials (England).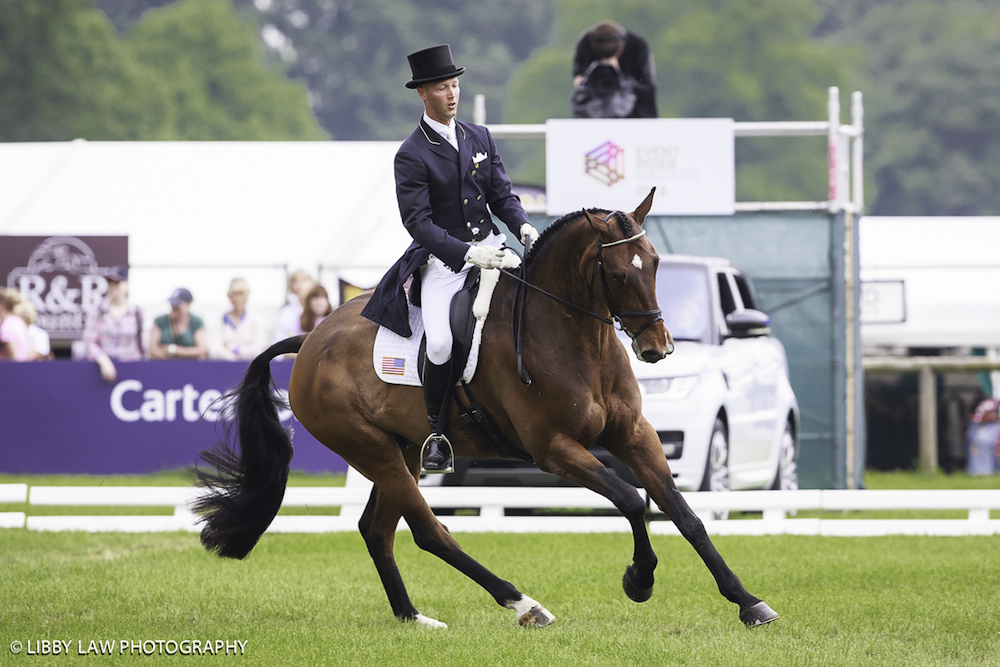 Clark Montgomery and Loughan Glen cantered into the lead in the ERM CIC*** division at the Bramham International Horse Trials. Photo by Libby Law
Montgomery, who is based in England, rode Loughan Glen to a score of 36.5 penalties even with an error to take over the top spot in that division.
(You can follow Clark's Road To The Olympics with www.coth.com.)
The dressage was run in ranking of the horse's last five scores, and the dressage tests were accompanied by music of the riders' choosing.
Maxime Livio was the first to set the podium alight with his 40.8 aboard Pica D'or to continue the French run of form the sport is witnessing. He kept first spot for a long time until Aussie Bill Levett and the smart moving Shannondale Titan, owned by Claire Prentice and Bill, put up a largely mistake-free test to post the first sub-40 score of 39.0
China's Alex Hua Tian followed Bill with Don Geniro and very nearly bettered his score but was just 1.1 penalties short.
Third last to go was British-based Texan Montgomery with Holly and William Becker's stunning Loughan Glen and they were a cut above. Even a momentary lapse of memory that resulted in an error of course couldn't spoil the test which clocked up 36.5 penalties and top spot.
Montgomery, making his second visit to Bramham, commented; "He was a really good boy! I must have enjoyed last night's barbeque a bit too much as my mind just went blank in the walk! I'm nervous ahead of tomorrow [and the cross-country] but really looking forward to it!"
As to the topic of riding to music, Montgomery commented: "You can kind of hear it in the background. The music we had for Chatsworth we really didn't like, so my wife Jess found these two songs and they seem to fit perfectly."
This is Loughan Glen's last opportunity to impress the U.S. selectors for the Olympic team. "June 20 is selection, so this is my last trial to show them I'm on point," Montgomery said. "All I can do is what I'm doing, and it's gone well. So I hope they like what I've been doing. All you can do is just prepare yourself the best you can, treating the Olympics as a normal competition, so that's what I'm doing."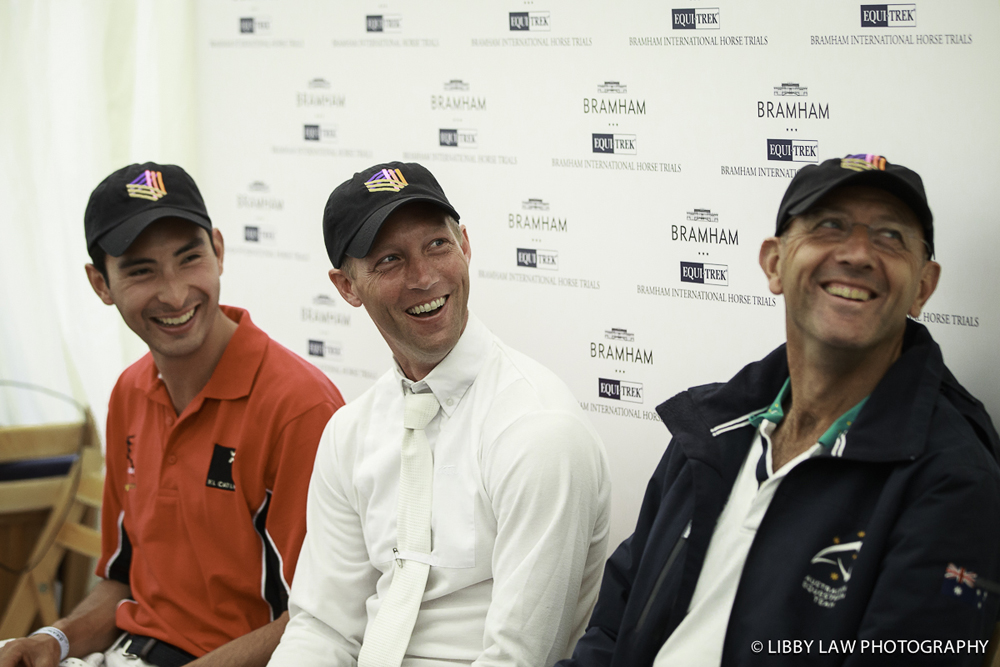 Clark Montgomery (center) joked around during the press conference with Bill Levett of New Zealand (right), who is in second, and Alex hua Tin of China (left), in third. Photo by Libby Law
The Event Rider Masters complete their show jumping from 8:30 a.m. (3:30 a.m. EST) before tackling Ian Stark's cross-country last from 3:15 p.m. (10:15 a.m. EST). You can catch all the ERM action via live stream on www.eventridermasters.tv.
British rider Oliver Townend sits atop the Equi-Trek CIC*** division with Tom Joule's MHS King Joules. They were the first combination in front of the judges in the final group of riders and were consistent, active and well presented to score 37.9 to overtake long time leaders, Sammi Birch and Hunter Valley II of Australia.
Oliver said afterwards: "That was a very good start. We were really hopeful for the horse to put up a big performance; we know that he's very capable. He's got everything he needs to be absolutely exceptional and glad we put it all together in the dressage today. He's a good horse full stop. If I do my job and he does his, then it's all positive. It's very special here; a fantastic event that I've been coming to for as long as I can remember. I'm extremely pleased with the horse and even more pleased for his owner, Tom Joule. Let's hope we're in the same set up on Sunday night."
In the Under-25 CCI***, U.S. rider Jenny Caras sits in sixth place after dressage aboard Fernhill Fortitude. "He was awesome. There was a lot of atmosphere in the arena and he went in there and kept his head and and put in a workmanlike test," said Caras, who traveled to England to compete thanks to a Karen Stives Endowment Fund for High Performance Eventing Grant.
"It was the best score he's done by 5 or 6 points, which is good. My coach at home, Phillip Dutton, and I have been working on it really hard, trying to get him soft and relaxed. All the movements were there; it was just getting the outline and the frame and the balance," Caras said of her test, which scored a 48.9.
"I think going into the arena and having him quiet and calm worked, because the atmosphere helped pick him up a bit. That worked to our advantage. I blew the last change a little bit—that was my fault and I'm still kicking myself a bit. But it can always be better. I'm thrilled with him."
Find full results of the Bramham International Horse Trials.